How did I not know that NYX was coming to the UK in NEXT stores and online? I need to calm down.
I'm so happy! Not only are there two stores here in London (plus Harrods, 4th floor I believe) but there's also one back home in Doncaster too! Hallelujah!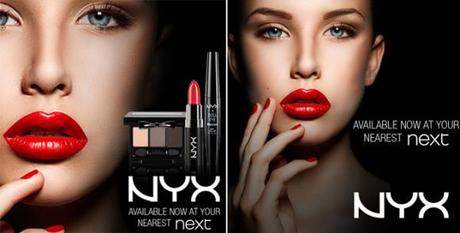 ABERDEEN BON ACCORD
BANGOR (NORTH WALES)
BEDFORD INTERCHANGE
BELFAST DONEGAL PLCE
BLACKPOOL CLIFTON RP
BLUEWATER PARK
BRACKNELL-PEEL CNTRE
BRIDGWATER RETAIL PK
BRISTOL CRIBBS
CHELTENHAM HIGH ST.
CHESTER BROUGHTON PK
CHESTERFIELD R/SIDE
COLCHESTER
COVENTRY
COVENTRY ARENA RP
CREWE RP
CROYDON CENTRALE
DARLINGTON CORNMILL
DERBY KINGSWAY RP
DERBY WESTFIELD
DONCASTER WHEATLEY
EAST LONDON
EDINBURGH-PRINCES ST
GATESHEAD TEAM VAL'Y
GLASGOW-BRAEHEAD
GLASGOW-SILVERBURN
GLOUCESTER
HAMILTON
KETTERING RETAIL PRK
LEEDS TRINITY
LEEDS-COLTON
LEEDS-WHITE ROSE
LEICESTER FOSSE PARK
LEICESTER HIGH CROSS
LINCOLN VALENTINE RP
LIVERPOOL AINTREE
LIVERPOOL SPEKE
LONDON BRENT CROSS
LONDON WESTFIELD
M KEYNES SILBURY
MERRYHILL-DUDLEY
NEWCASTLE ELDON SQ
N'HAMPTON RIVERSIDE
NORTH SHIELDS S/LINK
NORWICH-HAYHILL
NOTTINGHAM GILTBROOK
NOTTINGHAM RIVERSIDE
NOTTINGHAM VICTORIA
PORTSMOUTH
PRESTON CAPITOL RP
PRESTON FISHERGATE
SHOREHAM BY SEA
SOUTHAMPTON
STAFFORD QUEENS RP
STOCKTON TEESSIDE PK
STOKE-LONGTON
SUNDERLAND
SWINDON ORBITAL
WARRINGTON GEMINI
W'HAMPTON DUDLEY ST.
Lauren*