Chick-fil-A sponsors the annual Peach Bowl. They post a quiz on their site the week before the game. It features trivia about the two teams and their respective schools. I'm
the lucky guy who gets to illustrate it. It's one of my favorite assignments.

The 2017 Peach Bowl was played on January 1, 2018. The University of Central Florida Knights defeated the Auburn Tigers 34-27 to cap an undefeated season.
The quiz features a header image to pull people in. See how peaches inspire harmony
and good fellowship.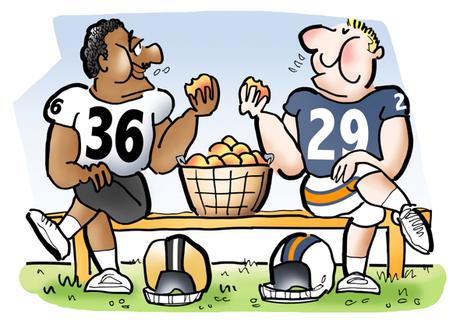 The 2017 quiz had 10 questions. Here are the five I liked best, with the
correct answer in bold type
. You can
see the entire quiz
on Chick-fil-A's site.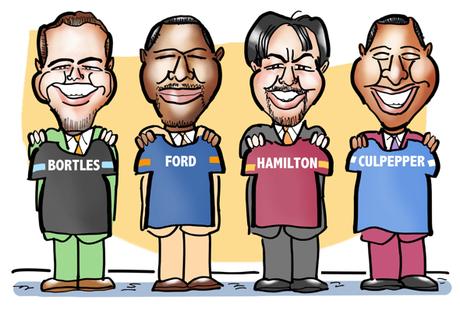 Who was the first University of Central Florida player to be selected in the first round of the NFL Draft?
A. Blake Bortles
B. Bernard Ford
C. Rick Hamilton
D. Daunte Culpepper
UCF's QB Daunte Culpepper became the school's first-ever first round pick in the NFL Draft, when the Minnesota Vikings selected him as the 11th overall pick in 1999. Knights wideout Bernard Ford was selected in the third round (1988), as was linebacker Rick Hamilton (1993). Like Culpepper, QB Blake Bortles was also selected in the first round (2014).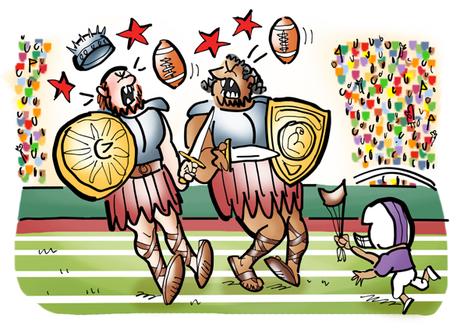 During the 2017 season, Auburn defeated two #1-ranked teams. Name the only other team in college football history to defeat two #1-ranked teams
in the same season.
A. Ohio State Buckeyes
B. Florida Gators
C. Texas Longhorns
D. USC Trojans
This past 2017 season, Auburn defeated Georgia and Alabama when they were ranked
No. 1 in the College Football Playoff rankings. In 2008, the Florida Gators defeated two No. 1's: Alabama in the SEC Championship and the Oklahoma Sooners in the BCS National Championship.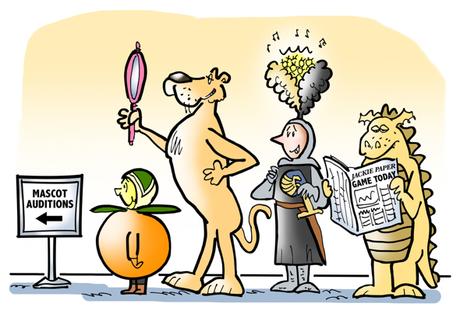 Before Knightro, UCF had a few other mascots for its athletics program. Which of the following was NEVER the school's official mascot?
A. The Citronaut
B. Pauley the Panther
C. Sir Wins-A-Lot
D. Puff the Dragon
Although the panther is the official animal for the State of Florida, it was never a mascot at UCF. Instead, the university turned to unique characters, like The Citronaut — complete with an orange (yes, the fruit) for a body and a greenish head adorned with an astronaut's helmet.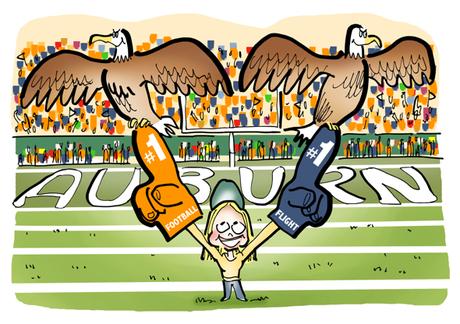 What are the names of the two eagles that perform the War Eagle flight at Auburn's home stadium?
A. Spirit and Nova
B. Toomer and Tiger
C. Steller and Strength
D. Victor and Triumph
Perhaps one of the most recognized pre-game traditions in all of college football is Auburn's War Eagle flight. Nova, also titled War Eagle VII, took his first flight in Jordan-Hare stadium in 2004. Spirit, a bald eagle, took her first flight in 2002.