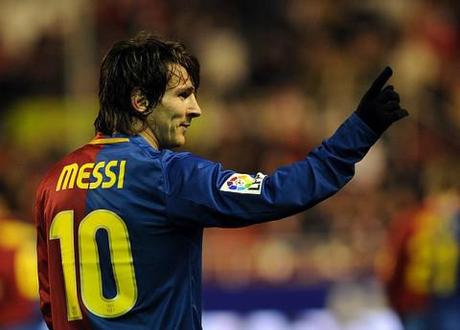 Lionel Messi: Photo credit: Prettyfriendship
Chelsea play Barcelona at the Camp Nou tonight bouyed by the one-nil lead they achieved in last week's Champions League semi-final first leg tie in London. Barcelona followed up on their loss to Chelsea with a devastating home loss to arch-rivals Real Madrid in Saturday's title-deciding clasico. However, the fact that Barcelona have lost two in a row certainly does not mean the Catalan giants have become a bad team overnight and seasoned football watchers know that Chelsea face a colossal challenge in Barcelona and will have to be at their very best to proceed to the final in Munich. Regardless, the sports commentariat have spent much of this week dreaming up ways Chelsea can topple Barca.
Five-point plan. At The Daily Telegraph Alan Hansen identified five ways Chelsea can beat Barca. To claim a historic result, Hansen insisted Chelsea must "target" Javier Mascherano – "Barcelona are vulnerable defensively and I have believed for a long time that Javier Mascherano is the weak link at the back" – capitalize on Barca's "aerial frailties," keep their positional discipline, "suffocate the space around Lionel Messi" and, lastly, hope old gaurdists John Terry and Didier Drogba turn in the best performances of their lives.
In the first leg, Barca mustered 24 goal attempts, 13 of them on target, without scoring.
Anti-football is only way forwards for Chelsea. Oliver Kay of The Times said "perfection" for Chelsea is all "about breaking Barcelona's rhythm rather than finding their own. It would be about performing like Mourinho's Real did on Saturday or indeed like Mourinho's Inter Milan did at the same stage of the competition two years ago. It would be about sitting deep with five men across the midfield, the possession statistics totally one-sided, breaking up play by any means possible, restricting the space and defending so doggedly that there is no way through. In other words, Chelsea's idea of perfection would be about what Barcelona's players call 'anti-football'."
"This Barcelona team will be regarded for years to come as a phenomenon," insisted Oliver Kay of The Times. "When playing on their own terms, they are unstoppable."
Ramires must stop Dani Alves. At the BBC Sport Football Tactics blog Alastair Magowan insisted that Chelsea midfielder Ramires' "determination and energy" was key in Chelsea's win in London and argued that Ramires' ability to funnel attack-minded right-back Dani Alves inside will again be much needed if Barca are to be restricted: "The versatile Brazilian will have an even bigger role in the return leg when Pep Guardiola's team will look to exploit the wider Nou Camp pitch … Glancing back to Arsenal's efforts in the Champions League last season, when the Gunners' took a 2-1 lead to Barcelona for the second leg of their last-16 tie which they eventually lost, they were hindered by Samir Nasri's failure to shadow Alves."
Ramires' work rate is vital to Chelsea. Glenn Moore of The Independent also flagged up Ramires' importance to Chelsea. He said the Brazilian's "tireless style will be key to Di Matteo's plan to beat Barça." "In a team often accused of ageing, Ramires provides legs and balance. He can play on the flank, or more centrally, but usually combines both roles in a game," praised Moore, who suggested that "it is no surprise that working hard comes naturally to Ramires, for at the beginning of his football career he laboured on a building site by day and trained at night."
Beware the wounded animal! Sid Lowe of The Guardian said Chelsea should brace themselves for a post-clasico backlash. Lowe reminded that Barca have never lost three games on the trot under manager Pep Guardiola, and reported that there is a feeling in the Barca camp that the Chelsea game offers "an opportunity for redemption and maybe for revenge in a possible final with Real. Europe eclipses all else."