I was asked to promote some blog posts about IBM for Mid-Sized Businesses. As you know, I only enter into these deals if a) I can get behind a product or service; and b) I believe the information could be interesting/valuable to my community. There's also a c) request comes from a trusted source. And for this one, I'd also add d) the graphics made me spit my coffee. See below.
What interested me about this post - Here's How a Fashion House Finds Out What Dresses to Make – is how it talks about the importance of gaining customer insights from "big data." With the advent of social media marketing and social media engagement, understanding where your customers are, how you are reaching them, what actions they are taking – both online and offline – is critical to your business growth.
Data is everything. It's the supply chain information about the next big shipment coming in. It's the trends your customers live to keep up with. Even you are data, insofar as your wants, "Likes," and even purchasing history make up a single node in a vast ocean of actionable information.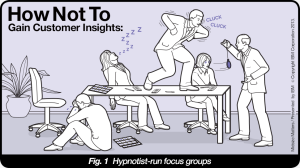 New York-based womenswear label Adrianna Papell used analytics to get a better understanding of what sells where, and how well it sells.
By tracking point-of-sale data and linking it to things like product attributes and retail locations, they found themselves able to predict what trends their customers would respond to. Then they reduced the production of styles that weren't selling. And increased sales by fifteen percent.
You can read the rest of the post here: Here's How a Fashion House Finds Out What Dresses to Make
How are you gathering customer insights and using them to your advantage?