Men's fashion is an art that has grown and evolved an incredible amount over the years. Style and social norms have changed and with it - what's in, what's out, what's hot and not, and the methods as to how to achieve the sickest, cleanest outfit have developed and changed right there with it. People across the generations have become more accustomed to wearing what they like and are comfortable in. And this in itself has become the best style option in terms of expressing yourself and being your best you.
Fifties Shirts
This important piece feels retro, yet it can be paired with any modern pant and shoe to fit the fashion trends of 2016. The shirts can reflect your personal style, as they come in many different fabrics, colors, styles, and patterns. This look is a dashing touch of vintage an can still be modernized with joggers or a sweet pair of Vans! In winter 2016, some fellas even opted to introduce this classic trend a little early by topping it with a big sweater (be it a cardigan or a pullover) and a pair of jeans. The Fifties Shirt works for everyone, as it creates a relaxed look and favorable silhouette on any figure.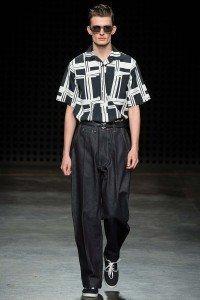 Image Source: vogue.com
Bomber Jackets
This is yet another amazing fifties look, bomber jackets. They are usually worn in dark colors to accentuate a look and to relax an outfit or make it more casual. To help the look remain looking more contemporary, use the jacket as an accent to just a regular old t-shirt or pieces of a more modern nature. Using the piece as a layer in the summer of 2016 can be very beneficial, as can other uses of this important trend. These can dress up or dress down any and every outfit you could imagine, and You could use this simple and trendy jacket to dress up a normal outfit for date night or the interview you just scored. You can never go wrong with this classy and versatile trendy piece. Go pick yourself out a bomber jacket!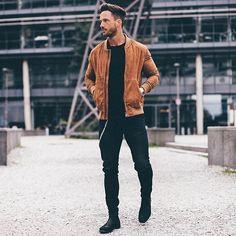 Image Source: pinterest.com
Khaki Bases, Military Undertones - Earth Tones
A great starting point for any modern and sophisticated outfit is a base of a neutral, khaki, or earth tone. Whether it be a shirt, a pair of khakis, or a buttoned up flannel, you can build off of any of these items for an amazing layered and trendy look. Grays, greens, tans, browns, blacks, camo, and earthy shades of red are the basis of any solid wardrobe and can be built off of with accessories and unique shoes. Military colors can be edgy and daring, but are also subtle enough not to be crazyEarthy tones tend to feel more warm, open, and inviting, and they can make you more in-tune with Mother Nature. This certainly should not make you blend in, but increase your sophistication and ability to create awesome outfits. Try to avoid wearing these tones in the winter...summer is the perfect opportunity! Everyone often forgets how amazing of a color brown is. Brown works on EVERYONE. These earthen tones are daring, but are also versatile and can be paired with many of your favorite layers and accessories.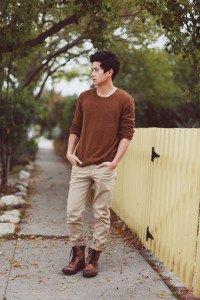 Image Source: bestylish.org
Stripes
With their awesome style qualities and their ability to look great on both men and women and suit any season, stripes are a go to fashion no matter the occasion! Stripes are the best when they are thin and colorful. Vertical stripes can make you look taller, and horizontal stripes can add texture. You can pair them with any color of pants, jean jackets, khaki jackets, or parkas. Stripes can come in a lot of different styles. These styles are fun and flirty and these ensembles can be easily dressed up or down depending on the reason. From just a simple t-shirt to a collared polo or a buttoned up shirt, stripes are so versatile and stylish for any and every one. You could even incorporate them into an outfit with accessories, like a hat, scarf, or some stylish striped sunglasses. A daring twist you could put on an outfit would be to reverse it. Find some awesome striped pants, and pair it with a simple, plain shirt! This can be a sophisticated twist to a classic style, while still showing off your quirks and personal likes.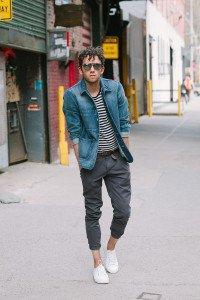 Image Source: talunzeitoun.com
Camouflage
Camouflage is a military basic that is also a very good component to have in your closet to spruce up, tone down, or texturize any and all outfits. This print can be very fashionable and prideful, as it is what the United States Army wears when they are selflessly serving the country. This is a piece that can be incorporated into any normal outfit, and give it a patriotic and texturizing twist. You can incorporate this look through any piece of clothing, be it a shirt, shorts, pants, a scarf, or a jacket. You could pair a camouflage hat with an earth toned outfit (see above for how to craft one of those!) and stay with the drab yet fab color scheme. Camouflage can also be paired with other patterns and brighter colors to achieve the perfect contrast between simple and the incorporation of a many element and essence such as camo. The use of this fashion staple is vital and this print can be worn in any capacity and to any extent. You can spice up a suit with a camo pocket square, or dress down your everyday outfit with a pop of camo and increase your style points instantly.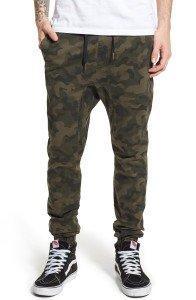 Image Source: shop.nordstrom.com
Slogans
Another great classic and relaxed style to incorporate for summer 2016 is a great slogan shirt.
Distressed Denim
Comments
comments