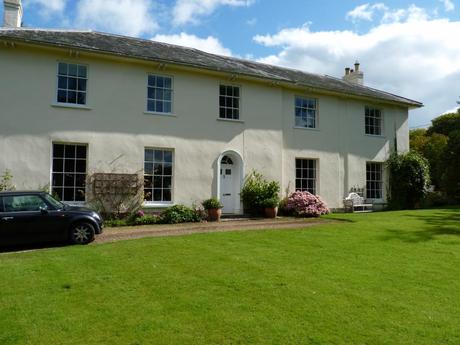 The Old Vicarage B&B, Broadhembury
Turning thirty this year gave me a great excuse for booking a little holiday, and after much deliberation (literally months and months of it), I finally settled on my favourite part of the UK – the West Country. We went away for just four days (three nights), spending two in Cornwall, and rather than face the long journey down all in one go, we stopped for a night in beautiful Devon. A short drive off the A30 took us to the small and oh-so-picturesque village of Broadhembury, and to the utterly delightful Old Vicarage B&B.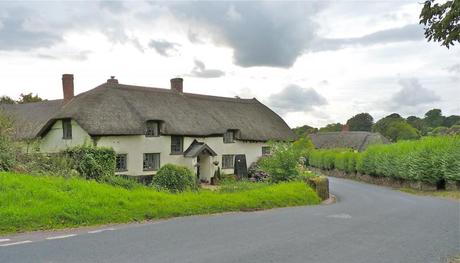 Broadhembury
Now, I can't take any of the glory for finding this place – for once, I handed over the planning to my husband, and asked him to find us somewhere to break up the journey. Knowing that I had a connection to the village from my university days, he included it in his search and was surprised to find that there was now somewhere to stay and, even better, somewhere rather luxurious. I'm always a little sceptical about spending over £100 for a bed and breakfast – I suppose I'm slightly haunted by the memory of disappointing, overly floral bed and breakfasts over the years, but generally it just seems like a lot of money to spend on that kind of accommodation. But the Old Vicarage is a great example of getting what you pay for – the old building (no prizes as for guessing what it was originally) has been beautifully done up, combining contemporary and traditional styles, and feels as luxurious as staying in a hotel, but much more personal and intimate (without having to worry about over-bearing or intrusive hosts).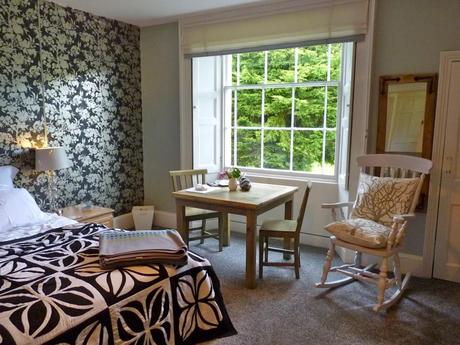 The Blackdown Room
We were the only people staying that night, so Christine, one of the owners, offered us the chance to move from our original booking – the lovely Blackdown Room – to the incredibly spacious suite, Edward Drewe, for the same price. Unsurprisingly, we didn't really want to turn down the chance of having the best room in the house.  After a walk around the village, marvelling at the thatched cottages and threatening to throw one another in the ford, we headed back to lounge on the day bed and read our books – considering that most of my reading is usually done on the Tube, this felt like the height of luxury. As in all good B&Bs, the room came with a tea and coffee tray – I was especially impressed to find that instead of cartons of UHT milk, there was a bottle of fresh milk in the fridge (it's amazing how many posh hotels don't offer this). The fridge stocks a decent little minibar, including complimentary still and sparkling water, and was very reasonably priced – a small bottle of wine was under £3.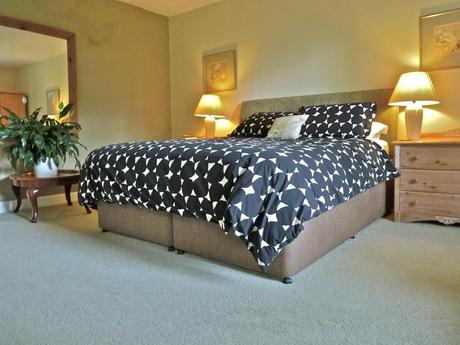 The bedroom of the Edward Drewe suite
Matthew and I tend to measure every bed we sleep in (including our own) by what we consider to be the best bed in the world – the one we stayed in at Six Senses Samui a few years back. And boy, did the bed here measure up. For a start, it was absolutely massive – I woke up in the middle of the night, reached out for Matthew and couldn't initially find him – and it had that fantastic combination of a really comfortable mattress and a beautifully soft duvet. Add to that the fact that when we turned out the light it was pitch black (always a bit of a surprise after living in London for so long) and so so quiet; perfect for a good night's sleep.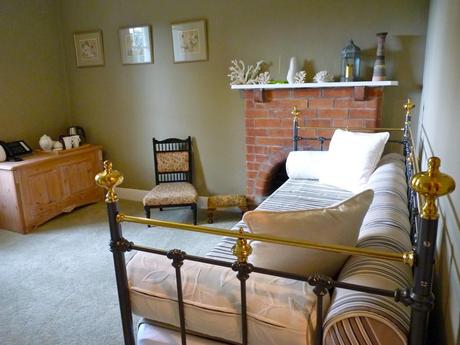 The lounge of the Edward Drewe Suite
The star of the show, however, has to be breakfast. The previous night, Christine left some menus for us to pick what we wanted from, and offered us the choice of eating in our room (all the rooms have tables), or in the kitchen with her. We each chose what we wanted to eat before we went out that evening, and asked to have it in our room – perfect as we were able to watch wild rabbits on the sunny lawn while we ate. We had each just picked a couple of cooked things for breakfast, so were completely taken about by how much food Christine brought up for us – first fresh juice, coffee, croissants, toast, muesli, yoghurt and fresh fruit (including delicious home-grown melon and raspberries), followed by our cooked breakfasts. Matthew always insists that breakfast is the best meal of the day, so when I say that he declared it to be one of the best breakfasts he's ever had, it really isn't an exaggeration.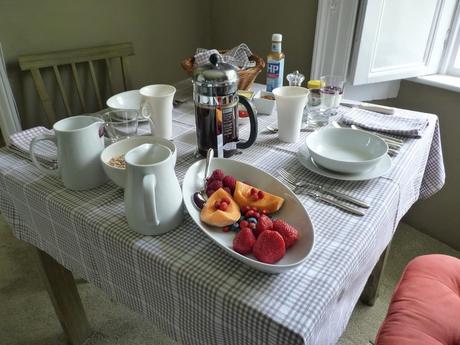 Breakfast, part one
Broadhembury is one of those villages that you are unlikely to visit unless you're passing through, or unless you already know about it – and subsequently you don't have to worry about hoardes of camera-snapping tourists ruining the views. Though there's not much to do in the village itself – there's a pub, which unfortunately isn't quite as special as it used to be, though we found the food to be decent – it makes a decent base for exploring the region; Exeter is only 35 minutes away, and Dartmoor another half hour or so beyond, and the coast is also within easy reach.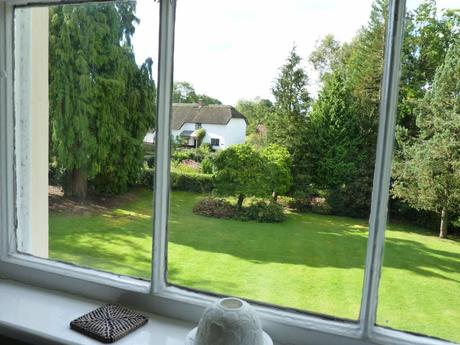 The view at breakfast
This is one of those rare places that you almost don't want to tell people about – you want it to remain a special place that only you know about – but at the same time it's just so lovely, and run by such nice people, that you want people to discover it, because it's the kind of place that deserves to do well. It's the perfect choice for a honeymoon or a first night hotel in Devon; just remember where you saw it first.
The details
The Old Vicarage B&B
Broadhembury, near Honiton, Devon
From £110 a night.