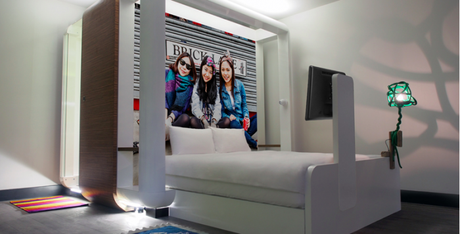 Hotel Review: Qbic London City "Funky and Fresh Boutique"
If you are even a casual reader of this blog you are sure to know how much we love boutique hotels. A good place to sleep can really make or break a holiday away from home and while the traditional hotel model will always be there, why not step outside of the box and see how you like a boutique hotel?
If you happen to be in London and are looking for the best boutique experience, Qbic London has you covered. Newly opened, the Qbic London City location is perfect for a short stay or a long holiday as it is right in the middle of the city, walking distance to many locations and full of the life which makes London so great.
 "The dining kitchen/lounge feels like someone's hip home and nothing like a hotel lobby…"
We arrived on a cold and wet January evening (pure London if you as us!) and were delighted at how close it was to the metro and how utterly fun and funky the décor was. The lobby is filled with decorative elements you would never think of seeing in a hotel and it makes you feel instantly at home and nothing like a traditional hotel. The guitar mounted inside the elevator was a nice touch!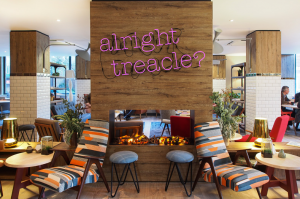 Easily the best part of the Qbic experience are the rooms which are like none we have ever stayed in before. The building itself isn't particularly impressive and you would never know from the outside, that the rooms are about as futuristic as you can get. Each room contains what can only be described as a
"pod"
which contains a bathroom, bed, storage space, shower and television in seemingly one piece. There is modern pop art on the walls of the pod and all lighting controlled by easy access panels on the bed frame. The TV is mounted to the base of the bed and conveniently just the right size to curl up and watch some TV. An added extra is the ability to connect any Bluetooth device to the TV with ease.
Qbic has offered top notch coffee makers on each floor which is never more than a few steps away from any room. The free wifi is solid, fast and reliable. Each floor, including the lobby, has their own signal, so no trying to get the lobby wifi from your 3rd floor room with little success.
Breakfast is always important to any traveler on the road and Qbic offers quite an impressive spread. They offer fresh fruit and protein bars for free for all guests in addition to a free breakfast packaged and delivered to your door each morning and for 7.50 pounds extra an abundance of food is available including breads, muffins, meats, cheeses, yogurts, granola and cereal as well as pre made sandwiches to take along during your day out. The dining room/kitchen/lounge feels like someone's hip home and nothing like a hotel lobby, so if you don't feel like going out you have a perfect place to curl up and read or book or get some work done. Vending machines provide all essentials any traveler would need including bathroom and hygiene products as well as any other travel essentials you may need.
Qbic London city is located in the very popular East London and is a stones throw from Brick Lane which houses some of the best Indian cuisine you will find anywhere outside of India as well as a lively and fun nightlife.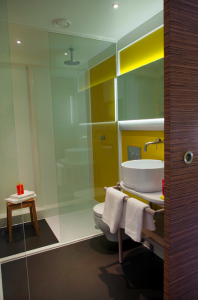 Close to many tube stops, the
Aldgate East stop
is a 2 minute walk away and the hotel is easily seen from the station exit. No laundry service is available but there is a laundry service available down the street. There are no bright lights pointing you to the hotel from the Aldgate tube station exit so look across the park and you will see it tucked in the back corner. Being a new hotel, we are sure a shiny new sign is on the way soon.
We were thrilled to discovery this great hotel and have no doubt where we will be staying the next time we stroll through London. The staff was extremely nice and helpful, the setting exciting, light and fun and the location perfect for exploring the city.
Cost: Rooms start at 59 GBP
Internet: Free Wifi throughout
Breakfast: snacks for free, 7.50 GBP for full breakfast
Laundry: None on site, available nearby
Location: East London across from Aldgate East tube station and Brick Lane