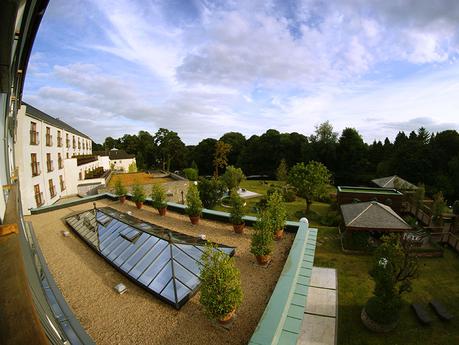 154 total views, 0 views today
Glorius Galgorm!
Galgorm Manor Resort and Spa is a large country house hotel with leisure facilities located in lush grounds just outside Cullybackey near Ballymena in Northern Ireland. It's a 45-minute drive from central Belfast / George Best City airport or a mere 30 minutes from Belfast International Airport.
First impressions count
We were dropped off by taxi at the main entrance where a friendly member of staff greeted us and opened the main door. We are suckers for real fires and there are two here, one in the room to the right and one to the left as you enter.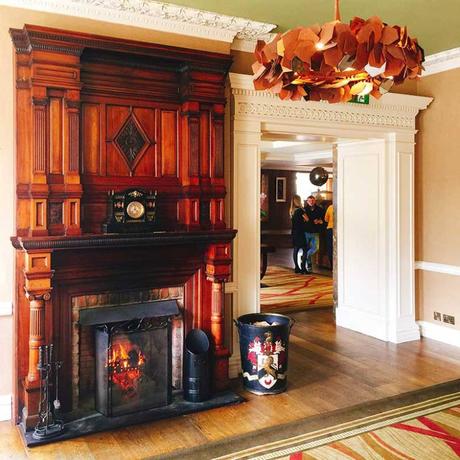 At this time of year, it's a welcome cosy touch and there's seating here should you want to take some time out and listen to the crackle of the fire.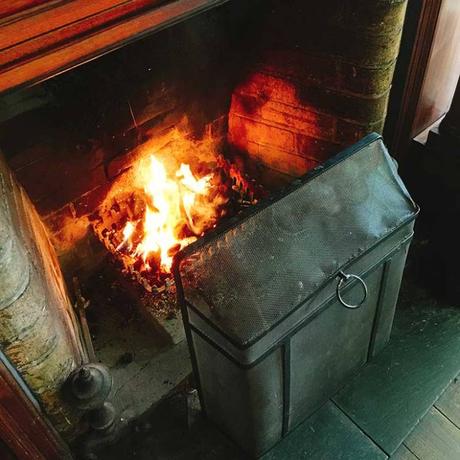 There's also a few quirky features such as an ungulate (horse-like!) sculpture guarding a bookcase and this avian lamp!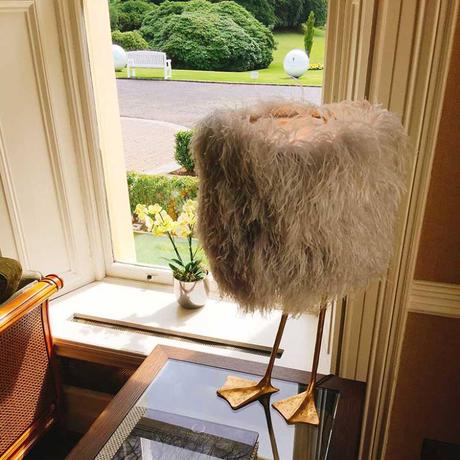 Checking in and out
Check-in was quick and easy. We were staying in the Deluxe rooms at the back where there is another reception for these rooms only, but you can still check in at the main desk. As there's also a bit of walking between the two they can transfer your bags between receptions, should you arrive too early and need to check in later, or if like us, you want a wander around the grounds before checking out.
Check in is from 3pm for all rooms
Check out is 11am for Standard and Superior rooms or 12 noon for Deluxe rooms and Suites
River view deluxe bedroom
Our room was spacious with tasteful artwork and windows opening fully for a view of the garden with spa facilities below and the bubbling river just a bit further away. We also had robes, slippers and a selection of sweet treats waiting for us!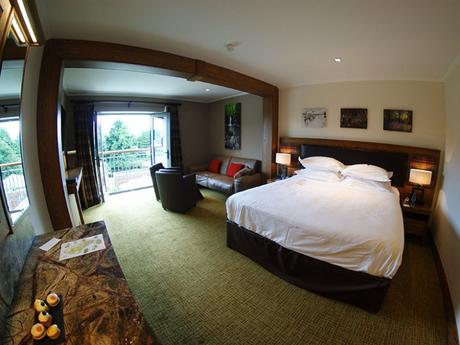 3 cakes each! We washed these down with coffees provided by a Caffitaly system coffee capsule machine. We'd never seen or used this particular type of machine before but instructions are provided!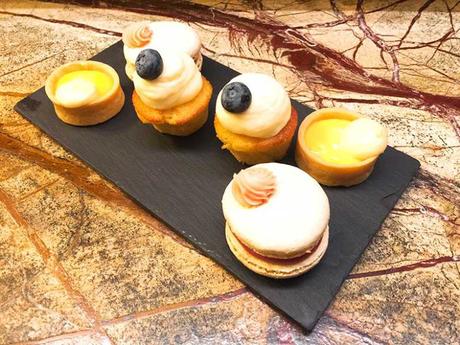 Here's the view from the window. Lots of trees and you can just about see the river in the picture, we could certainly hear it as it was quite fast flowing when we visited.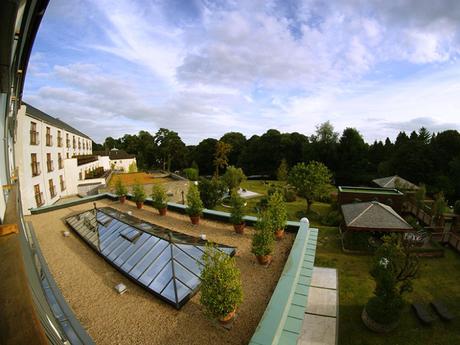 The view from the other side of the room now - there's a lot of space to make yourself at home and the bed was really comfy but maybe a minor gripe is that you can't watch TV from the bed so easily. You can pick up free WiFi in the room too but it was a little slow. (Although we were here to switch off from all that!)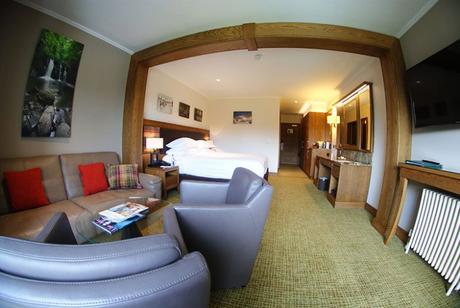 There's also a minibar. I do love a minibar, and even better when it's free, yes, there's an entirely complimentary minibar in every room!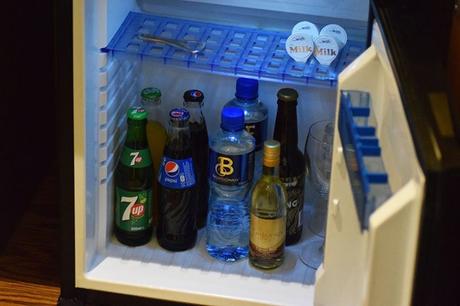 Ok, so the booze selection is limited but this isn't your usual bottle of cheap lager, it's actually brewed specially for Galgorm by a local craft beer brewery. We'd never come across Hillstown Brewery before but they stock a number of Hillstown beers in the bar.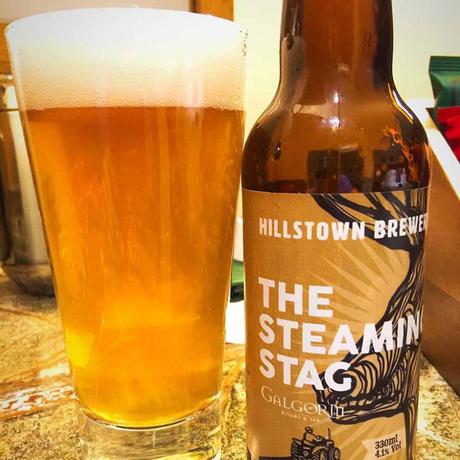 The beer was hazy golden and lively with a prominent head. Although it was categorised as a lager we found it to have a sour lemon aroma and taste, which is all the rage these days with craft brewers!
Inside the en-suite shower and bathroom
In the en-suite there is a large bath and shower. The mirror has lights should you need them. We were a little apprehensive of the shower at first but actually, it was such a good shower - raindrop effect with ideal water pressure. The toiletries are by Aromatherapy Associates London.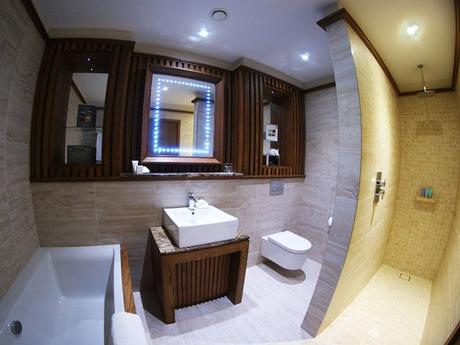 The Spa facilities
The Spa area, or 'Thermal Village', is free to hotel guests and open daily from 8am - 10pm with treatments available 9:30am - 8:30pm on weekdays and 9:30am - 6:30pm at weekends. We didn't have time for any treatments but before breakfast we ventured down to the ground floor to check out the leisure facilities, and there's a lot on offer! There's a map in your room or you can pick one up from reception so you don't get lost!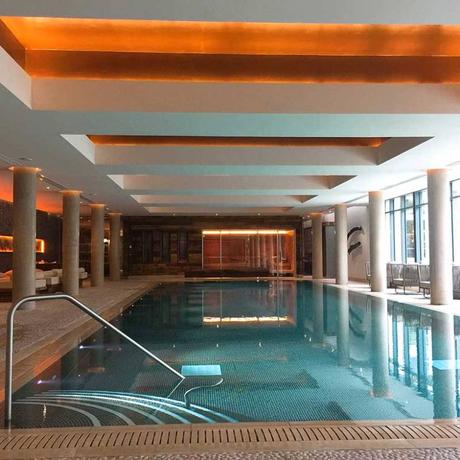 There's a selection of pools - if you want to do lengths use the 20m indoor pool but outside there's a smaller hydrotherapy pool. There's also a Sanarium (less hot than a sauna) and snow cabin beside the main pool and water beds and heated loungers for lying on and chairs for sitting on. If you want a sauna you have a choice of four! Laconium, Herb Caldarium, Aroma Grotto & regular Sauna - each having a different temperature and some with herbs and menthol - ideal for helping with sinus problems.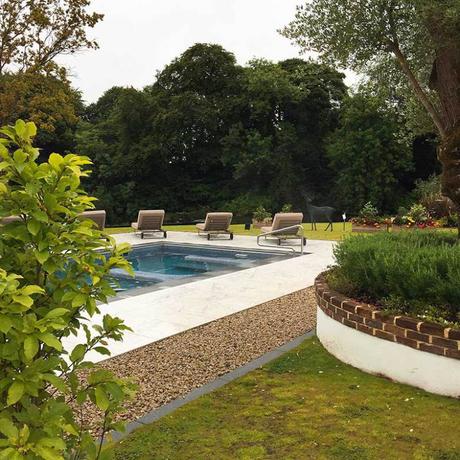 While back outside there's a jacuzzi, two or three other saunas in separate outhouses, a room beside the river for doing yoga (etc.) in, a number of log-fired hot tubs right beside the river (these were receiving maintenance during our early morning visit so sadly we didn't get to try them) and there's plenty more places to sit, relax and chill out.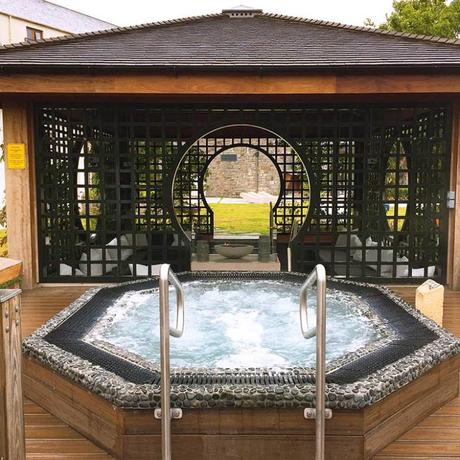 Once you've completed your ablutions head to the Orangey to chill out. You can help yourself to glasses of water, flavoured with fruit, here. Don't worry about carrying wet swimming outfits or trunks away as they have super-fast dryers in the changing areas.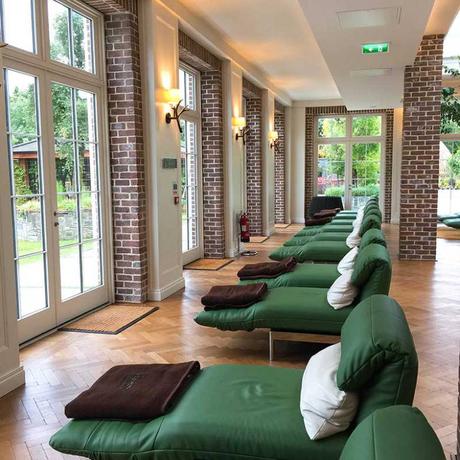 Breakfast
Breakfast is served 7 - 10am on weekdays and 7.30 - 10.30am at weekends. The selection is really good covering basics such as cereals, seeds and yoghurt, a selection of fruit (grapes, grapefruit, peaches etc.), bread & pastries, cheeses, some fancier things such as peppered mackerel, chorizo, salami, Country Antrim ham, smoked salmon and overnight oats.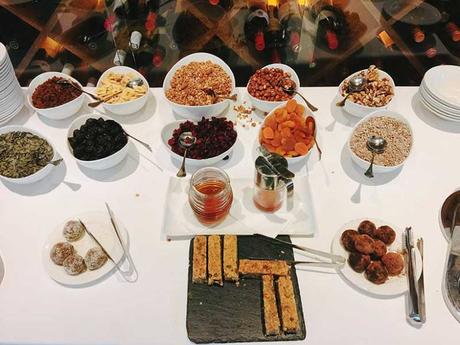 But there are more unusual things like chilli & lemon and ginger & chocolate power (protein) balls, mixed seed flapjacks and there's even a bloody mary station!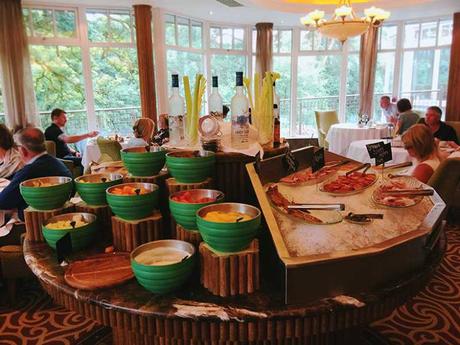 Here are the oats soaked overnight with cinnamon and mixed berries.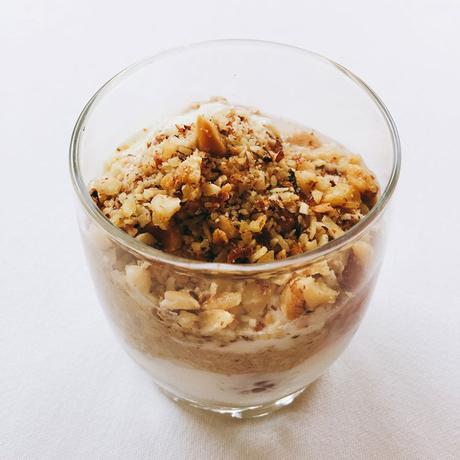 Our hot food order was taken quickly, you can of course order an Ulster fry up but they also had two specials, which we took - French toast with mango salsa and avocado with poached eggs in sourdough. Both were lovely👌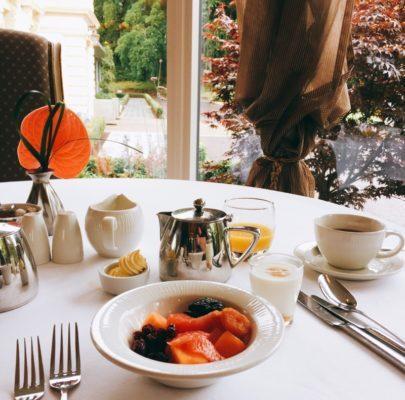 The gin library and conservatory!
If you love gin then you can't leave without sampling at least a couple of gins from the extensive selection at Galgorm! They have quite a few from Ireland that we weren't aware of, including Jawbox, which we had here, served the local way with honeycomb. We liked it so much we bought a bottle in the shops on the way home!
You can pick a gin from their gin bible or peruse the selection below. Note the award on the table - Galgorm was a winner at SKY's bar of the year awards - Gin bar of the year 2016, and no wonder as there are 310 gins (and counting!) available here!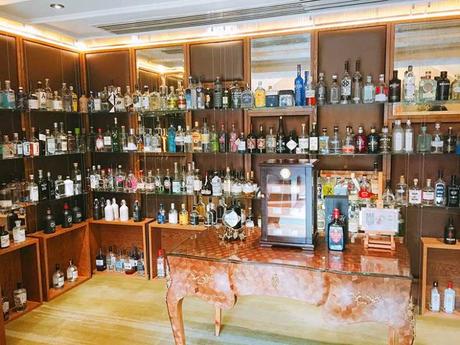 You can relax with your gin, or any other drink, in the bright and airy conservatory. This is the place to come for afternoon tea.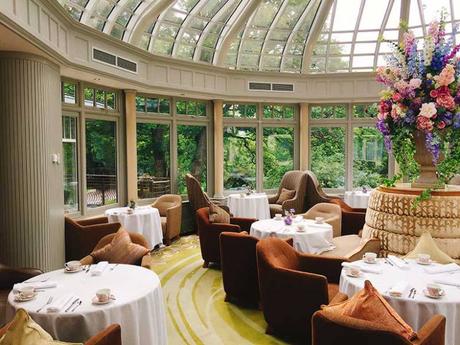 The grounds
We made sure to have a relaxing stroll around the Galgorm grounds before checking out.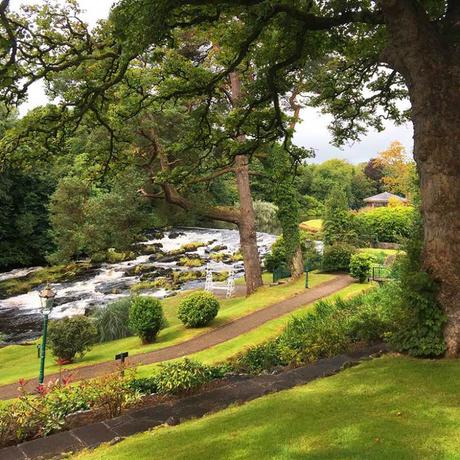 The verdict
Absolutely brilliant! The hotel has 4 stars but provided much better service than some 5 star places we've stayed at! There are staff everywhere and every one was so friendly. The room was great with a big comfy bed and we slept soundly, we loved the mini bar and the shower and the Thermal Village spa of course but actually the hotel has so much to offer in addition to that. There's a choice of restaurants - The River Room fine dining restaurant, the grill at Gillies and there's Fratelli Ristorante, an Italian restaurant too (our dinner at the River Room was stunning - a separate review for that is coming soon!). There's also the conservatory for gin or afternoon tea and there's a pub with a beer garden outside too.
The breakfast selection was impressive and service was very quick considering how busy it was. Checking in and out was a doddle, and staff moved our bags down to the front reception for our taxi pick-up.
Set in acres of lush green woodland, Galgorm is a great place to get away from it all, it may not be a familiar name in our neck of the woods but there's no reason for this to remain a secret outside of Northern Ireland for long.
It's popular with weddings and we must admit that our hearts sank a bit when we saw there was one taking place during our stay - as we have, at other hotels in the past, been caught up with rowdy revellers when we want to relax, but thankfully this wasn't to be a repeat of past negative experiences elsewhere. We honestly wouldn't have known there was a wedding taking place once we'd checked in. Should you wish to plan a wedding at Galgorm, there are a number of rooms and adjacent buildings which can be used.
Visit their website here: www.galgorm.com
TL;DR
+ Real fires!
+ Calming location in lush grounds
+ High amount of friendly staff
+ Complimentary mini-bar
+ Dedicated check-in for deluxe rooms makes things easier
+ Gin library with 310 gins and counting!
+ Choice of restaurants including 3 AA rosette restaurant
+ Great shower
+ Toiletries by Aromatherapy Associates London
+ Incredible amount of spa facilities
- Awkward watching TV from the bed
- WiFi speeds were slow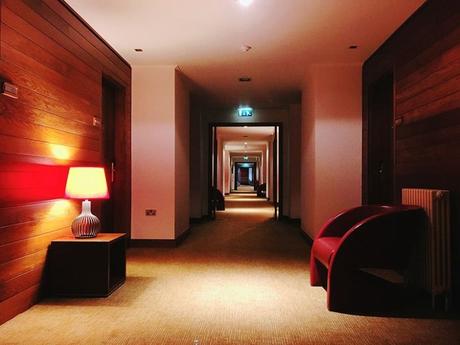 Getting there
We travelled by public transport. After flying into Belfast International Airport we took the 109a bus to Antrim and then caught the Londonderry train to Cullybackey (the train and bus station in Antrim are beside each other). From there the hotel is only about 15 minutes walk away, but it's outside the town on a road with no pavement so we took a taxi which only cost a few pounds. The bus, train and taxi combined was about 70 minutes. If you're coming to/from Central Belfast, the train from Cullybackey goes all the way there, terminating at Great Victoria Street.
If you plan to travel by car it only takes 30 minutes from Belfast International Airport or 45 from George Best City Airport or Belfast city centre and there is parking for up to 300 guests.
Disclaimer: we received a complimentary one night stay including dinner and access to spa facilities but we had to pay for drinks. We consider this a fair reflection of our experience and Fred says that if you don't believe that he will poop on your flower bed.