The Amalfi Coast is undoubtedly one of the most popular honeymoon destinations among The Honeymoon Project's readers – and it's not hard to see why. Today, Helen Steele reviews Bellevue Syrene for us, where she and her husband spent a rather blissful-sounding few days on honeymoon. If Helen's text isn't enough to whet your appetite (and it definitely will), then her photos will have you looking into flights before you know it.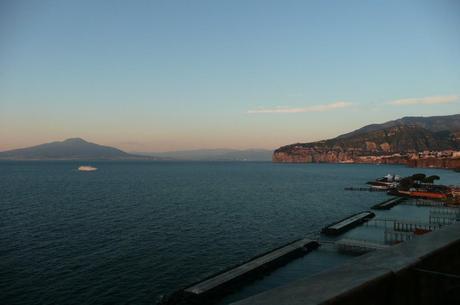 Italy wasn't the original plan for our honeymoon, but after life forced us back to the drawing board it seemed like the right choice. We deliberately opted for a short, luxurious honeymoon, and decided Mr & Mrs Smith should be our first port of call. After our initial choice suddenly shut for renovations, some wonderful customer service from Mr & Mrs Smith found us booked in to the Bellevue Syrene. Now I can't imagine it having been any different!
This was a much longed for break after a very hectic six months involving moving cities, starting new jobs, planning the wedding and finishing my PhD. We hadn't spent much quality time together and we certainly hadn't relaxed together for a long, long time. We got married on the Thursday, headed to Gatwick on the Friday and by midday on Easter Saturday we were pulling our cases down the bougainvillea covered walkway to the Bellevue Syrene.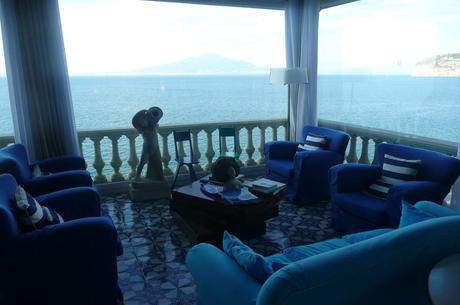 The Bellevue Syrene is one of the oldest hotels in Sorrento and, as such, occupies a prime cliff top position with unrivalled and uninterrupted views. The floor-to-ceiling class in the lobby makes a striking first impression, engulfing you in the wonderful blue of the bay, complemented by the tiling and chic furniture. The whole place has such wonderful color and a really lively design aesthetic. One grand ante-room boasts a chandelier straight from the land of the sugar-plum fairy. In the lounge, quirky figurines mingle with mementos from celebrity visitors (Sophia Loren) and vibrant bowls holding the largest lemons I've ever seen.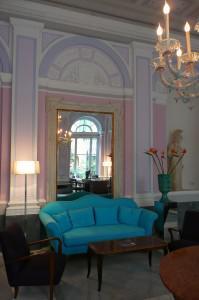 Now, normally I can be a bit of a control freak when planning our holidays. I'll be the one consulting the guidebooks, basically doing as much research as I can in advance of the trip. But for our honeymoon there was no preparation whatsoever. No guidebook, no language guide, nothing. As we unpacked it dawned on me that we had no idea how to say anything or where to go or what to see, but it was actually quite liberating! There was no pressure to be tourists and, since we were ensconced in the most wonderful room in the most luxurious hotel we had ever encountered, why would we want to leave? Our Superior Sea View room was vast: full of wonderful white furniture with aqua accents. Towering French windows opened onto a balcony, complete with wrought iron furniture, which provided the most breathtaking view of the bay and Vesuvius. The bathroom was also huge, with the stone and tiling feeling a little like a Turkish bath. Peter Werth toiletries were provided, proper sizes too! Robes and slippers helped the spa feel. Although we didn't make use of it, the hotel also offer a spa with hammam and treatment cabins.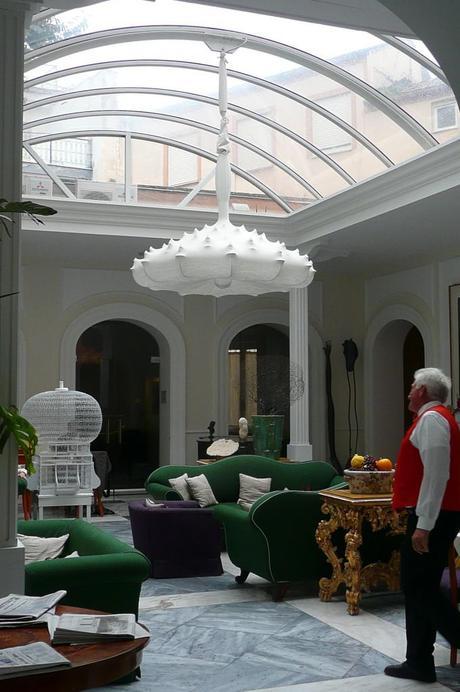 Another enticement to stay put was the all day larder in the Garden Room. In sunny weather this would also take place outside, but it was still too chilly during our Easter time visit. And oh, the all day larder. How the Syrene spoilt us! I'm still bemused as to how we pulled ourselves away. We did get adept at clocking the changeover times. The smoked baby mozzarella balls, fresh tomatoes, grilled aubergines gave way to pastries, fruit and cakes, then by early evening the ingredients for aperitifs came out, complemented by delicate nibbles. From early evening the wonderful Sebastian took to the grand piano and created the perfect atmosphere. It was heaven.
When we did venture out, the tangle of streets which make up Sorrento's old town were reached in a few minutes from the hotel. We wandered happily, finding our way and stumbling across little shops and restaurants. We spent time on Tasso Square, sipping beers and people watching before searching out some divine pistachio gelato at one of the many ice-cream parlours.
Apart from a spectacular buffet, the breakfast room offered a panoramic view of the ferries criss-crossing the bay of Naples so on Easter Monday we decided to make our way down to the port. The high speed lift through the rocks is a short stroll from the hotel and offers a quick and easy way down (or a lazy way back up!) Boats leave regularly from the port and we chose the high-speed route to Capri. It was wonderful to see our hotel from the water and get some perspective on our beautiful part of coastline.
A real stand-out feature of the Syrene was the first class service. At every hour of the day it seemed there were staff on hand to provide friendly assistance. Our favorite breakfast waiter responded every day to my request for (yet) more coffee with: "Eh, why not?" Why not indeed! Nothing was too much trouble and there were wonderful little touches throughout our stay. We visited at Easter and were left chocolate eggs in our room. Our arrival was greeted with an ice cold bottle of Prosecco. On our final night we asked the wonderful concierge for their recommendation of a special restaurant and within minutes a table was booked for us. It turned out to be a perfect choice: a cosy cellar setting with an extensive wine selection and mouth-watering dishes.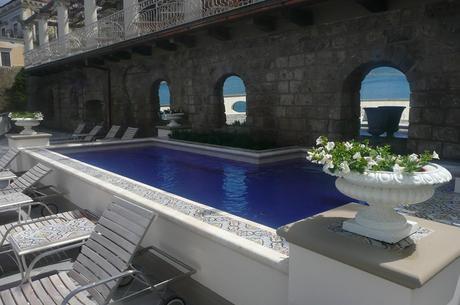 We had one glorious day when we went to Capri, but the other two were chilly and stormy. All I can say is I'm glad. It would have been a crime to only use the hotel as a base. It couldn't have been more special. Bellevue Syrene is luxurious and grand, but never intimidating. It exudes a casual glamour, an easy elegance. We had fun dressing up but it didn't feel pretentious. Being on honeymoon is such a special time: our surroundings were so opulent and relaxing, and we felt so glamorous and laidback, that it was easy to reconnect with each other and bask in the wonderful feeling of being newlyweds.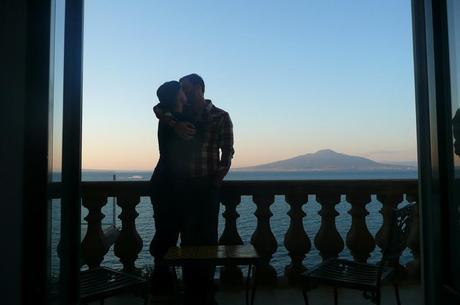 Need to know
We booked Bellevue Syrene through Mr & Mrs Smith and the rate was £267 per night (incl. breakfast).
We flew London to Naples and took a coach transfer from the airport. The hotel can also arrange a private transfer.
Photographs © Helen Steele