There's no doubt that India is a magical destination, no matter whether it's your honeymoon or not, but if you are heading their on your 'moon then you're really spoilt for choice for fabulous places to stay. When the lovely people at i-escape shared Ramathra Fort with me, I knew it had to be a hotel of the month here on The Honeymoon Project. There's something undeniably romantic about Rajasthan (part of India's Golden Triangle) – so it's no surprise that it's one of India's most popular honeymoon destinations – and remote, cut-off Ramathra Fort  has been beautifully designed to make the most of its situation, and provides a really wonderful hideaway.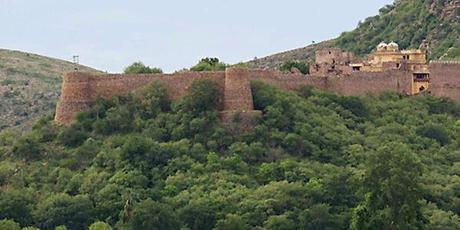 To give you a taster of what the fort is like,  here's a glimpse of what i-escape say about it:
"It's safe to say that the craftsmen who built this Rajput battle fort were not thinking about luxury tents and sundowner cocktails when they built it; their minds were on elephant attacks, tribal skirmishes and invading warriors. 350 years later, the beautifully renovated fort is a real gem, and far from repelling invading forces, it welcomes visitors warmly."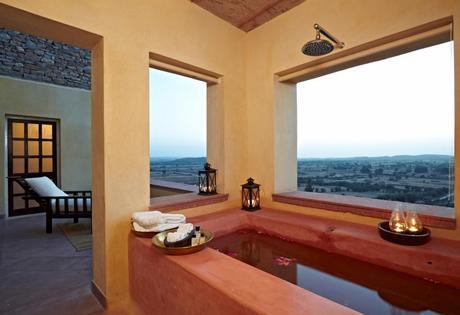 Accommodation is made up of a handful of luxury tents and another handful of suites, which have views of the river valley and the mountains beyond, and are set in the fort itself. I especially love the look of the outdoor bathtubs that the suites have (above) – they look like a perfect, romantic way to unwind (by candlelight) at the end of a day spent exploring. The combination of local textiles and teak furniture in the rooms creates a homely but sophisticated feel, which is complemented by ample space to enjoy your surroundings.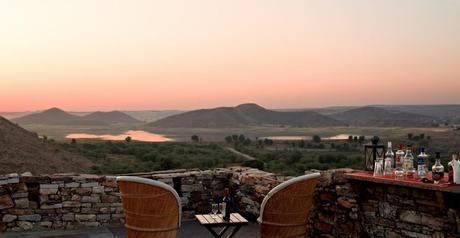 Speaking of surroundings, Ramathra Fort offers a number of guided tours and activities so that you can really experience the area – from jeep safaris to the cave temples at Ghanteshvar and night safaris to Kaila Devi National Park, to cycle tours to the local village and surrounds, and boating on the lake. This hotel is properly isolated though – so expect to eat all of your meals here, but it's locally-farmed, traditional-style food so that's unlikely to be too much of a hardship. And of course the pay off is being able to enjoy a peaceful, secluded situation – which always helps a place feel like the height of luxury – not to mention amazing views of the Milky Way at night.
Suites from £99 a night, with a two-night minimum stay. 
To book a stay at Ramathra Fort, or for more information, visit i-escape.com. 
Photographs courtesy of i-escape