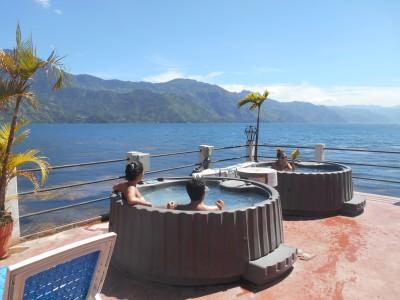 Pure paradise – Hotel Mikaso in San Pedro La Laguna, Lago Atitlan, Guatemala.
It's time for me to write about the most amazing 3 days of relaxation of my recent travels. We knew that Guatemala's popular "Lago Atitlan" was a recommended spot to chill out but what we didn't realise was that it's simply an unknown paradise. Even better that we got to spend it in what is quite simply the best hotel in San Pedro La Laguna, Hotel Mikaso.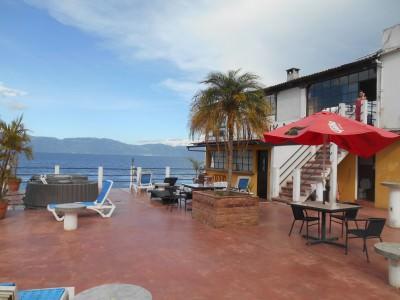 Hotel Mikaso, San Pedro La Laguna, Guatemala.
I'm sure I can never do justice to actually how peaceful, tranquil, relaxing and comfortable this hotel actually is on here, but I'll try. After a few nights of insect bites, bus bugs and bed bugs, as we backpacked through the streets of San Pedro La Laguna, we arrived at the end of a path which lead to our hotel for the next 3 nights. The Hotel Mikaso. From the moment we walked along the wooden walkway into the hotel, we knew this was a special place. For a start there was a personalised welcome note on the bed in our room!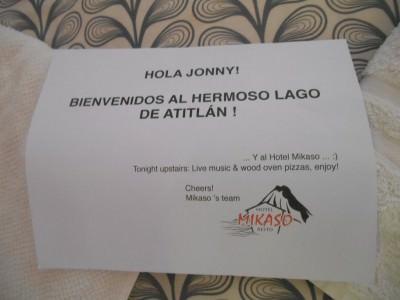 My welcome note on arrival at Hotel Mikaso – at home already!
As far as San Pedro La Laguna is concerned, Hotel Mikaso sticks out the most into Lago Atitlan. It overhangs the lake, providing you with lakeside views all around. Sunset, sunrise, by night, by day. You're staying right on the Lake!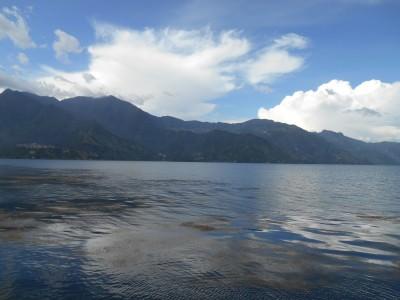 Yep – we are right on the Lake here!
Here are 16 reasons why I loved Hotel Mikaso and believe it to be the best hotel in San Pedro La Laguna.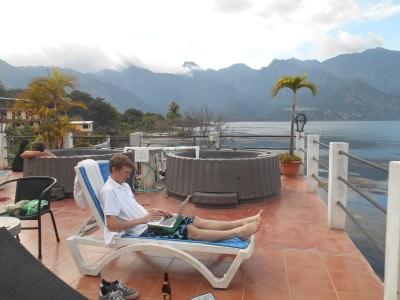 Getting some work done in Hotel Mikaso.
1. Laundry
I'm putting this first as although we often do our own laundry, in Hotel Mikaso we wanted rid of all the bugs and insects from our clothes so we got the staff at Hotel Mikaso to wash it. They washed all our clothes by hand and in the lake for 50 Quetzals! This was the cleanest my clothes had been in years!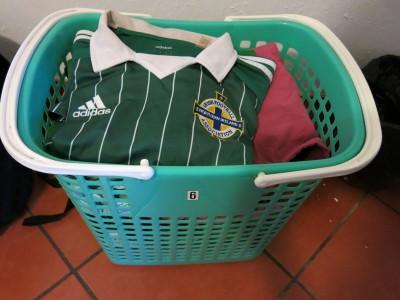 We got our laundry done to rid the bed bugs from previous hostels!
2. Happy Hour
The Mikaso restaurant on the top floor has a Happy Hour from 2-5 pm. For me, this was the perfect time to sit outside on the sun loungers relaxing with an ice cold Gallo Beer. 2 Beers for 25 Quetzals works out at just over $1.50 US each beer!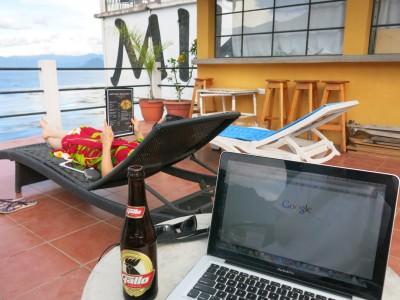 Happy hour Gallo beer on the balcony!
3. Hot Tubs
Yes, hot tubs, but not any old hot tubs! The tubs overlook the lake! I have never had a more relaxing jacuzzi in my life.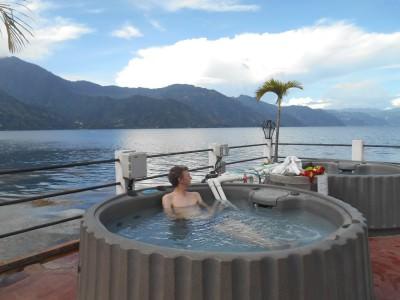 Hot tub time by the lake!
4. Lakeview
The selling point of Hotel Mikaso is its position. It overhangs the lake. The beautiful Lago Atitlan. You can make your friends jealous by Facebooking lakeside photos with cold beers.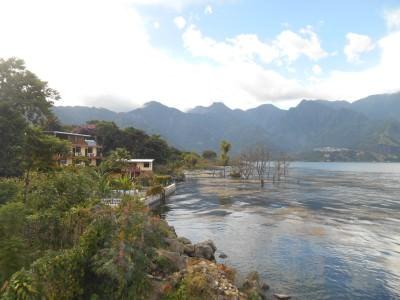 Lakeview from Hotel Mikaso.
5. Organising Tours
We hiked up to Indian's Nose for sunrise while staying in Hotel Mikaso and it was expertly organised by Guatemala Sur Mesure, run by Elmer and Laurence at Guatemala Sur Mesure.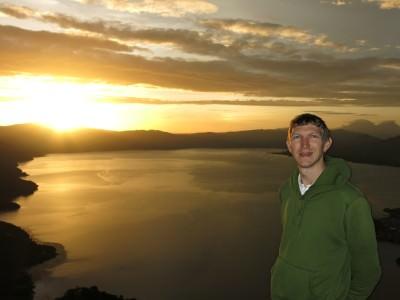 Awesome sunrise hike to Indian's Nose.
6. Pool Room
If you want to play pool – there's a pool table which is FREE to use in the TV room!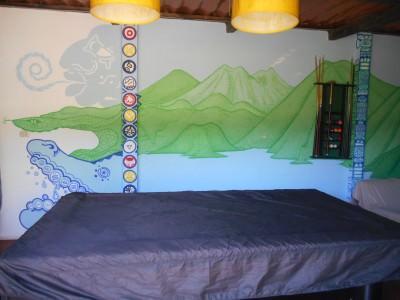 The pool room at Hotel Mikaso.
7. Live Music
For 2 out of the 3 nights we were up in the upstairs bar and lounge listening to the live music which was local and added to the great vibe already present in the bar. There's a video clip of the live music in the videos at the bottom of this post.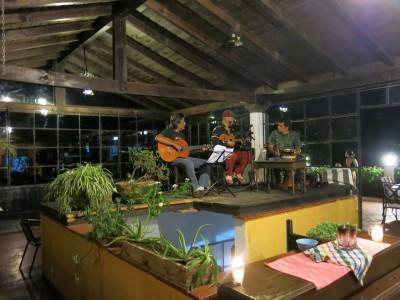 Live music in the bar upstairs at Hotel Mikaso.
8. Sunrise from our Bed
On the last day staying here, we didn't even have to leave our beds to watch the sunrise! We simply opened the curtains and the door of our room (Room 10) at 6am and watched the sun come up directly opposite us, across the lake. Immense!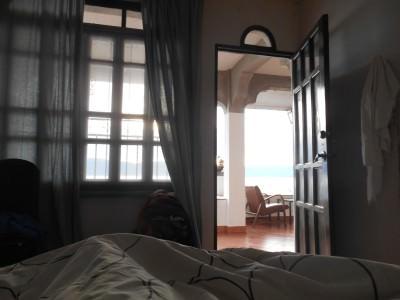 We just opened the door at 6am and watched the sunrise from our BED!!
9. Pizza
The top floor restaurant serves wood fired pizza to perfection and the pizza is a generous size, so much so that we shared one! On a Saturday night they have all you can eat pizza for 60 Quetzals!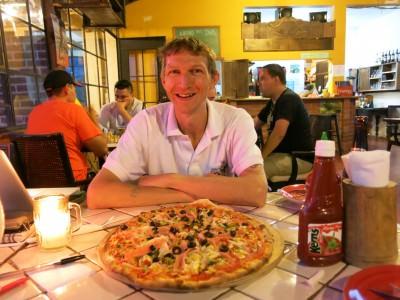 Yummy pizza at Hotel Mikaso, San pedro La Laguna.
10. Cosy Rooms
Like I said we had picked up a lot of bus bugs and bed bugs in the previous few nights to to get cosy rooms which were clean, relaxing and without insects was such a joy!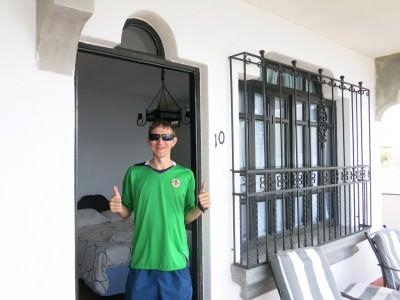 Cosy rooms – our room 10 at Hotel Mikaso.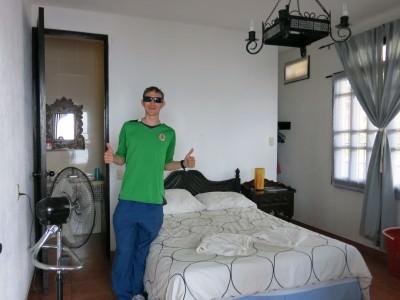 Cosy rooms – our room 10 at Hotel Mikaso.
11. Cool Staff
The staff in Hotel Mikaso can speak Spanish and English, and some of them French. The staff ensure you enjoy your stay whether in the bar, by the tubs or on the balconies.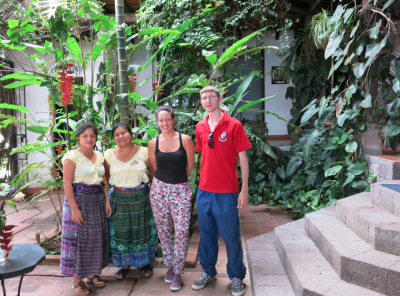 Relaxing with the staff at Hotel Mikaso in the leafy garden.
12. Swimming in the Lake
Hotel Mikaso is right on the lake and you can pop in for a dip. Lots of people think it's a tad dirty but I went in for a dip and that's not the case. In fact it's so clean that local ladies wash themselves in the lake here daily, right by the hotel. Every time I walked past I'd see some bare boobs as well (!!) as the girls here wash naked and are not shy about it. I got in on the act too, perhaps another venue for my top nude locations.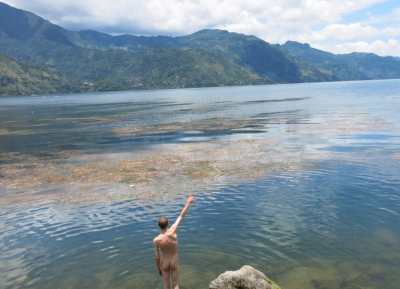 The locals go in naked so I did too at Lago Atitlan by Hotel Mikaso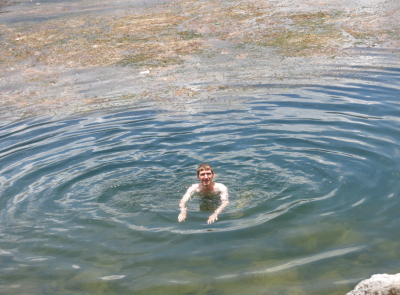 Swimming in Lago Atitlan by Hotel Mikaso
13. Wi-fi
As a travel blogger, we need to be online when we travel and this means decent Wifi. Hotel Mikaso has three different wifi points, so even if one goes offline (which happens in Guatemala) there are two more. The top floor bar and restaurant has its own wifi which meant I could type stuff up over a beer!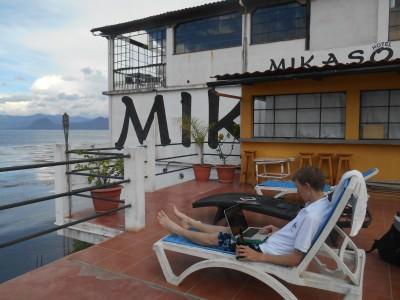 Travel Blogging and Wifi time at Hotel Mikaso.
14. Fully equipped kitchen
If you don't want to splash out money eating out, a fully equipped kitchen means you can cook for yourself. We made our own breakfast each day.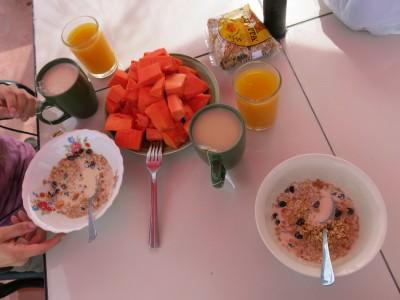 Breakfast we made in the kitchen at Hotel Mikaso.
15. Balcony Hammocks
There are a couple of cosy hammocks on the balcony for you to fall asleep on in the afternoon in the tranquility of this paradise.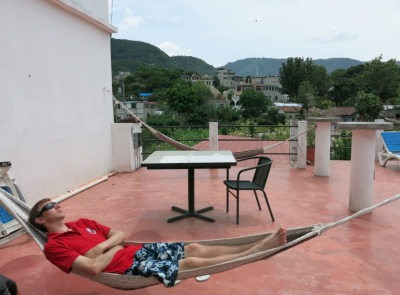 Relaxing in the hammock at Hotel Mikaso.
16. Choice of Rooms to Suit Everyone!
Hotel Mikaso has dorms, doubles, singles and family rooms so whatever your budget, you can afford to stay here. We splashed out a bit on a double room for 3 nights, but dorm beds are VERY affordable at just 50 Quetzals (which is less than $7 US per night) including full access to hot tubs, pool table, kitchen etc.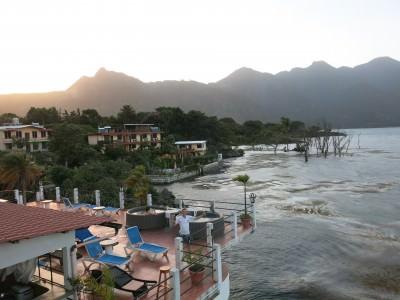 Epic views all round from Hotel Mikaso.
So that's it folks – if you're ever coming to stay in San Pedro La Laguna, please make sure you stay at the Hotel Mikaso – you will love it and you will not be disappointed. I think we struck gold with this place and in the end we just didn't want to leave!
Here are the details for booking Hotel Mikaso:
http://www.mikasohotel.com
Lac Atitlan, Guatemala
[email protected]
+ (502) 77 21 82 32
Here are my videos from Hotel Mikaso, well worth watching!!:

Join 13,000 Monthly Readers! If you enjoyed this article and LOVE travel and SAVING money, get e-mail updates from Don't Stop Living – a lifestyle of travel! (It's Free)

Jonny