Hotel Catalonia
Hotel Catalonia or Catalonia Portal de l'Àngel is found in the gothic quarter of Barcelona not far from Plaza Catalunya.
It used to be called Catalonia Albinoni and this former palace is found in an unbeatable location in the very heart of the city. Built in the 19th century, it is a beautiful building and has been designated as one of Barcelona's artistic heritage sites. Its rooms have been tastefully decorated and, in its interior, you will be delighted to find an open-air courtyard where guests can enjoy the swimming pool surrounded by an enchanting terrace garden decorated with mural paintings and trompe l'oeill effects.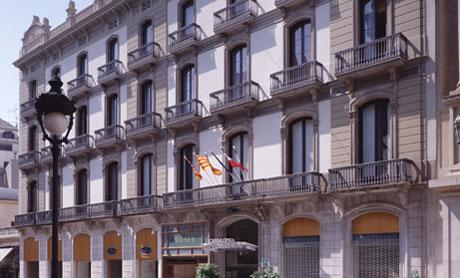 Hotel Catalonia – features of the hotel
There are many great hotels in Barcelona and Hotel Catalonia is just one of them. Rooms at Hotel Catalonia are quite reasonable too at around 99 Euros per night.
Some of it's features include swimming pool, WiFi Internet access, restaurant, public car park (which is important in this area of Barcelona), air conditioned rooms, bar, and many others.
Hotel Catalonia – ideal for weddings, banquets and meetings
The heated marquee has a capacity for up to 70 people and if you would rather enjoy the good weather outside, they can organize your banquet in the garden, which has a capacity for up to 100 people. They have a wide selection of gastronomy to make these events unique and unforgettable. There is an exquisite selection of tasting meals, a complete and attractive cocktail party and all with the unmistakable touch of authentic Catalan cuisine that you'll find in Barcelona.
If you fancy a short stay at this rather splendid hotel in the heart of the city, you cannot go wrong with Hotel Catalonia.
Address: Portal de l'Àngel, 17. 08002 Barcelona
Tel: 00 34 93 318 4141