Podcast: Play in new window | Download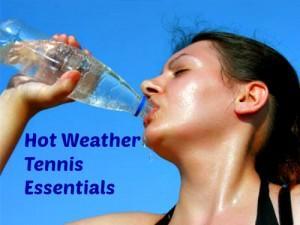 Another episode of the 
Tennis Quick Tips
podcast has arrived! In
TQT 008
, I take a good look at what it takes to not only play tennis well, but to play it safely, in hot weather. I live in Houston, Texas, so I face the heat pretty much year-round.  I've tried all kinds of tricks and products to deal with hot weather, so in this episode, I'm going to give you my "Hot Weather Tennis Essentials."
Below is an edited version of the transcript for this episode that at you can read through if you want to get notes or keep a checklist on hot weather tennis tips.
I'm lucky to live in Houston, Texas where we play tennis outdoors pretty much year round. The weather can be beautiful in the winter – sunny with mild temperatures. It's almost never too cold to play tennis here. But, in the summer, it's another story. Summer weather in Houston is incredibly hot and unbelievably humid. And this definitely has a huge impact on my tennis game. I've played in and watched plenty of matches where the players seemed to have much more trouble dealing with the heat than with their opponents. In fact, I once played a match where I saw someone pass out on the court next to me from the heat and probably from dehydration. That was definitely not fun to watch.
So I'm very concerned about not just playing well in the hot weather, but playing safely. Having researched it and tried out quite a few things, I've come up with some reliable tips that work to keep me cool and safe when the temperatures are climbing. So here they are – my Hot Weather Tennis Essentials.
My first and most important tip is to stay hydrated. Sweating will cause your body to lose both water and electrolytes. You need to replace those by drinking plenty of water and by getting some type of electrolyte replacement into your system. While I'm not a doctor and can't give you the exact amounts you need to ingest to safely replace the fluids and electrolytes in your body, I can give you some good guidelines.
Drinking water is obviously the best way to replace water in your body. I like plain old water but there are a lot of good, low to no calorie flavored waters you can try if water is too boring for you.
As far as electrolytes, there are tons of electrolyte replacement sports drinks and tablets you can use. If you follow my Tennis Fixation blog, then you know I also run half-marathons on occasion. So I've tried quite a few electrolyte replacement products. Right now, I like Nuun tablets – that's Nuun, N-U-U-N, which are tablets that you add to your own water bottle. I like these because they come in a variety of flavors, they make your water kind of fizzy, and they don't go bad, so you can keep them in your tennis bag and always have them with you. I'll put a link in the show notes for this episode to the Nuun website so you can get more info if you're interested. The show notes will be at tennisfixation.com/quicktips 8. Anyway, Nuun tablets and all kinds of electrolyte replacement products can be found at your local sporting goods store or running specialty store. I recommend trying different products out until you find what works for you.
Anyway, how much and how often do you drink these things? To make sure you stay hydrated, you need to drink water on match days throughout the day, not just during your tennis match. Actually, my urologist husband would tell you that you need to drink water every day all summer long to keep yourself hydrated and to avoid kidney stones. So that's a bonus medical tip for you. And if you wait to drink until you're thirsty, you've waited too long. On match days, I recommend drinking 16 to 20 ounces of water or sports drink at least 60 to 90 minutes before your match. Then drink water throughout your match, at least on every changeover. You can save your sports drink, if you want, for use between sets. After your match is over, continue drinking water and your sports drink.
Now, maybe this net thing is obvious, but I'm going to say it anyway because it's so important. Bring plenty of water with you. While I'm sure the league and tournament matches you play will have water available, you might not have access to it during just for fun matches, practices, lessons or drills. And the water that is provided might not be convenient to drink. At my club, for example, there's water on court but the cups they provide are those little paper cups like you see with an office water cooler. They're not reusable and hold maybe 3 to 4 ounces at most. So, when you play at my club, you definitely need to bring your own water. I always carry at least two cold water bottles with me, sometimes three.
My next hot weather tennis tip is to use sunscreen. Use a lot of it and use it often. I definitely have sunscreen on my face each and every day and I use it whether I'm planning on spending time outdoors on not. On summer days when I'm going to be playing tennis outdoors, I apply even more, definitely immediately before my match and then throughout my match between sets. For my body, I use a spray sunscreen by Neutrogena that has an SPF of about 45. I like it a lot because I can apply it to my whole body, including my back, all by myself. My recommendation is that you apply sunscreen even if you think it's unnecessary because I've been in the stupid position of NOT applying sunscreen and somewhere during a point thinking how I wished I had put on sunscreen and not thinking about what was going on in the point.
In addition to sunscreen, I recommend wearing a shirt with long sleeves if you can stand it. I have a few that actually have an SPF rating and are thin enough to be bearable in the hottest weather. Shirts like these are available in most sporting good store and definitely on-line.
Next, besides keeping yourself hydrated and sunscreened, be sure to stock your tennis bag with the other items you need to get through a hot weather match. These additional items should include a hat or visor, sunglasses, towels, and possibly a dry shirt and socks to change into should you have a particularly long match. Again, this seems obvious, but I'm going to say it anyway because I've actually NOT followed this advice on several occasions – your hat and your tennis outfit should NOT be black. White is way preferable and will help keep you cooler. While I love to wear black tennis gear as much as the next person, in hot summer weather, white is a much better choice.
Next, I recommend spending some time getting your body acclimated to the hot weather. This can be as simple as arriving at your match site an hour early and spending the time outside, getting used to the heat. You can use this time watching other matches, stretching, and hydrating. If you have a partner and an empty court, you can even hit a few balls back and forth to get a feel for just how hot it is. As part of acclimatizing, remember that you are allowed 20 seconds between points and 90 seconds on changeovers. Take advantage of this time and try to get in any shady areas there are as much as possible.
My final hot weather tip – be aware of what the heat can do to your gear and equipment. Tennis balls bounce higher in hot weather so you may need to adjust how you judge balls. The strings of your racquet may feel looser, as they will stretch more in the heat, and this can give you a little less control over balls, especially at the net. Just pay attention at the beginning of your match to how everything feels and adjust your strokes and play accordingly.
Here's a link to the Nuun tablets I mentioned in this episode (this is not an affiliate link):
Be sure to let me know what you think of this episode in the comments below. And I hope you'll SUBSCRIBE to Tennis Quick Tips!
SUBSCRIBE IN iTUNES: Visit the TQT iTunes page and subscribe (click on the "Subscribe" button or the blue "View in iTunes" button) or search for "Tennis Quick Tips" in the iPhone Podcast app.
SUBSCRIBE ELSEWHERE: Search for "Tennis Quick Tips" in your podcast app.  Or visit the TQT Stitcher page and subscribe.  Or visit the TQT podcast feed URL.
Thanks for listening and, as always, Happy Tennis!

© Kim Selzman 2013 All Rights Reserved