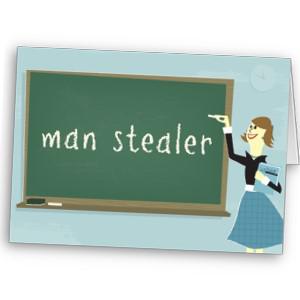 Photot courtesy of urbandictionary.com
Believe it or not, I actually do pay attention to the keywords and phrases that people search for that leads them to my blog. It helps me know what you're reading, what you're not reading, and future topics that I may want to write about. This week I had one phrase that stood out that led people to me and I decided to write briefly on this topic….drum roll please! The hot topic for this week "how to hire a man stealer" yes, that's the topic of the week; I've had enough people search for this that it caught my eye!
A man stealer is defined as a woman who makes a play or several plays for a man despite the fact he's in a committed relationship. If you're reading this post in hopes of finding some tips and techniques on how to steal someone's man you won't find it here. However, I will give my viewpoint on the whole man stealing topic. I'm not sure any woman can steal your man, you either drive him away because of your actions or he wasn't that good of a man to begin with.
Women hire a man stealer for one reason only, well maybe 2. The first reason is to tempt and test their current boo to see how faithful he is. The second reason is to get advice on how to steal someone else's man.  Ladies, I do understand that the world is full of unfaithful people and that the divorce rate is at an all time high. As a result, when we commit ourselves to someone we have this constant need to make sure that they keep it in their pants. I also understand that sometimes past baggage lingers in our head. We've been lied to, cheated on, used, abused, and misunderstood. So we try hard to make sure that it doesn't happen to us again.  Being single is not always easy, everyone desires a companion at some point.  For me,  singing the single blues is very short lived, translation, it doesn't bother me that much but for others it may not be as easy. Let me assure you that hiring someone to tempt your man or hiring someone to give you tips on how to steal someone else's man is an EPIC FAIL. Trust me, there are enough women out here who will attempt to steal your man free of charge, why waste the money!
If you're currently with someone and you have no REAL reason not to trust this person, meaning they're whereabouts are accounted for, they do what they say they're going to do, and they treat you with respect, then you would be the one with the problem. Take a really good look at yourself and find the reason why you have these deep rooted trust issues. If you're with someone and they're the opposite of the qualities I just mentioned then you already have your answer no need to hire a man stealer. If you're looking to steal someone else's man, then remember this if he cheats with you, he'll cheat on you! How in the hell can you build any trust off of that? For those of you looking to hire a man stealer, keep your money in your pockets! I'm sure you can find better things to spend your money on. If not, drop me a line because I can. Check out my previous blog on ruining a good thing.
Ladies, have you thought about testing your current flame and do you find hiring a man stealer is worth it?