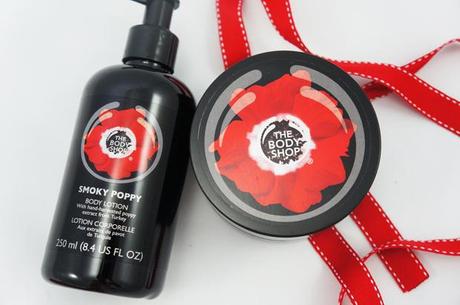 You know me..I love The Body Shop. A few weeks ago, I was drooling over instagram when everyone was posting about The Body Shop Smoky Poppy Collection. Then next thing you know, it felt like The Body Shop read my mind and BAM.. it was by my door step. I was sent two products from their Smoky Poppy Collection, the body lotion and body scrub. These goodies smell so good, I can't exactly pin point what kind of scent it is. Lets just call it sexy floral.
Our Smoky Poppy collection is infused with the extract of oil-rich hand-picked red poppy flowers from the Ankara region of Turkey for a dose of blissfully addictive moisture. Seducing all who dare try, its black seeds also pack a heady dose of rich oil. Our most sensual and indulgent body care collection exudes a seductive, euphoric scent that will leave you longing for more.
The Body Shop Smoky Poppy Collection are all packaged in black with a red poppy illustration. Anything black and red =  sexiness. The range comes in 6 products – Smoky Poppy Seed Scrub, Body Butter, Shower Gel, Body Lotion, Bath Bombs and Massage Oil.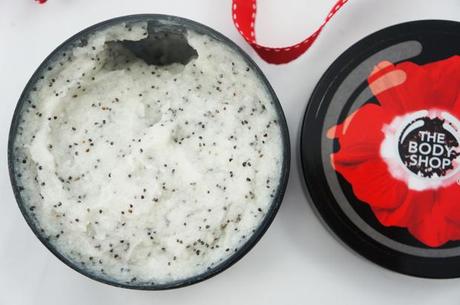 Smoky Poppy Seed Scrub – This scrub is made out of poppy seed and it smells so good. It's not harsh on the skin and feels amazing afterwards. Usually after using a scrub, I feel like I have to moisturise straight away but not this one. It leaves my skin so smooth and soft.
Reveal radiant skin and lift away dead skin cells as you stimulate the skins surface, leaving skin feeling smooth and soft.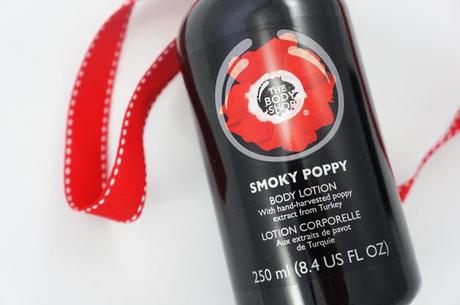 Smoky Poppy Body Lotion – I've tried a few The Body Shop lotions and they have always been on the light side. So when I was trying the Smoky Poppy Body Lotion, I was also expecting a similar consistency but I was wrong! This lotion is thicker and more creamier than their other lotions. Despite being a thicker lotion, it's absorbs into the skin amazingly well and does not leave the skin feeling sticky. The scent is so beautiful and I love how it lingers awhile.
The lightweight lusciousness of our Smoky Poppy Body Lotion leaves skin moisturised, feeling desirably soft and sensuously smooth.
I'm absolutely loving this range and I plan on getting the bath bombs and body butter in the next couple of weeks. So if you're not doing much on Valentine's day, take yourself on a date with The Body Shop Smoky Poppy Collection and pamper yourself.
Products were provided for consideration. This has not influenced my opinion in anyway.