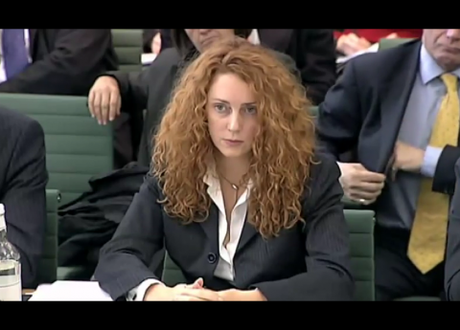 Rebekah Brooks (neé Wade), former editor of the News of the World, gives evidence in front of a select committee in March, 2003.
The bizarre revelation that ex-Sun and News of the World editor Rebekah Brooks was loaned a police horse in 2008 has highlighted the oh-so cosy relationship between News International (NI) journalists and the Metropolitan Police. Today's London Evening Standard reports that Brooks "rode the retired horse for a year at her farm in Chipping Norton, Oxfordshire before it was put out to pasture."
"The loan, made in 2008 while Lord Blair was Met Commissioner, is likely to raise fresh questions about the close relationship between the police and the Murdoch media empire," insisted The London Evening Standard, which noted that "the Leveson inquiry into press ethics has heard that the relationship between News International and the Met was 'at best inappropriately close and at worst corrupt.'"
The revelation comes just two days after Rupert Murdoch personally oversaw the launch of the family-friendly Sun on Sunday, a new Sunday tabloid launched by News International partly in an effort to decontaminate the brand in the wake of the phone hacking scandal which prompted the closure of The News of the World and Brooks resignation from her NI management job.
The Financial Times quoted a police spokesman, who confirmed the loan but insisted nothing unusual had taken place. "When a police horse reaches the end of its working life, Mounted Branch officers find it a suitable retirement home," the spokesman said. "Whilst responsibility for feeding the animal and paying vet bills passes to the person entrusted to its care at its new home, the horse remains the property of the Metropolitan Police Service. Retired police horses are not sold on and can be returned to the care of the MPS at any time. In 2008 a retired MPS horse was loaned to Rebekah Brooks. The horse was subsequently re-housed with a police officer in 2010."
Weirder than even Brass Eye. Writing at The Staggers, The New Statesman rolling blog, George Eaton said the latest twist was something that "even the brain of (Brass Eye creator) Chris Morris couldn't have dreamt up." Eaton noted that,"a friend of Brooks told the ES that 'Anybody can agree to do this with the Met if they have the land and facilities to pay for its upkeep.' The Met's already battered credibility depends on the veracity of that claim."
Night mare for Cameron. Political blogger Guido Fawkes unsurprisingly leapt on the story, and asked "did Cameron look the gift horse in the mouth?" "The loan took place in 2008 while Lord Blair was in charge," noted Fawkes. "This is around the time Cameron was courting Brooks and their close friendship struck up. Given that they used to go riding together, you have to wonder whether Dave ever rode this dirty steed? The PM has been saddled with another night mare."
Horsegate. By this afternoon the loan had been dubbed "Horsegate" on Twitter and a fake account set up in the name of "Rebekah's Horse" had attracted over 1000 followers. The "horse" sent a tweet to the official Met account, asking: "Why did you give me away to Rebekah Brooks? I loved you."