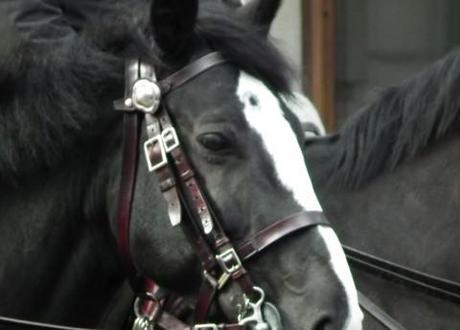 A Metropolitan Police horse - they're just giving them away. Photo credit: http://www.flickr.com/photos/kenjonbro/6904839843/in/photostream/
In what is surprisingly not a euphemism, Prime Minister David Cameron admitted on Friday that he had in fact ridden former News International chief Rebekah Brooke's horse, Raisa.
In the wake of the phone-hacking scandal that brought down the News Corp-owned News International's News of the World Sunday tabloid, the disgraced media outfit has been a main focal point of the Leveson inquiry into press ethics. Brooks, News Corp head Rupert Murdoch's former right-hand woman who is now out on bail after being arrested on phone hacking charges, came in for media scrutiny this week after it emerged that the Metropolitan Police had loaned her the retired police horse.
Though the Met defended the loan as completely above board – evidently, retired police horses are frequently lent to members of the public who can provide a home for them and Brooks' husband is, in point of fact, a horse trainer – media observers noted that it uncomfortably underscored the too-close relationship between the Met and News International reporters.
Raisa, the 22-year-old retired police horse, found a home with Brooks in 2008, while Brooks was editor of The Sun, but was later re-homed with a police officer in 2010. She has since died.
Horsegate, as the story was quickly dubbed, earned a further wrinkle after reporters began asking Prime Minister Cameron, who is good friends with the Brookses, whether he'd ever ridden the horse in question (which, incidentally, is against regulations set forth by the Met – retired police horses can't be ridden). The horse was now being used to illustrate not only the potentially corrupt relationship between the Met and News International papers, but between News International and Downing Street as well. After a week of hedging and some profoundly bad horse-related puns, Cameron finally admitted Friday that he had, but that there was nothing inappropriate in it.
All this just serves to make it clear that what started with phone-hacking revelations isn't likely to end any time soon.
How to get your own ex-police horse. Samira Shackle at The New Stateman's The Staggers blog noted that the Met has been pretty blasé about the whole thing, explaining that this kind of horse trading happens all the time. Which begs the question, how does one acquire a police horse? "Maybe I'd like a retired police horse. It's always good to keep your options open," she wrote. What she found was that anyone in the south-east of England offering a "suitable home" can take in a retired police horse. Shacked was still suspicious, however, largely of the fact that Brooks gave hers back after two years and that contrary to the stipulation that horse isn't to be ridden, Cameron went for a hack. She noted, "The Mounted Branch office might want to work on that suitability assessment process."
"Now they are complaining about R Brooks saving an old horse from the glue factory!" tweeted Rupert Murdoch this week.
What else would you want from the Met? Tom Meltzer, writing at The Guardian's Shortcuts blog, claimed that a horse is probably the last thing he'd want from the Met. But, he added, "Putting talk of bribes, hacking and corruption to one side for a bit, we're just delighted with the idea that police assets are up for grabs when the force are done with them." He offered a few examples of the Met's "coolest bits of kit" that he'd like to take: Water cannons and police sniffer dogs topped the list.
Puns. Terrible puns. Horsegate opened up a whole universe of horse-related puns, The Guardian noted: "What seemed at first a whoa-ful tale to be reined in, has now become a bit of a mare, neigh an un-fetlocked disaster, as it gallops into one of the week's mane stories. What will the whips say?"
Horsegate is funny, sure, but this could be a problem for Cameron. "It's a funny thing is trivia. Sometimes it's just funny, sometimes it proves lethal. So it may prove with Horsegate," warned Michael White at The Guardian. Horsegate followed him all the way to a summit in Brussels, where real news stories were happening; these sorts of gaffes have a way of confirming suspicions people already possessed. "Downing St's embarrassment may pass quickly enough in an age of frantic 24/7 attention spans. But it won't be entirely forgotten and it's dangerously easy for everyone to understand: overly-intimate links between ministers, the media and the Met are deeply disquieting in all sorts of ways."
What else happened in the world of questionable journalistic ethics this week? Horsegate threatened to eclipse several other major developments in the whole phone hacking scandal: Son James Murdoch, whose name and face has appeared rather often in connection with the phone-hacking scandal, resigned his position as chairman of News International; Murdoch launched a "boring" Sun on Sunday to replace the lost News of The World; and the Leveson Inquiry into media ethics heard from Sue Akers, the officer leading the police investigation into bribery of public officials and police by journalists, that there is a "culture" of bribery at The Sun. As Mike Giglio of The Daily Beast noted, the echoes of the phone-hacking scandal aren't likely to die down any time soon.
More on phone hacking and media ethics

Horsegate: Rebekah Brooks gets ex-police horse, observers wonder about Met's relationship to The Sun
Phone hacking: Murdoch pays out
The week in phone hacking
Leveson inquiry: Five of the most damning moments