Are you looking around for a great Christmas present for someone special in your life? Wouldn't you love to give that someone special a simple, but beautiful reminder of love and inspiration? That's where HOPE IN A BOX comes in.  HOPE IN A BOX is dedicated to creating gifts that do just that. H.O.P.E. stands for "Hang On Pray Everyday."  Hope in a Box is a company founded by a husband and wife team who persevered through difficult times through prayer. 

HOPE IN A BOX gifts that offer hope by Romans 12 LLC was founded on the idea that all of us, some time or another, suffer with daily challenges, difficulties, or crisis in our lives. It is during these times, that we might need a reminder of God's presence and His plan for us. The H.O.P.E. (Hang On Pray Everyday) line of products and gift boxes have been developed to remind us to 'HANG ON' to the promises made by God in scripture: that He will meet our needs (Phil 4:19), how He is with us and will help us (Isaiah 41:10), how He is our Rock, Salvation, Defense, and Fortress (Psalm 62:6) and to 'PRAY EVERYDAY' to Christ who loves us, so that He can lovingly guide us in this challenging time.
While sending HOPE IN A BOX to someone special cannot replace faith in God or daily prayer with our Lord, receiving HOPE IN A BOX and using their products daily might help your someone special stay strong in faith or find faith that has been lost or misplaced.  There are so many great gift items, like the gift for that coworker that meets you by the coffee pot every morning – the H.O.P.E. Coffee Mug.  It's a great gift item for so many people – myself included!!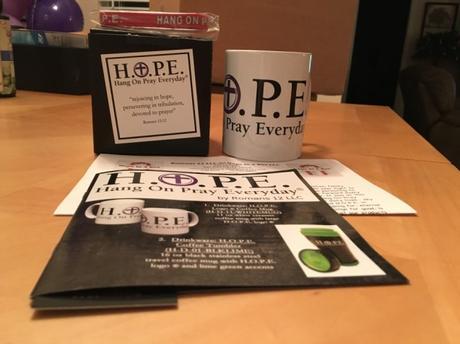 For the mother or grandmother who needs a little extra warmth in the winter, tell her you treasure her with a H.O.P.E. Fleece Blanket.  For the teenager who just started driving to school, have them know you're always thinking of them with a H.O.P.E. Keychain. There are so many different gifts, you'll be sure to find one to fit the person in mind. Some of the gifts available are jewelry, backpacks, bookmarks, drinkware, caps and bags, shirts, greeting cards, technology accessories, and much more at HOPE IN A BOX.
Whether your loved ones enjoy relaxing at home or are always on the go, they will feel love and inspiration when they receive any of these gifts. Give thanks with HOPE IN A BOX.  H.O.P.E. is a blessing in itself and a blessing in disguise. HOPE IN A BOX donates 25% of all company profits to life, marriage, and family affirming ministries. This Thanksgiving, the purchase of just one gift could potentially touch several lives.
You can connect with HOPE IN A BOX at their Webpage, Facebook, Twitter, Pinterest and Instagram!
"Rejoicing in hope,

persevering in tribulation,

devoted in prayer."

~ Romans 12:12
I received a sample product from HOPE IN A BOX in exchange for my honest review and unbiased opinion.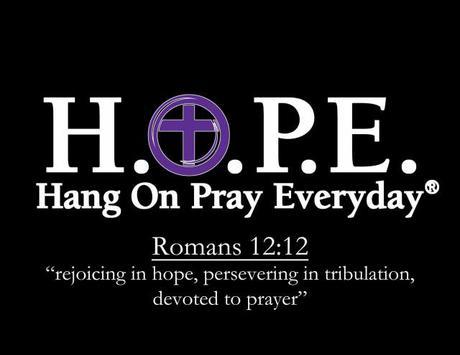 ~ ~ ~ ~ ~ ~ ~ ~ ~ ~ ~ ~ ~ ~ ~ ~ ~ ~

It would be great if you would stay connected with me!! You can follow me on Twitter @DebiL1611, like me on Facebook at 2014 and Beyond, circle me on Google+, follow me on Tumblr, Instagram and Bloglovin', subscribe on YouTube, or connect with me on LinkedIn and Pinterest.

Please make sure to visit my homepage and subscribe to my blog for more great posts on running, fitness and lifestyle topics as well as food, product, music and book reviews, and more!