The Caribbean is known for its laid-back style, so there's no real need to go all out when packing for a honeymoon in the region. That said, the islands are home to some of the world's most luxurious and exclusive resorts, so you'll most likely want to make a bit of an effort. I've built this week's wardrobe ideas around the idea of a sophisticated Caribbean honeymoon, with a touch of old-fashioned glamour.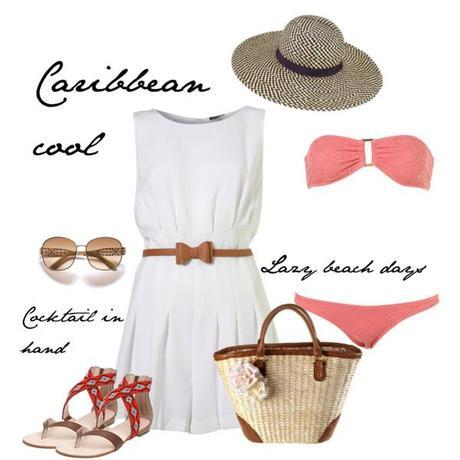 Hat:
Accessorize
(£22); playsuit: Topshop (£52); bikini: Topshop (£28.50); sunglasses:
Monsoon
(£50); bag: H&M (£14.99); sandals: Dune (£30). I've gone for a rather playful look for the beach, albeit with a touch of sophistication for those moments when you want to head off for lunch or an explore. This white playsuit is really cute – I especially love the bow on the belt – while being quite understated, so perfect to throw on over a slightly retro-looking bikini like this one. As you might remember from this post, I'm quite a fan of a floppy hat – this one from Accessorize looks much better in person than it does here, and the pattern stops the whole outfit from being too one-dimensional. I've paired it all with a classic pair of sunnies, a great straw bag (big enough for all your beach gear), and these fun sandals, to add just a little splash of colour.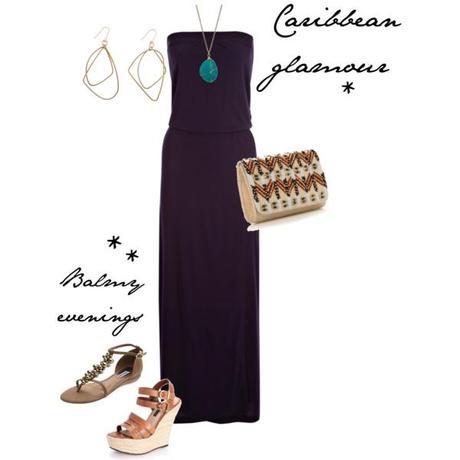 Earrings: Oliver Bonas (£9); necklace: Topshop (£8.50); dress: Warehouse (£30); clutch:
French Connection
(£40); flat sandals: Dune (£65); wedges:
French Connection
(£96).

I absolutely love this maxi dress – it's a bargain, for a start, and because it's so simple it's perfect both for dressing up or dressing down. In this instance, I've gone a bit dressy, teaming it with a great pair of gold earrings and this lovely necklace for a quick splash of colour. The clutch adds a bit of 1970s style to the outfit, and I think the whole look is glamourous and stylish without being overly-trendy. The dress is perfect with a nice pair of wedges – these beauties are gorgeous – but as someone who can't wear heels because I'm already the same height as my husband, I'm aware that a wedge this size isn't for everyone, so I've also added this great pair of flat sandals, which are still smart enough for evening wear.