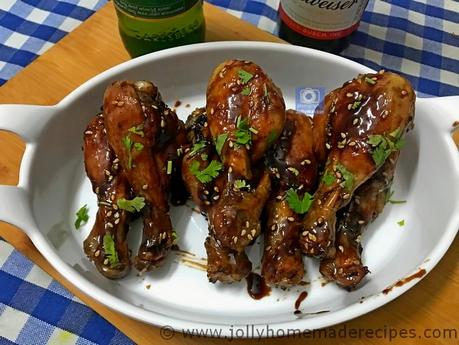 These sticky honey glazed chicken legs are finger-lickin' good!! These honey garlic chicken legs are sweet, sticky and loaded with garlic flavor. The honey-soy glaze make the drumsticks so flavorful and completely irresistible. These are amazing served with vegetables or great work as a starters/snacks.
I have made this chicken legs on our 31st Dec 2020 house party ad everybody loved it. 
May your New Year bring you reasons to smile! May the New Year 2021 bring you more love, happiness, and blessings to all my readers and their family!!
Hope you also loved it!! You can even try more chicken recipe from my blog, all are tried and tested into my kitchen.
tangdi kabab
dhabha style chicken curry
baked italian chicken drumsticks
Pickled Indian style chicken curry
Awadhi style chicken curry
Baked chicken legs that are so good that you will forget any other drumstick recipe! Beautifully browned, richly flavored, juicy and fall-off-the-bone tender. These baked drumsticks are a hit every time at my home. Delicious and so addictive!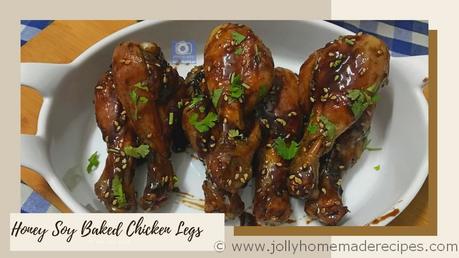 Baking was not a very common cooking technique in Indian kitchens; but once you start tasting baked stuff – sweet or savory – you will just get hooked to it; trust me, there won't be any escape! Baking makes the chicken so tender and juicy retaining all its flavors inside that it simply feels unreal at times!
Close up of golden brown baked chicken drumstick in a white baking dish with red sauce on the bottom.
CAN YOU USE CHICKEN DRUMSTICKS IN PLACE OF LEGS IN THIS RECIPE?
Yes, you can use chicken legs and drumsticks interchangeably in this recipe. There are no adjustments (temperature or otherwise) necessary as long as the weight of the chicken remains the same.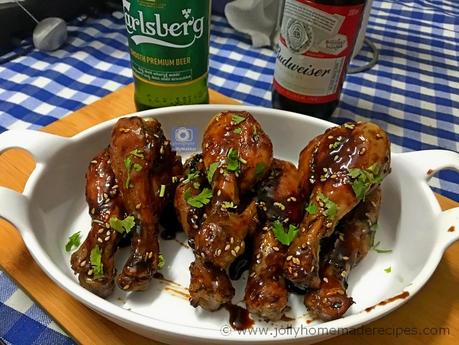 CAN YOU USE REGULAR SOY SAUCE?
Yes, you can use regular soy sauce. If you do, you will need to reduce the amount of soy sauce to about three tablespoons and adjust for salt. 
If you are new to baking chicken drumsticks, then this honey glazed chicken is a full-proof recipe to start with. 
Check out the video of easy honey garlic chicken
PREP TIME
10 minutes


COOK TIME

50 minutes


Marinating Time :

5 minutes


TOTAL TIME: 

1 hour 20 minutes


SERVINGS :

3-4 people


COURSE :

Appetizer


CUISINE :

Asian


AUTHOR :

Jolly Makkar
Ingredients :
7 chicken legs (or chicken drumsticks)
Marinade
1 teaspoon flour - 
 Salt & pepper to taste
2 teaspoon olive oil
Sauce
1 tablespoon honey (adjust according to your taste)
1 tablespoons soy sauce
2 garlic cloves crushed
1 tablespoon butter
1 teaspoon sesame seeds
Preparation Method :
1. Preheat oven to 200°C or 400°F . Remove chicken legs from packaging and rinse them with cold water. Pat dry with a paper towel.
2. In zip lock bag, add chicken legs along with salt, crushed pepper, flour and olive oil. Close the bag and massage the chicken for 5 minutes. 
3. Line a pan with baking sheet or foil and bake one side 20 minutes turning at another side for 15 minutes.
For Sauce Preparation 
4. Meanwhile, in a pan add butter, add crushed garlic saute for few seconds. Then add a tablespoon of honey and soya sauce. Lastly add sesame seeds.
5. Bring to a boil, reduce heat and simmer about 3 to 5 minutes or until slightly thickened and sauce coats the back of a spoon.
6. Take wings from oven, toss with sauce and turn it add sauce in it, few minutes to coat in the sauce as it thickens.
7. Garnish with coriander leaves and serve it with your favorite beverages.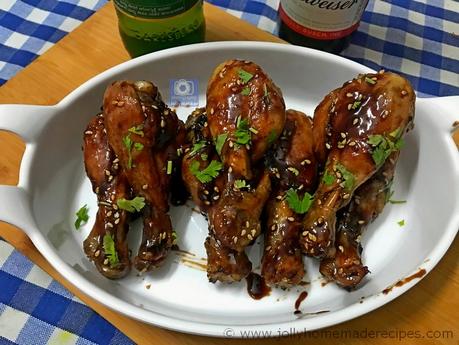 Did you try this recipe? 
Click a picture and mention 
@jollyhomemaderecipes
or tag 
#jollyhomemaderecipes 
in Instagram or Twitter
Subscribe to our 
YouTube 
Channel 
Click here to 
Subscribe
our 
YouTube 
Channel and stay updated with our latest video recipes
PIN IT
 later for your future use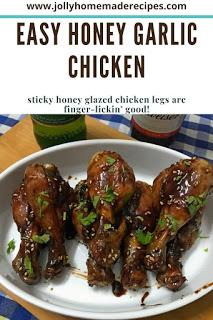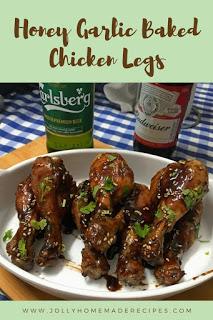 Happy Baking & Enjoy !!
If you've tried this honey garlic baked chicken, don't forget to rate the recipe and leave me a comment below. I love to hear from people who've made my recipes!