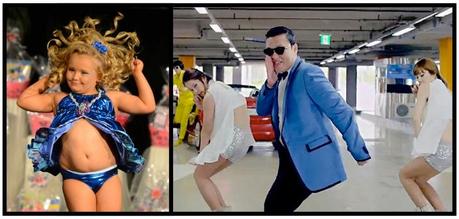 It's kind of like your favorite Korean restaurant just started serving Roadkill.
Delightfully unexpected, yet tasty. Chewy meat with a boogie beat.
Considering that internet sensation Park Jae-sang…PSY to all us hipsters…only released his viral dance tune "Gangnam Style" in July of this year, it's pretty darn amazing that he is already a world-wide sensation.
The "Most Liked" video in the history of youtube with over 257 million hits as of today, you can barely flip a channel without grinding into PSY doing that dirty pony riding cowboy lasso looking thang.
Saturday Night Live. Ellen. The Today Show.
Seems like everybody's doing it Gangnam Style.  The same industry people who sniffed out Justin Bieber on youtube have even picked up PSY's scent, and just the thought of the Biebs somehow musically meeting up with his Korean counterpart nearly caused an internet meltdown when it was first announced.
How could it possibly get any better than this, you ask?
Add some Go-Go Juice.  Cuz that s*** makes everything better.
Just ask Alana.
Honey Boo Boo Child is going Gangnam in the ultimate Korean Redneck ReMix.  It's like someone took everything inside my head and made a music video.  All my latest obsessions brilliantly mixed together until they're as smooth as butter and ketchup.
It's like Korean Sketti.  That you can dance to.
Oppa Gangnam Style.
Y'all.