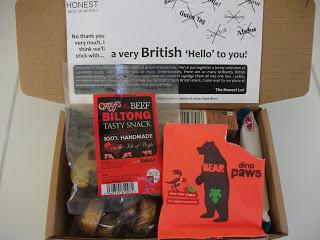 A big thankyou to "Honest Foods" for sending me one of their snacking boxes to review recently! Honest are a quirky company specialiazing in "the best of British", and according to the message on the box they do not want to say "bonjour", "aloha" or "guten tag" to us...oh no, they want to say a very British "Hello!"
In keeping with this theme, their boxes only contain products made in Britain. This is a fantastic idea and one I very much applaud, since it's getting harder to find great quality products made in this country nowadays. Local is often best!
This box, or "Snakorium" as Honest calls it, included a lot of delicious items such as sweet chilli peanuts, lemon and ginger oat biscuits, a banoffee pie chocolate bar, Teapigs oolong tea, chilli billtong, and popping candy hot chocolate! It's a varied and interesting selection of stuff for sure.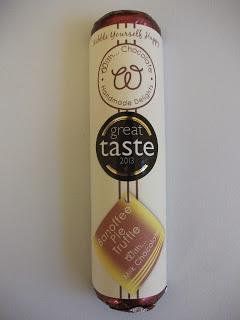 Of course, being the chocoholic I am I went straight for the Banoffee Pie Truffle bar first! It's made by "With... chocolate", a family-run company in Belvoir who produce handmade chocolates in their cottage workshop, and this particular bar has won a "Great Taste 2013" award. The chocolate is described as a "Sumptuous milk chocolate bar with a creamy banana flavoured ganache and soft caramel filling". It was well presented and wrapped in brown foil (not many chocolate bars are wrapped in foil these days!) and a paper label. Ripping it open I found a delicious smelling bar with curved segments - it looked very unique: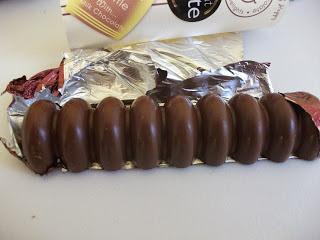 Splitting a piece off revealed a chunk that's just perfect for popping in your mouth: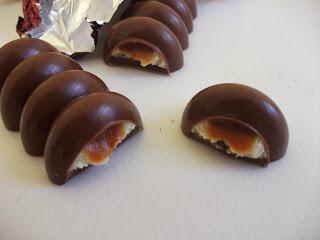 I think everyone will agree it looks amazing - the shape is so unique! The only thing I can really compare it to is the Nestlé Big Turk I reviewed recently, which was nowhere near as tasty as this bar.
Popping the segment in my mouth I was met with a delightfully creamy chocolate - it was obviously made with good quality ingredients. The banana ganache was divine; very creamy and with a comforting banana flavor. The caramel sat above it tasted very buttery and realistic - like something you would get on top of a Millioniare's Shortbread.
Overall this was a lovely bar of chocolate with a great combination of ingredients - fans of banana chocolates should definitely give it a try! I'm not sure where you can buy these in shops but you can order them on the "With Chocolate" website. They also do some other fantastic-sounding bars such as Strawberry & Cream with white chocolate, and Black Forest Gateau with dark chocolate!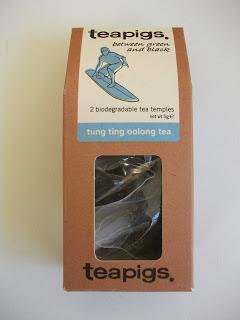 I probably should have ate the chocolate along with this Teapigs Tung Ting Oolong which was also included in the box, but alas I just couldn't wait! It's named after the Taiwanese region where it grows, and is a part fermented tea with the strength of black tea and flavor of green tea. I thought it tasted very pleasant and full-bodied, with a strong earthy flavor. I really enjoyed it!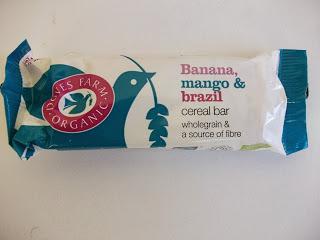 This Doves Farm Organic Banana, Mango and Brazil nut cereal bar contains dried banana and mango chips, as well as crispy rice and oats. It made for a great mid-morning snack and was full of chewy, crispy deliciousness - far nicer than some of the tasteless cereal bars you get in most supermarkets.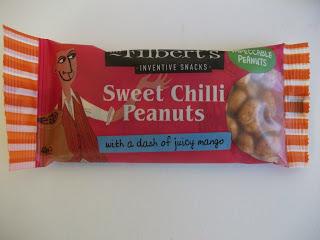 These "Mr Filbert's sweet chilli peanuts with juicy mango" were seriously addictive...I've never heard of this brand before but they certainly know how to make tasty nuts! (quite a feat!) Mr Filberts pride themselves on their "inventive snacks", and if you want to discover more creations you can check out mrfilberts.com. They also do Morrocan spiced almonds and french rosemary almonds.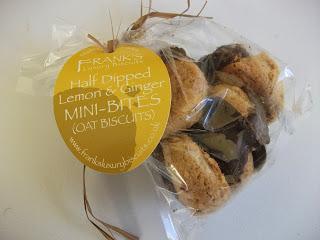 These "Half Dipped Lemon and Ginger Mini-Bites" aka oat biscuits were also very nice...I ate them the British way of course; dunked in a cup of tea! (I'm sure Honest would approve). Taste-wise they were oaty, buttery, crumbly and moreish! The lemon and ginger flavor was subtle but delightful. They're made by "Frank's Luxury Biscuits" in Herefordshire.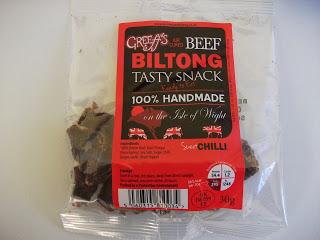 Biltong isn't something I've eaten a lot of, but judging by this it's a moreish snack when  you want something meaty! Greeff's Air Cured Sweet Chilli Biltong is handmade on the Isle of Wight, from 100% British cows no less, so you needn't fear about eating anything imported. Whether or not it will contain horse though is another matter...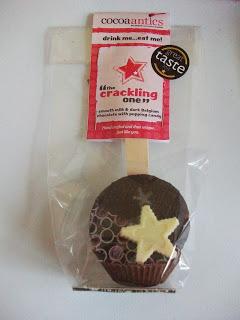 This Cocoa Antics "The Crackling One" was fantastic...it's a wooden spoon with a base of milk and dark chocolate and white chocolate star, which you stir into hot milk to make a hot chocolate drink...with the twist being that it contains popping candy! This made for a delicious hot chocolate and the popping candy was a fantastic touch...in fact, it made me wonder why there's no popping candy hot chocolates in supermarkets?! It was so nice I didn't get a chance to take a pic before devouring it. Coco Aantics describe themselves as "the playful chocolate company" and do a range of hot chocolate spoons their website cocoaantics.com.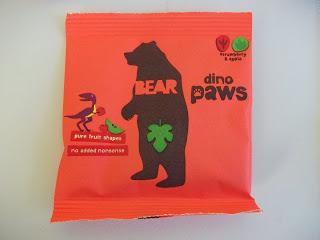 Last but not least is these Bear Dino Paws which are tasty fruit-based snacks. I read an interesting article recently about how this brand is selling excellently in supermarkets, despite the fact most people go for junk food instead. I can certainly understand their popularity - they're seriously tasty! Unlike some healthy snacks, I didn't feel like I was eating vegetable sludge whilst chewing them...they were pleasantly fruity, chewy and moreish and kept me reaching for more! The paw shapes are really cool, and make them very appealing to kids (or big kids like me!) According to the packet the paws belong to different dinosaurs: t-rex, tricerotops, pterdocatyl, diplocodus and veloceraptor. They contain no added sugar or preservatives and the fruit used in them is never from concentrate. Overall, these are fun, healthy and tasty snacks!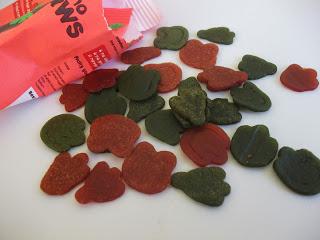 Overall


Honest have put together a nice selection of British snacks here, which will surely appeal to anyone wanting something a bit more special and home-grown than what most supermarkets offer. I really like the fact they're supporting Bristish companies and wish them every success, especially as someone who is tired of poor quality imported snacks (as much fun as they can sometimes be). Honest's boxes change monthly so you'll always get something different to look forward to, and all products included have to pass a stringent "Honest Test" to make sure they're all British. These guys really are dedicated to their cause!
The boxes cost £9.99 a month with postage included - you can check out Honest's website HERE.
Well, there you have it...an honest review for some Honest foods. No auf wiedersehen or au revoirs from me today....just a good old old British "goodbye ladies and gentlemen", and thankyou for reading! ;)
Honest Foods on Twitter.
*These snacks were sent to me for an honest review and all opinions expressed are my own.