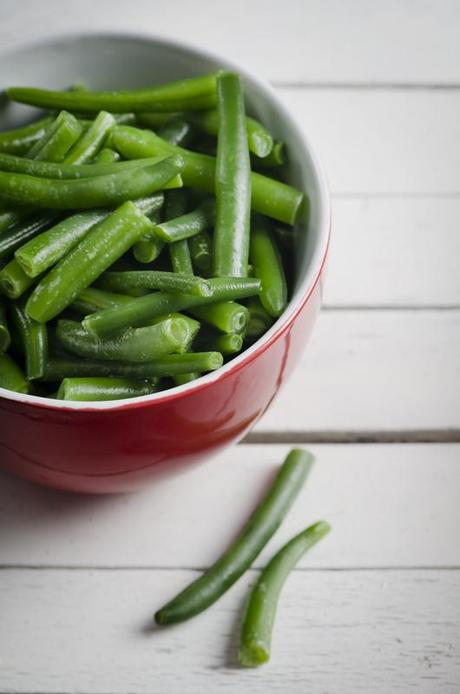 So for the record, Layla wasn't a huge fan of green beans when I first made them for her. She'd gag, cough, make faces… it was actually kind of entertaining even though she wasn't very happy with me for giving her green beans

But green beans are so great for babies! They are rich in vitamin A and fiber, and they're a green veggie which helps get babies used to not-so-sweet things. I'd recommend using organic frozen green beans for this recipe – it's the easiest prep and clean-up wise.
My trick for getting Layla to eat green beans: mixing them with whole milk organic yogurt! It sounds gross, but for some reason she loves it.
Print

Homemade Baby Food Recipes: Green Bean Puree
1 ice cube = 1oz of food!
Ingredients
2 bags organic frozen green beans
Water for pureeing (use as much as you need for the consistency you want! start with 6oz and work your way up).
Directions
Place the green beans in a steamer and cook for 3 to 5 minutes, or until tender.
Drain green beans and place in blender with water.
Puree until smooth.
Pour into ice cube trays, allow to cool, wrap/cover, and freeze.
Thaw in the fridge the night before use, or thaw by putting the ice cube in a bowl over a bowl of hot water on the counter to defrost.
Notes
Spice up your baby's food! Try green beans with garlic powder, or mix with yogurt.
2.6http://pickyeaterblog.com/homemade-baby-food-recipes-green-bean-puree/Recipe by: The Picky Eater, pickyeaterblog.com