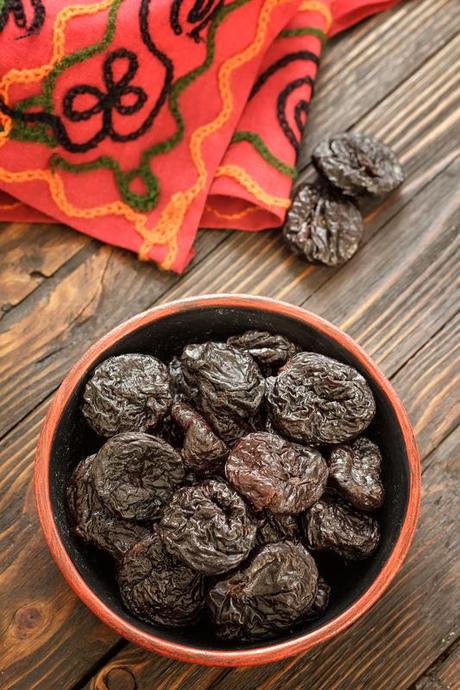 Ah, prunes. Prunes get such a bad rap – but they're actually quite delicious! They're basically just dried plums – and they look like massive raisins. Layla was not a fan of prunes when we gave it to her straight. But luckily, thanks to the addition of Fuji Apples, this has become another one of her favorites!
Prunes are the number one source of antioxidants for babies and they also help keep things moving along, so if your baby is prone to constipation, a couple cubes of this a day should help keep them regular!
This is another super easy to make puree – and you can mix it into oatmeal, yogurt, with other veggies, etc.
Print

Homemade Baby Food Recipes: Apple & Prune Puree
1 ice cube = 1oz of food!
Ingredients
8 Organic Fuji Apples
20 Organic Prunes (dried plums)
8-10oz water (for a thicker puree, use less water)
Directions
Wash the apples. Cut in half and remove seeds and stems.
Cut each half into 4-6 pieces
Remove pits from prunes (or - timesaver: get pitted prunes!)
Put apples, prunes, and water into a large pot.
Cover and turn the burner on high.
Cook for 8 minutes, stirring occasionally.
Pour everything into a blender, puree until smooth.
Pour into ice cube trays and allow it to cool. Cover/wrap, and freeze.
Thaw in the fridge the night before use, or thaw by putting the ice cube in a bowl over a bowl of hot water on the counter to defrost.
Notes
Spice up your baby's food! Add a pinch of cinnamon, nutmeg, or all spice to this recipe!
Adapted from BabyLove
2.6http://pickyeaterblog.com/homemade-baby-food-recipes-apple-prune-puree/Recipe by: The Picky Eater, pickyeaterblog.com