Remember the Enchanted Mushroom Workshop we did in Shangri-La Hotel where the girls got to decorate their own chocolate mushrooms and filled it with candies? Well, it was such a sweet experience that we still remember it fondly up to this day.
Fast forward to half a year later, we had the chance to savour that sweetness again at the media preview of the annual Gingerbread House Decorating Workshop. Yes, since Christmas is coming soon, a good way to get into the festive mood is to let kids make use of their creativity to personalise their very own gingerbread house - complete with frosting, cookies and candy!
Sounds good and yummy, right? We'll show you what we did and how!
******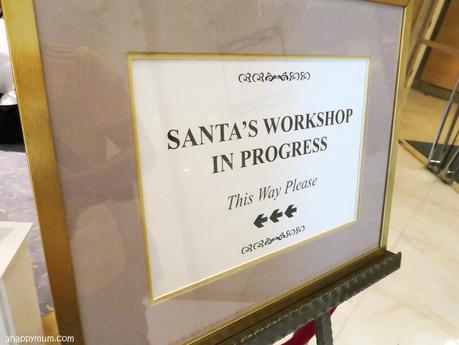 Held at The Line Shop at Shangri-La Hotel, the Gingerbread House Decorating workshop is conducted by Area Executive Pastry Chef Hervé Potus and takes place on every Saturday and Sunday from 3 to 18 December. This kid-friendly event strives to let families have a bonding time as they celebrate the festive season this year end.
So what do the kids get to do? Firstly, they get to shop for candies and you bet that is a fun experience that every kid will enjoy! Moreover, it's a candy 'buffet' for them because not only can they choose anything they like and in any amount, they can also pop these treats into their mouths along the way. Or when Mummy isn't looking.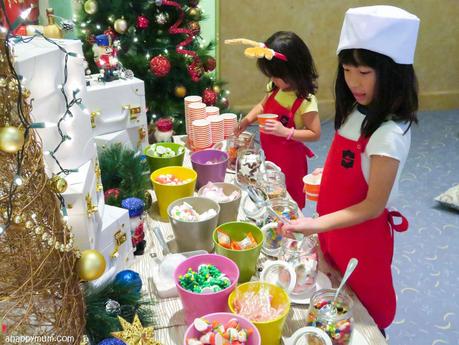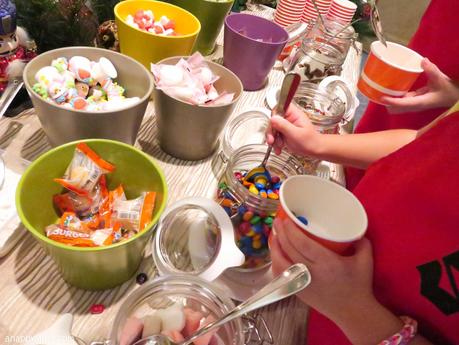 What we love most were the fondant figurines - which included snowmen, Santa Claus and Christmas trees and a sparkly mistletoe decoration that said "Merry Christmas". Just perfect for the theme!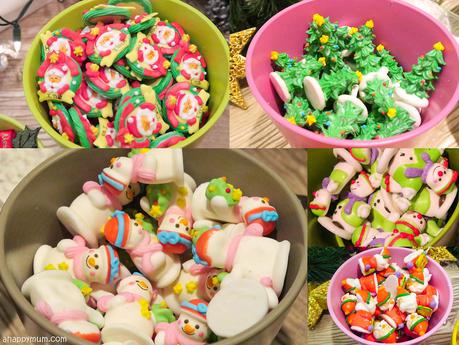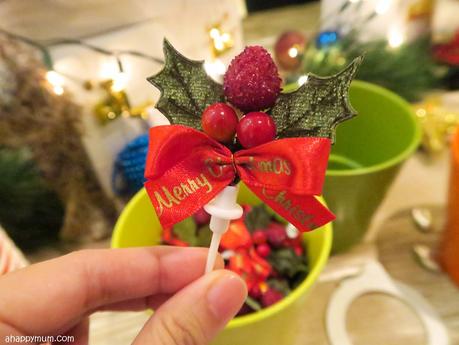 Next, you get to build your house!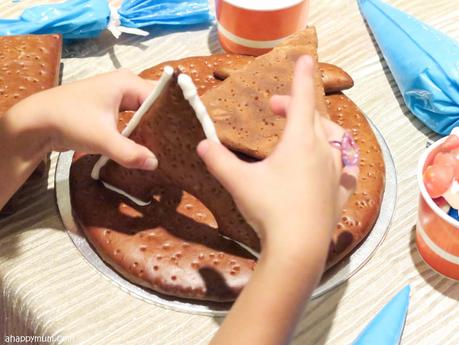 Yes, using the icing which acts as the glue, you need to apply it along the edge of the gingerbread house, stick piece by piece to make the whole structure stand up firmly.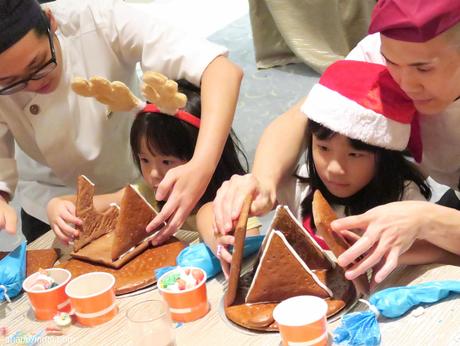 This, of course, couldn't be done without the help of the chef assistants and we were just glad that they went around the table to provide one on one guidance. Once the house is done, it's time for the highlight and most fun activity - the decoration! While Ariel was happy to stick on lots and lots of M&Ms for her house, I was glad that she did it very patiently and made her house look so cheerful and colourful!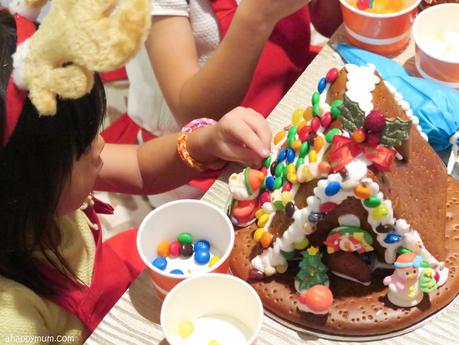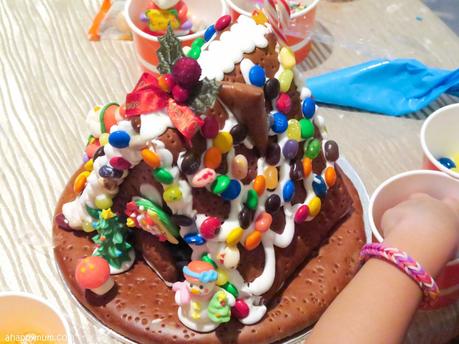 As for Angel, she really enjoys getting creative and I can see how she put her heart and soul into decorating something that seemingly looks so simple. Of all the kids, I think she probably took one of the longest to complete her house and she also did some decorations which were quite unique. Even the chef assistant commented that this girl had her own ideas in making her own house and he didn't really need to step in as much.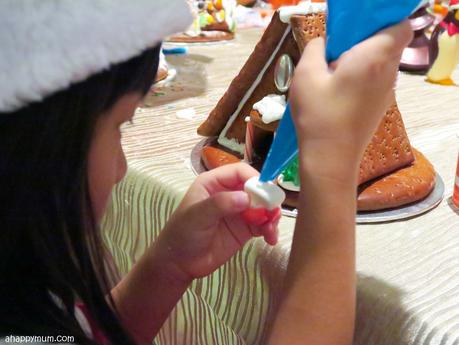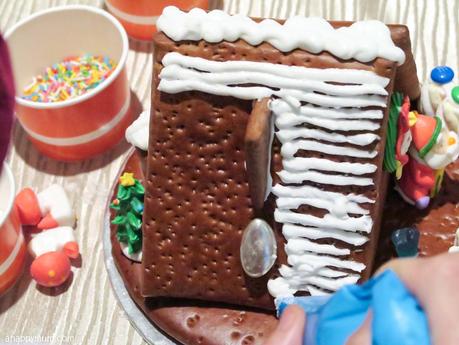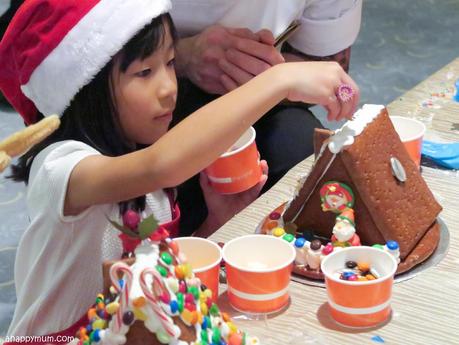 So, while the kids are busy making their gingerbread houses pretty, what do parents get to do? Well, the good news is..... you get to eat, drink and relax!!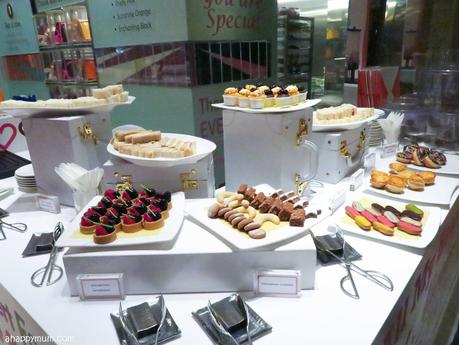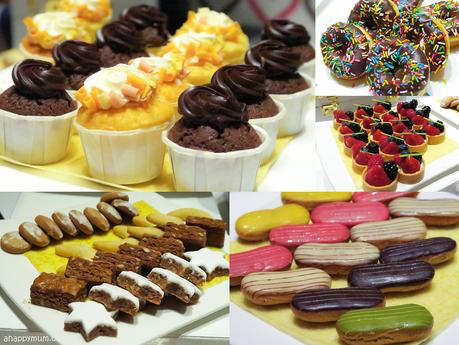 Yup, it might not be a huge spread but you will be happy to know that this workshop includes festive light refreshments. We had mini eclairs, cupcakes, doughnuts, tarts, sandwiches and cookies at our session, which were really quite delightful and the hubby and I enjoyed feasting while watching the kids in action. Oh, and just so you know, your child gets to bring home the completed gingerbread house and a mini chef's toque and apron as a festive memento. That will definitely make the little ones very thrilled, right?
If you were to ask me what my favorite part of the session was, it would be the finale where the child gets to create a snow effect on the gingerbread house by making use of icing sugar. How fun! I thought that was a smart move which helped to give it a wintry, Christmas feel.
And we are all done! Check out their final creations below! What delicious and sweet looking gingerbread houses, right?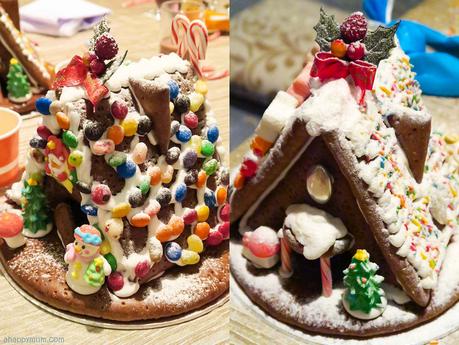 You know, we jolly well knew that we would not be able to finish so many sweets and candies so the girls decided to take one of the gingerbread houses to give it to our neighbor when we got home - and you bet their kids were over the moon when they saw it. No prizes for guessing who was more willing to part with her house. So, not only did we savour the process of making, we also relished the joy of giving. And that is what Christmas is about, to me.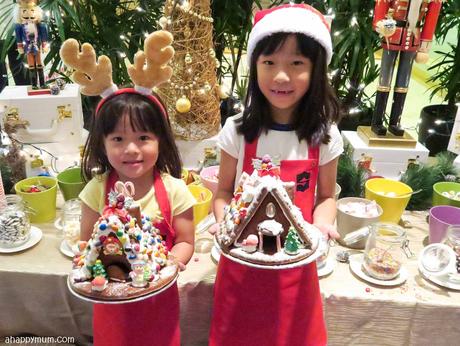 So, if you are planning for kid-friendly activities to attend in December, do consider giving this sweet experience a try!
The Gingerbread House Decorating Workshop is conducted at The Line Shop on 3, 4, 10, 11, 17 and 18 December 2016 from 3:30pm to 5:30pm, and priced at $98nett per child (aged three to 12 years of age), accompanied by up to two adults. For enquiries or to make a booking, call +65 6213 4398 or email

[email protected]

.
Disclosure: We were invited to the media preview of the Gingerbread House Decorating Workshop held at Shangri-La Hotel. All pictures and opinions are our own.