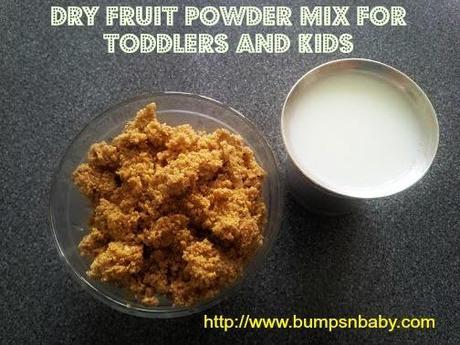 home made dry fruit powder mix for toddlers and kids
In today's post I give you a step by step method to make home made dry fruit powder mix for toddlers and kids.
When I started giving cow's milk for my daughter Tejaswini, my pediatrician suggested a very popular dry fruit powder mix brand available in the market. But as a parent who believes in everything home made for baby, I planned to make the dry fruit powder mix at home. This mix helped a lot during our train journeys as it was pretty easy to mix with milk.
I found the combination of nuts powdered at home much better than the products available in the market. Nuts contain good fat, Vitamins, minerals and anti oxidants. I prefer giving her this dry fruit powder mixed milk before bed time at night.
Benefits of Home Made Dry Fruit Powder Mix for Toddlers and Kids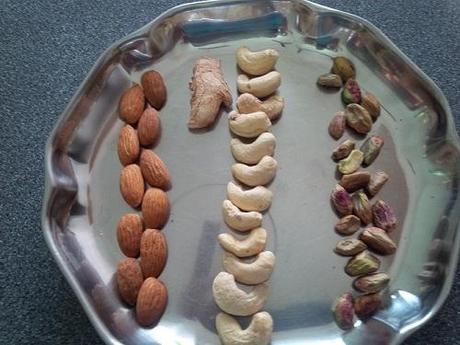 Filling for the tummy : My daughter used to get up at least 3 times at night earlier. After I started giving this milk at night, she rarely gets up more than once ensuring a good night sleep for us too.
Can be added to porridge,

home made cerelac

, vegetable mash,

raw banana porridge

etc to increase the nutritional value
Too much of nuts is not good for babies or adults. So this powder mixed milk once a day is fine.
I made the powder mix of four nuts with a little dry ginger. Dry ginger will help in easy digestion and relieves gas.
You can also add cardamom powder to this dry fruit powder mix . It will add a unique aroma to this mix.
How to make raw banana powder at home for babies?

Everything about home made cerelac for babies you need to know
I didn't add cardamom and peanuts in this powder mix.
Ingredients Required for Home Made Dry Fruit Powder Mix: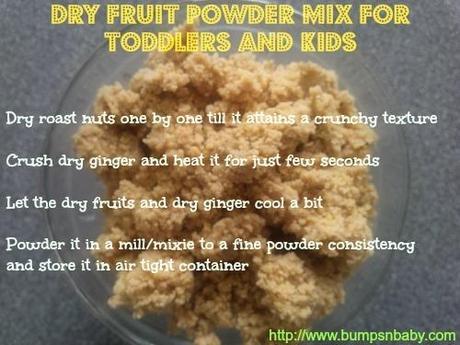 home made dry fruit powder mix
Almonds – 1 cup
Cashew – 1 cup
Pista – 1 cup
Peanut – 1/2 cup
Dry ginger – 2 to 3 inch
How To Prepare Dry Fruit Powder Mix at Home?
Dry roast nuts one by one till it attains a crunchy texture
Crush dry ginger and heat it for a few seconds.
Let the dry fruits and dry ginger cool a bit
Powder it in a mill/mixie to a fine powder consistency and store it in air tight container.
How To Make Dry Fruit Powder Milk?
Dilute 1:1 ratio of milk and water.
Take 1 to 2 teaspoons of dry fruit powder mix and add it to with milk without any lumps.
Turn on the stove and let the milk boil.
You can add jaggery powder or sugar if required.
NOTE :
1. If your baby is allergic to nuts, please refrain from giving this mixed dry fruits powder
2. Make sure the mix is in a fine powder or dust consistency as to prevent choking.
3. You can also add dates syrup instead of jaggery or sugar. Honey can also be added.
4. You can add nuts of your choice like walnuts, hazelnuts etc too.
Hope you liked this article on home made dry fruit powder mix. Also let me know which supplement do you use in your toddler's milk?
Please share this article in your Facebook and Twitter.
Subscribe to the newsletters of Bumps n Baby to stay updated.





by