Home Buying Myths On TV Shows –
See why there is more to the story and understand the "Reality in Reality"
Ever wonder how buyers on these reality tv shows are able to pick out a home after just 3 showings?  As a REALTOR(R) this would be a perfect scenario but unfortunately these home buying myths on tv shows just do not pan-out.
In reality, most buyers see probably 2-3 times that many homes before making a decision.  The exception may be new construction as the "aura" of new can often make the buying decision easier. Not discussed it that the home buying process can start many months if not a year in advance.  Buyers and Sellers need to start preparing well in advance.
The key as your REALTOR(R) is understanding your "wants" and "needs – read my article here" and making your showings productive and ultimately you finding the home of your dreams.  This may take 5, 10, or more showings.   There needs to be a "caucus" after each home showing so the REALTOR(R) and the home buyer(s) are on the same page and moving the  process forward.
The actual purchase contract is just the start of the home buying or selling process.   Understand the many inspections (everyone should have a home inspection plus a termite/moisture will be required by your mortgage lender), and required insurance (home owners, flood, etc.).  Flood insurance should be researched prior to a purchase contract to avoid "sticker shock" later from your insurance agent.   See below the other factors that need to be considered when buying or selling a home.
Reality TV shows are fun to watch.  However, being a prepared and informed buyer or seller can greatly enhance your chances of a stress-free successful transaction.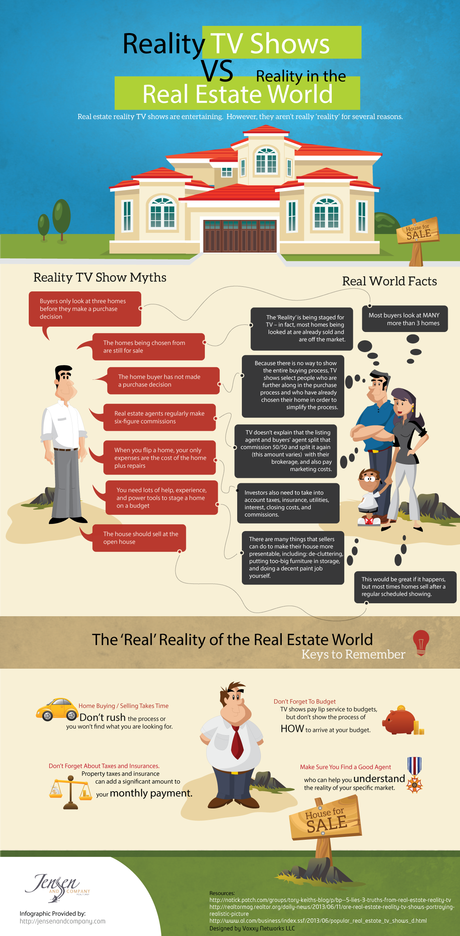 Courtesy of: Park City Real Estate – JensenandCompany.com