Concluding my previous blog posts about the absurdities of opera singers and opera singing in Tinsel Town (and beyond), below are a few more examples of this egregious practice for good measure.
But What Does It Have to Do With Opera?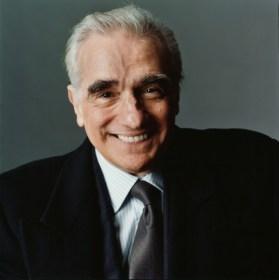 Martin Scorsese (musicmaven.wordpress.com)
Everybody knows (or at least, I hope they know) that opera, as it's been handed down to us, originated in sixteenth-century Italy – Florence, Italy, to be exact. It was supposed to be a somewhat heightened method of speech tempered with music and drama. Whether that concept has successfully carried over into modern times, or whether it's been good or bad for music and drama as a whole, I'll leave it up to the experts to determine.
What I can say about opera is that many filmmakers and directors of Italian and/or Sicilian extraction have been obsessed by the genre from their earliest infancy. It must be in their blood. But whatever the reason, we have these fellow paisan to thank for spicing up the medium through non-operatic means.
One such director has been that prolific genius of celluloid, Martin Scorsese. A graduate of New York University's Film School, not only is Scorsese an inveterate movie buff, film historian and preservationist, but a curious-minded individual whose fascination with how opera and the performing arts can be incorporated into such a seemingly incompatible form as film has led him down some fascinating roads.
I'm not sure Scorsese ever reconciled these two art forms, to be quite honest, but he certainly gave it the old NYU college try! Many of his most famous films preserve some aspect of the operatic art, whether it's the music or an actual "staged" performance. Let's say that opera (that larger than life way of expressing oneself through song), in the hands of master filmmaker Marty can make one see things in an entirely different light; while adding to our understanding of a scene or plot point without regard to its subject matter.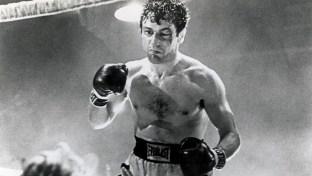 Robert De Niro as Jake La Motta in Raging Bull
There's plenty of evidence for that in Scorsese's Oscar-winning biopic Raging Bull from 1980, which should start things off nicely for us. By emphasizing the Intermezzi from both Pietro Mascagni's one-act Cavalleria Rusticana (loosely translated as "Rustic Chivalry") and his later unsuccessful Guglielmo Ratcliff, Scorsese featured these two pieces of music in crisply edited, black-and-white photographed, slow-motion action shots, to paint a pre-MTV version of a music video in several artsy-fartsy sequences.
The film, a brutal and starkly realistic look at the turbulent life of middleweight boxing champion Jake La Motta (played by Robert De Niro), and based on the fighter's autobiographical book, no less, presented a foul-mouthed picture of an overly jealous man behind the boxing shorts. Co-star Joe Pesci, in his film debut as La Motta's equally forceful brother, was nominated for an Academy Award for Best Supporting Actor for his comic-opera turn. Pesci got the nod again (and won!) a decade later for his similar portrayal of a garrulous Mafia hood in the same director's Goodfellas (1990). What's so funny?
In a complete 180-degree turnaround from warring gangsters, Scorsese gave us a suitably lush portrait of late nineteenth-century Manhattan high society in his adaptation of Edith Wharton's The Age of Innocence (1993). The film in its early going takes us to a "live" Metropolitan Opera Company performance of Gounod's Victorian-era opus, Faust. Evidencing a deft familiarity with the era's conventions, and specifically related to this opera (thanks to his superb research department), Scorsese's movie accurately presents an Italian-language Faust, which as incredible as it may seem the opera was actually sung in. Indeed, all the operas, including most of the German repertoire, were performed by the Metropolitan in la lingua italiana, the norm for that time period.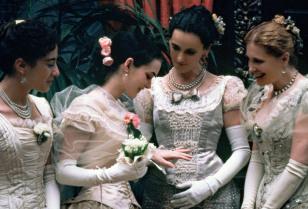 Winona Ryder in Age of Innocence
Not to be outdone, Scorsese, in following Wharton's lead, knew full well that most society families had the rather noxious habit of taking their marriageable-age daughters to see a performance of Faust, mostly for purely "moralistic" reasons, in that the female character of Marguérite (or Margherita in this instance) meets a very sad fate through her out-of-wedlock relationship with the title character. Hey, that's one way to keep your girls in line! 
Evviva Italia!
Continuing along this line, the mid-1940s to the mid-1950s were a marvelous time in Italy for films of an operatic nature to be produced. The most unusual aspect, shall we say, of these quickie flicks was the sub-par lip-synching employed throughout, as well as the even more nonsensical practice of dubbing opera stars' voices with… well, other opera stars! Appearances counted for much.
One of the earliest examples of the above was of Donizetti's charming comic opera The Elixir of Love (1946), which starred photogenic baritone Tito Gobbi as Sgt. Belcore, bass Italo Tajo as Dr. Dulcamara, and soprano Nelly Corradi as Adina – but with the chirpy singing voice of Margherita Carosio. This made little sense, as Carosio was a pretty enough figure in real life. Maybe she was camera shy….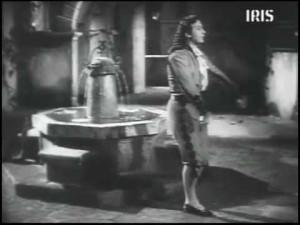 Tito Gobbi as Figaro in The Barber of Seville
A slightly "better" (relatively speaking) production was The Barber of Seville from 1947, which repeated the successful formula of Gobbi, Tajo and Corradi, but included portly tenor Ferruccio Tagliavini as Count Almaviva (singing and acting, by the way), along with basso buffo Vito de Taranto as Dr. Bartolo. The sets were crude and makeshift, to be kind, as they were borrowed direct from the Rome Opera, where the production was filmed on its stage. Talk about a tight budget!
Next up was a series of Verdi operas, including the bombastic La Forza del Destino (1947), with Gobbi, bass Giulio Neri, and Corradi. This time around, Corradi was dubbed by dramatic soprano Caterina Mancini. Tenor Gino Sinimberghi appeared as Don Alvaro, but was voiced by tenor Galliano Masini. Go figure! An even better production of Rigoletto (1949) starred our old friend Gobbi, with actress Marcella Govoni sitting in for the hugely proportioned, but vocally well-endowed Lina Pagliughi. Strident voiced tenor Mario Filippeschi emoted onscreen, while the robust young voice of Mario Del Monaco bleated in the studio as the Duke of Mantua. "La donna é mobile…"
Two films, one a comedy and one a tragedy were released in 1948. Let's start with the tragedy: Leoncavallos's Pagliacci or, as it's known in the ersatz American translation, Love of a Clown. Again we have Tito Gobbi acting the part of Tonio, while singing both Tonio and Silvio, the soprano's love interest. A very young (and I do mean YOUNG) Gina Lollobrigida appeared as Nedda. Stay with me now, for this one is a real mishmash. Gina was dubbed by soprano Onelia Fineschi. Her lover, Silvio, which we already know from the above was voiced by Signor Gobbi, was acted by… you guessed it, Signor Gobbi. All right, so far so good. Here comes the funny part (funny as in, "Huh? What the…?"). Canio, the main clown (i.e., Pagliaccio), was sung by tenor Galliano Masini. You remember him! He sang in Verdi's La Forza del Destino. Well, then, the actor playing Canio was none other than… are you ready for it? Baritone Afro Poli! (Sure, why not?) Rounding out the ensemble was tenor Gino Sinimberghi, now SINGING the part of Beppe, but PLAYED on the screen by… an ACTOR! And the actor's name is? The envelope, please: Filippo Morucci. (WHO???) You got all that?
Okay, so what about the other flick? After the above comedy of errors, not even Rossini's La Cenerentola, the Italian version of the Cinderella story, could bring as big a smile to one's face as what transpired with Pagliacci – oh, excuse me: Love of a Clown. Nevertheless, the role of Cinderella was played onscreen by Lori Landi (whoever she was). She was dubbed by the luscious-voiced mezzo Fedora Barbieri, along with basses Enrico Formichi and Vito de Taranto. The most memorable feature of this particular production was the sumptuously filmed locations, which included the Royal Palaces of Monza and Turin in Italy.
Here's an interesting variant. The late composer, librettist, director and producer Gian-Carlo Menotti – the man responsible for the annual Spoleto Festival of Two Worlds – directed a film version of his own opera, The Medium (1950) in his native Italy. At the time, it was considered opera's first excursion into film noir and Italian neo-realist territory. American contralto Marie Powers gave a powerful performance of the title role, with a young Anna Maria Alberghetti as Monica, and Leo Coleman in the mute role of Toby. The finale, where Powers mistakes Coleman for one of her phantoms and shoots him dead, is full of religious iconography and punctuated by funereal chords in the orchestra. Seldom has a theater piece so transcended its operatic origins and become a full-fledged film product on its own. For the movie, Menotti expanded his opera to 80 minutes from its original one-hour running time. Tick… Tick… tick….
Hang in there. Only two more to go! Actress Franca Duval, the mammoth-voiced tenor Franco Corelli, and jack-of-all-operatic-trades baritone Afro Poli all appeared in Puccini's Tosca. Duval was sung on the soundtrack by aging diva Maria Caniglia. Corelli sung for Corelli (now there's a novelty), while his good friend and fellow singing-actor Gian Giacomo Guelfi dubbed in the part of Baron Scarpia. The whole film was spoiled by an extremely intrusive English narration. Stop the music, stop the music!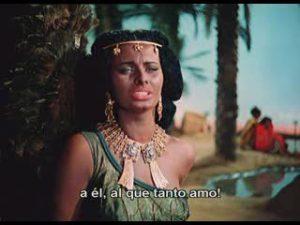 Sophia Loren as Aida
And now for the piece de résistance! A famous 1954 Technicolor-film version of Verdi's Aida starred actress Sophia Loren at the very beginning of her career. In case you were wondering, the role was actually sung by the lirico spinto Renata Tebaldi. Lois Maxwell – the future Miss Moneypenny for all those early James Bond movies – acted the part of Amneris, the Pharaoh's daughter. Lest you think that Lois was capable of assuming the vocal aspects of this part, the famed mezzo Ebe Stignani sang Amneris on the soundtrack.
Our tenor hero Radames was lip-synched by an immobile actor named Luciano Della Marra. Tenor Giuseppe Campora sang for him, though (the tenor was severely over-parted). Afro Poli was the Amonasro, but voiced by the very capable Gino Bechi, while Antonio Cassinelli was Ramfis the High Priest; his voice (you knew he wasn't going to do his own singing, now didn't you?) was dubbed by the noble bass of Giulio Neri on the soundtrack. The whole show was directed by Clemente Fracassi. Unfortunately, Verdi's most popular opera was trimmed down to about 90 minutes. Not a good day for us purists.
Cartoon Frolics and Puppet Shows
At around the same time as those Italian opera productions, Warner Brothers got into the act by releasing three unusual theatrical shorts during the heyday of animated features.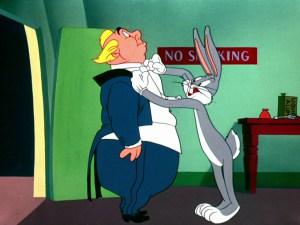 Giovanni Jones & Bugs Bunny (Warner Bros.)
The first was "Long-Haired Hare" from 1949. With musical direction by Carl W. Stalling, it featuring our favorite cartoon rabbit, Bugs Bunny, in a raging battle with a smarmy baritone named Giovanni Jones ("That's the nice fat opera singer"). The second, "The Rabbit of Seville," released in 1950, was an animated spoof of Rossini's opera that used the work's overture to produce a mini-opera in itself. Musical direction was again provided by Stalling. This one had Bugs and a perpetually flustered Elmer Fudd running around the stage trying to top each other.
The last, and probably one of the finest masterpieces from this period, is "What's Opera, Doc?" from 1957. A thoroughly hilarious takeoff on Wagner and the Ring cycle operas, this marvelous (and exceedingly Expressionistic) short used music from The Flying Dutchman, Tannhäuser, Die Walküre, and a song, "Return My Love," with lyrics by Michael Maltese. The musical direction was by Milt Franklyn. It's a classic by any definition of the word, and a highpoint for the studio – especially when Elmer Fudd expresses his undying love for the German "diva" Bugs Bunny: "Oh, Bwunnhilde, be my wove!" Oy vey, it's enough to make one swear off opera for good.  
I Want My MTV – Not!
As anyone who's ever lived through the eighties and nineties will tell you, it was the age of Music Television, or MTV for short (not anymore it isn't). And music videos were all the rage – at least, up until the start of the new millennium. That's when Reality TV took over, thanks ever so much to a prolonged writers' strike. We're still paying the price for that one.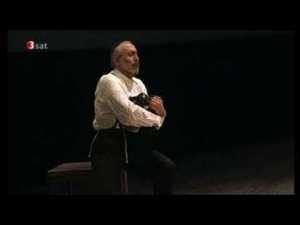 Neil Shicoff, "Rachel, quand du Seigneur," La Juive (youtube.com)
In any case, I can wholeheartedly recommend tenor Neil Shicoff's MTV-like video performance from 2005 of the aria, "Rachel, quand du Seigneur" from the heyday of French grand opera, La Juive ("The Jewess"), by Fromental Halévy. Directed by television and movie veteran Sidney Lumet, Shicoff appears as Eleazar, the Jewess Rachel's father, and emotes convincingly in his Jewish rabbi garb.
In addition to being a full-throated American tenor, Shicoff is also a Jewish cantor on the side. Significantly, his stirring rendition of this difficult piece, a favorite of Enrico Caruso's, was in homage to the late tenor Richard Tucker, also a cantor, but who never got to sing the role at the Met, his home for nearly 30 years. If anything, Shicoff knocks this one out of the ballpark, so fiercely determined was he to express the full gamut of emotions.
The video is included on the DVD edition of the complete opera, released by Deutsche Grammophon and performed live by the Vienna State Opera. Get your hands on this one quick, as it's destined to become a classic.
Copyright © 2013 by Josmar F. Lopes