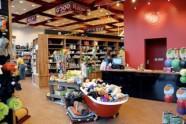 The Big Bad Woof store
The Big Bad Woof, located in the Old Takoma neighborhood of Washington DC and the Arts Dstrict Hyattsville in Maryland, sets a new standard for pet care and products. The retail store specializes in organic, holistic, premium and raw diets for companion animals with a strong commitment to the community. Their selection of products are chosen to ensure healthy and sustainable options for pet owners in the D.C. area. A good example of their unique triple bottom line approach is seen in their relationship with local farmers. The Big Bad Woof works with local farmers to purchase whole foods like chicken frames,  lamb hearts and marrow bones, that farmers would otherwise compost. These products are great food supplements for dogs and cats. This way a market is created for the farmer's left-overs. Waste not, want not!
The Big Bad Woof also partners with local rescue organizations such as the
Washington Animal Rescue League
,
Washington Humane Society
and the
Animal Rescue Corps
. Initiatives include fundraising events, donations of pet supplies and co-run adoption clinics. Additionally,
BBW's WoofClinic program gives free professional information directly to the community.
Animal specialists in health, behavior, and training come to the store to present  and answer people's questions about animal well care. This gives everyone the opportunity to be a better pet owner.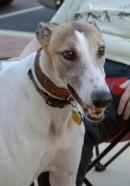 When asked why The Big Bad Woof chose to become certified as a
B Corporation
, co-owner Pennye Jones-Napier explained,
"We feel strongly that doing good helps increase bottom line profits….There should be a standard in being able to say that you can run a business well, give back to the community and make a profit."  
B Certification provides that standard and being a Benefit Corporation* gives them the legal flexibility to grow and expand while ensuring their mission is maintained. For The Big Bad Woof, B Certification is also important as a marker and managing tool to keep future franchises mission-aligned. Future The Big Bad Woof stores will use the certification as a reference of the Woof's mission and the standards the company stands by. Find out more about local DC pet events, Benefit Corporation legislation, holistic pet care, and better know The Big Bad Woof. *The Big Bad Woof is the first of a new breed of good business; they are the first Benefit Corporation in MD and the US, and the first Benefit Corporation and franchise company to certify as a
B Corporation
. This is big news for the sustainable business world as The Big Bad Woof represents a certified and legal dedication to the triple bottom line.  This inclusive bottom line of people, planet, and profit is the foundation of the new economy we seek.  Find out more about Benefit Corporations here.