Winterlights at the Purcell-Cutts House opens tomorrow decked out for the holiday season, the only time during the year that this masterpiece of Prairie School architecture is open every weekend. Located at 2328 Lake Place, Minneapolis MN 55405, this unique home that rejected architectural styles popular at the time had an unobstructed view of Lake of the Isles when it was built.
Contact the Minneapolis Institute of Arts at 612-870-6323 to make reservations.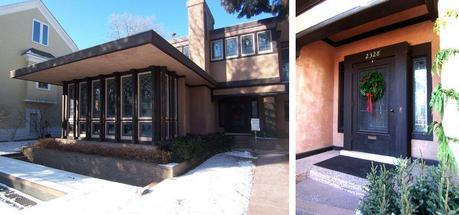 It is hard to imagine now how revolutionary this design was when it was built nearly 100 years ago by William Purcell who had worked alongside Frank Lloyd Wright and George Elmslie who had worked under Louis Sullivan in Chicago.

When Purcell moved to Minneapolis he specifically chose a narrow city lot overlooking Lake of the Isles to build his home that was in sharp contrast to the revival style homes popular at that time. With an open living area 50 feet long adaptable for multiple uses, this was the forerunner of today's open floor plans... except for the kitchen, which was not to be seen!!
In his own words...
In so far as the house represents a departure from customary forms it does so because in designing it a conscious attempt has been made to first establish a real modern American family life, and then give it expression in real forms. This is indeed a departure.
Its open spaces make it feel more spacious than its modest size of about 2400 sq ft, and its 500 leaded art glass windows give it the feeling of a glass jewel box. Purcell did the architectural design and invited his friend Elmslie from Chicago to do the detail design work, including the windows, stenciling, built-ins and furniture which flow through the entire home in a unified design.
It's easy to miss this house as you drive down this street in spite of its unique design because of its setting on the lot. Another indication of how carefully Purcell considered every part of the design and its relationship to its surroundings, he situated the house back about 30 feet from the street so windows faced the neighbors' backyard gardens instead of their houses.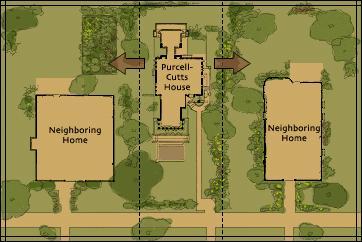 The Purcell family only lived in Minneapolis a short time, and when they sold the house in 1919 it was purchased by Anson and Edna Cutts, who lived in it for 66 years. They realized the architectural significance of the house and made virtually no changes except for adding a detached garage. The Purcell-Cutts House was bequeathed to the Minneapolis Institute of Arts in 1985 and after restoration work it has been open for public tours since 1990. They welcome visitors from throughout the world.
Sharlene Hensrud, RE/MAX Results -
Email
-
Minneapolis Realtor