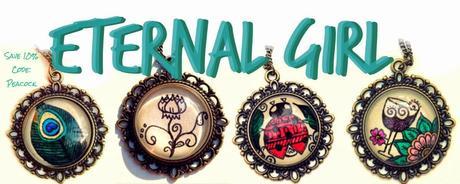 View more on Julia's 

Etsy Store

 Eternal Girl 
Eternal Girl's jewelry has beautiful hand-drawn designs that features inspirations from 

henna traditions.
Another great holiday gift idea this year is from the talented Julia. She is the owner of Eternal Girl Etsy shop and the blogger of Puella Aeterna. The External Girl Etsy Shop has amazing jewelry and fun greeting cards.Learn more about Eternal Girl's on the About me Page on Etsy.
I love these hand-drawn designed necklaces, earrings, and 
rings
. They are prefect, I have necklaces in the design, Sunflower and also the
Blue Cosmos Flowers
. I wear one everyday usually around my neck, sometimes I wrap them around my wrist to make a bracelets, s
o I can look at them all day. They wear great and I get compliments everywhere I go. All of the beautiful details make Eternal Girl products stand out and desired.
I will add my pictures of my necklaces once I get the files off of my old computer. 
Etsy Shop
Blog
Twitter
Facebook
Instagram
Pinterest
Google+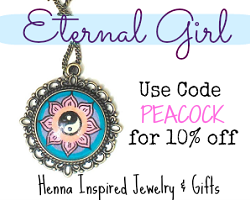 Disclosure: Peacock Review was given a complimentary item from Eternal Girl for the purposes of conducting an honest review. All opinions are 100% my own. This disclosure is in accordance with the Federal Trade Commission (FTC) 10 CFR, Part 255, Guides Concerning the Use of Endorsements and Testimonials in Advertising.