Holiday in Turkey
You can take a holiday in
Turkey
and have memorable days in life with the sightseeing of some fantastic historical ruins and picturesque landscapes of eye catching natural beauty.
Turkey is renowned as a hot tourist destination of historic attractions. It has an incredibly diverse natural settings and landscapes consisting of sunny Mediterranean serene beaches, undulated hilly terrains, lusting green dense wooded lands and challenging mountainous terrain with many exquisite ski resorts.
Turkey's massive terrains with pleasant or cool climate make the holiday in Turkey a real experience. The ancient religious places mixed with modern resorts offer great facilities for sightseeing and vacation tours.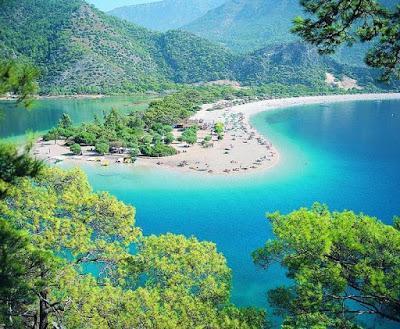 Turkey Beaches
Turkey Beaches
There are many breathtaking beaches in Turkey. The beaches in turkey are serene, picturesque and have all facilities required for an entertaining vacation. Turkey Beaches offer best season during May to October months.
Turkish beaches have sands which have pebbles and waters are cooler. Patara Beach, the longest beach in the Mediterranean, Olu Deniz Beach, Gemile Bay Beach, Turtle [Iztuzu] Beach, Çalis Beach near Fethiye, Kaputas Beach near Kalkan & Kas, Ladies Beach and Kustur Beach in Kusadasi, Içmeler Beach in Marmaris Bay, Cleopatra's Beach in Alanya and Side Beaches are some of the attractive beaches with many facilities in Turkey.