Oldtone Roots Music Festival:

Unprecedented convergence of the best in
American traditional music.
"Participation is Preservation"
(
Great Barrington, MA, & Ancramdale, NY) -
Festival producer Dads "Bet the Farm" on their passion for Old Time music! 
All with young families of 2 young kids each, these guys aim to further bridge gaps in the modern roots music world.
The Oldtone Roots Music Festival is a new venture founded and produced by the dynamic trio of Kip Beacco, Matt Downing, and Jim Wright, well-known Northeastern artists in American Roots music world.
This is the second year of the event featuring traditional Appalachian folk, bluegrass, hot swing, old-time country, brass, Cajun and contra music.
The dates are September 8, 9, 10, & 11, 2016.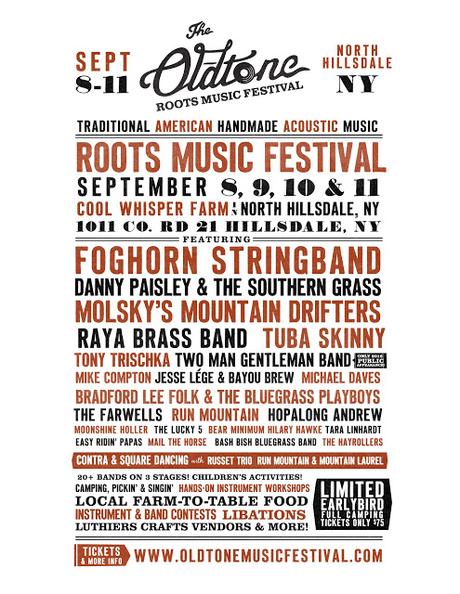 "We are creating a platform for traditional music to be experienced and enjoyed without some of the trappings of larger festivals.

Oldtone

Roots focuses on preserving

the more

traditional side of American Roots music through playing, learning, dancing, and singing. The 4-day camping festival will include classes and workshops, formal and informal jams, and contests. The festival celebrates traditional acoustic music with a down-to-earth, inclusive, and welcoming vibe."

- Jim Wright.




The informal motto of the festival is "Participation is Preservation". The festival will include contra, square, and swing dancing, workshops, classes, and performances on three stages.  Known and respected artists of Old Time Music will be performing and teaching.




The event is an earth friendly family focused camping adventure on the stunning 150 acre Cool Whisper Working Family Farm in Hillsdale, NY. Cool Whisper is owned by Matt and Lisa Schober. Festival attendees will be able to see (from a distance) highland cattle amidst mountain views and rolling fields. Day tickets are also available.




To learn more about Oldtone Roots Festival and Music Series:

Website: http://www.oldtonemusicfestival.com

Facebook: https://www.facebook.com/OldtoneMusicFestival

Instagram: @oldtonemusicfest #OldtoneRootsMusicFestival




THE CURRENT LINEUP:

Foghorn Stringband

Bruce Molsky's Mountain Drifters

Danny Paisley and Southern Grass

Tony Trischka

Two Man Gentleman Band

Brad Lee Folk & Bluegrass Playboys

Jese Lege & Bayou Brew

Mike Compton

Michael Daves

Raya Brass Band

Run Mountain

Tuba Skinny

Lucky Five

Mail the Horse

The Hayrollers

The Russet Trio

The Farwells

Bear Minimum

Bash Bish Bluegrass Band

Easy Ridin Papas

COMPTON & DAVES DUET!




Oldtone's Classic Country Friday Night Revue

Featuring: Caleb Klauder, Reeb Wilms,

Lauren Ambrose, Andy Bean, Brad Lee Folk

, 

Pete Adams,

Brian Kantor & more!

Friday & Saturday Dance Blocks




Feat: Aldo Lavaggi & Friends (Contra), The Russet Trio (Contra) Mountain Laurel (Contra), The Farwells (Square), Run Mountain (Square), The Lucky 5 (Swing)

Band & Instrument Contests

Friday is Cajun Food night,

Saturday is Cool Whisper Farm Pig Roast night at Oldtone!




Kid's Activities: Hopalong Andrew, The Jester, Lead Sing-a-longs, fiddle and banjo workshop, face painting, & Much More.




Summary:




Traditional mountain fiddling, bluegrass, hot swing, classic country, brass, cajun and contra music. A family-friendly full camping festival with kids activities, dancing, hands-on instrument workshops led by world-class musicians,  instrument and band contests, Hudson Valley farm-to-table food, libations,  and exceptional national & regional acts on our main, dance, & workshop stages.

When: Thursday, Sept 8, 2016 1pm to Sunday, Sept 11, approx 4pm, 2016.

Cost: Camping or Day tickets available from $10-$100

Where: Cool Whisper Farm, 1011 Co. Rd 21, North Hillsdale, NY




More info and tickets:

Website: 

http://www.oldtonemusicfestival.com/

Facebook:

https://www.facebook.com/OldtoneMusicFestival




Free Ticket Contest:

https://www.facebook.com/events/1752830268337945/