After enjoying my first batch of Hokkaido chiffon cupcakes, I have been craving for more of these ultra soft and fluffy cakes...
Instead of using the same recipe that I have baked and liked, I keep telling myself that I have to explore more Hokkaido chiffon cupcake recipes...
Today, I shall stop craving and thinking and put my thoughts into action!!!
This time, I'm going to use this Hokkaido chiffon cupcakes recipe that my baking kaki (meaning good friend in Malay language), Doreen of My Little Favourite DIY loves to bake. She likes this recipe so much that she has been using it to bake lots of Hokkaido chiffon cupcakes at here, here and here.
Why is this recipe so good?
1) According to what I have seen at Doreen's bakes, these chiffon cupcakes have nice flawless tops... Absolutely true! There are no cracks on these chiffon cake tops. How? Instead of baking these cupcakes 170°C or 150°C fan forced for 25 mins. These cakes are baked in a lower temperature like 140°C or 125°C fan forced for 40 mins which is a longer period of baking time.
2) I did a little calculation and found that each of the cupcakes that I had baked with the previous recipe contain 33% of an egg. Whereas, the cupcakes baked with this recipe contain a slightly higher amount of eggs as each contains 38% of an egg. With a little more eggs, I'm guessing that this recipe yields cupcakes with bouncier and less shrinking kind of texture. Based on these cupcakes that I have baked, I think that I'm pretty right...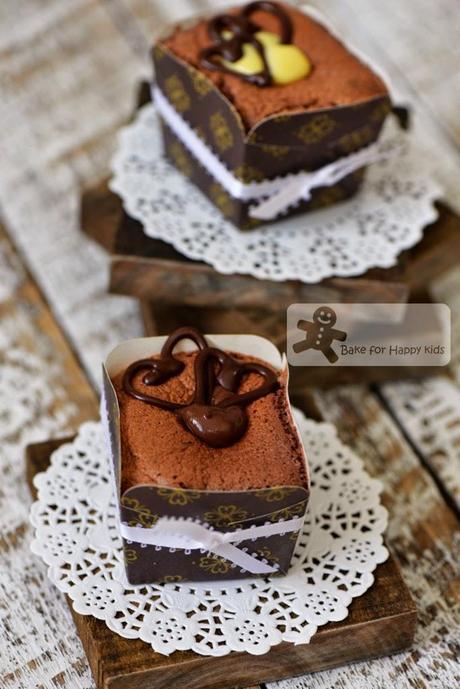 Hokkaido chocolate chiffon cupcakes with dark or white chocolate custard cream
To start, I like to make the chocolate custard cream filling first.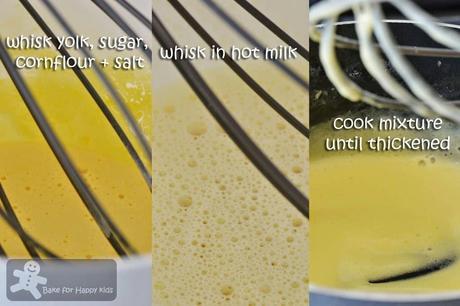 This Julia Child's recipe uses the same method as most custard cream recipes that I have used.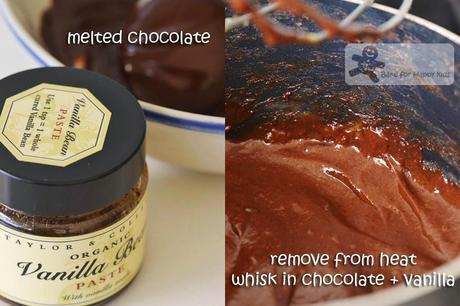 ... but this recipe makes cream with a lighter texture and also many variations.
For mine, I made two variations. I have added dark chocolate into one and white chocolate into another.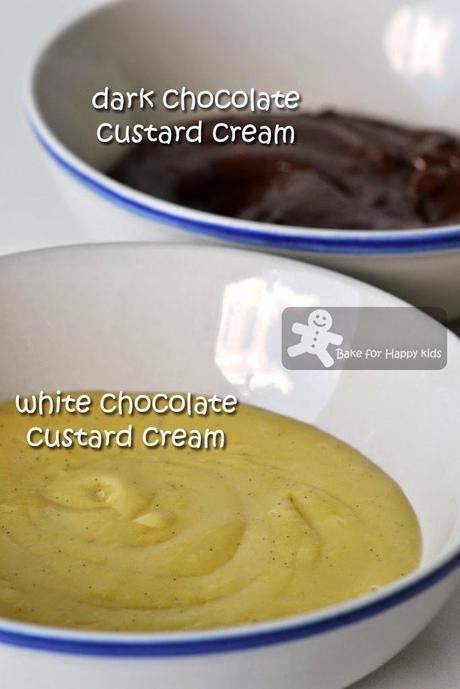 For some strange reasons, the cream with white chocolate is a little runnier than the dark one.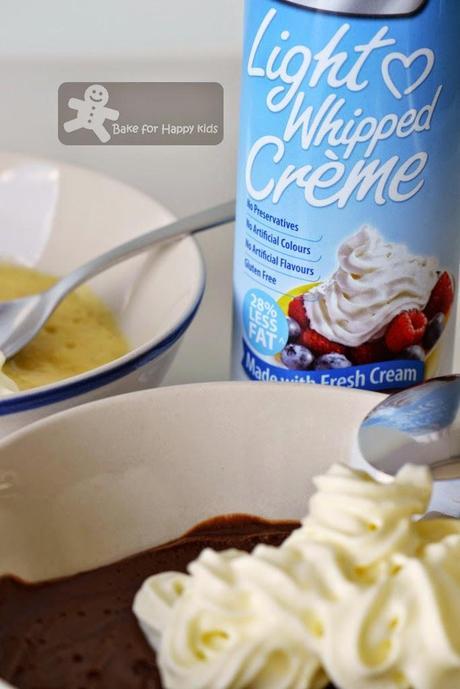 When the custard base is completely chilled, I have mixed in whipped cream to lighten its texture further.
Next, I'm baking the cupcakes...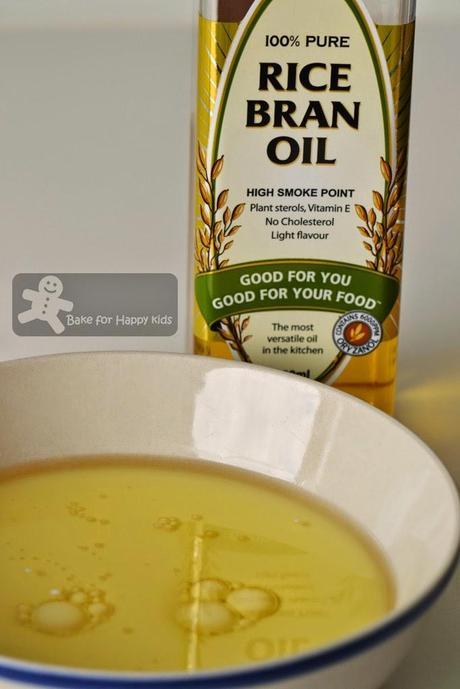 Warm this milk-and-oil mixture until lukewarm.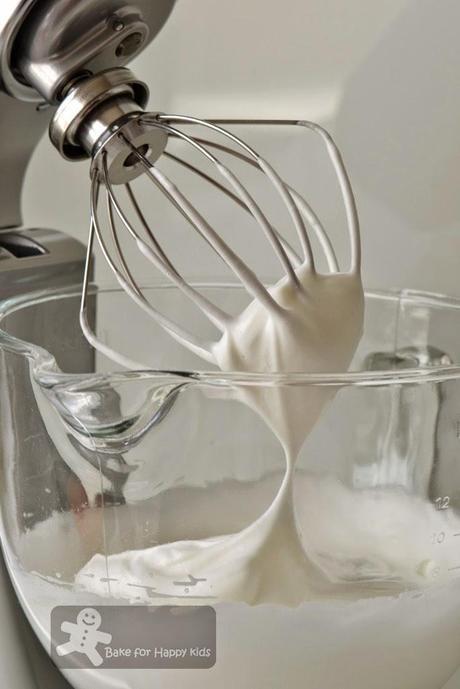 Like most typical chiffon cakes, the egg whites in this recipe are beaten until stiff peaks form.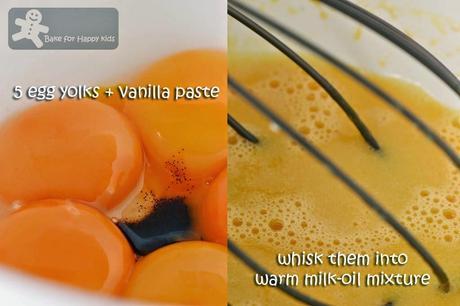 First, I mixed vanilla and milk-oil mixture into the egg yolks.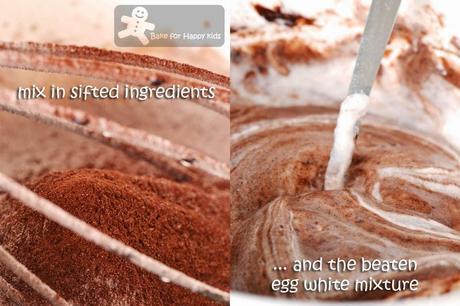 Then, I mixed in the dry ingredients and the egg white mixture.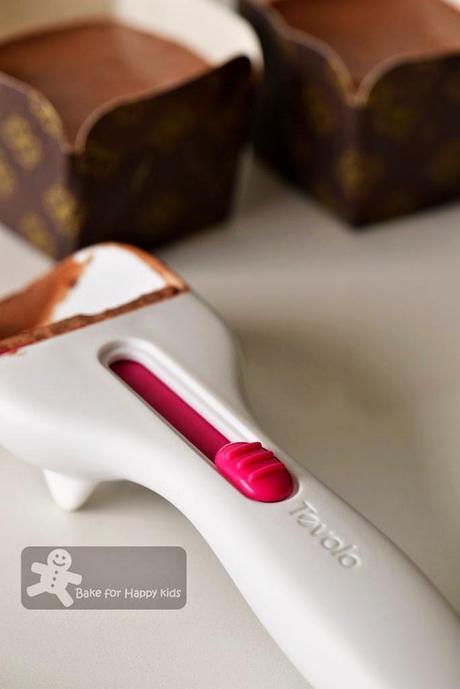 Next, I'm using my Tovolo cupcake batter scoop to distribute the cake batter into the cupcake cups
I'm loving it because it is a no-mess plus non-drip scoop and can distribute batter in a consistent amount.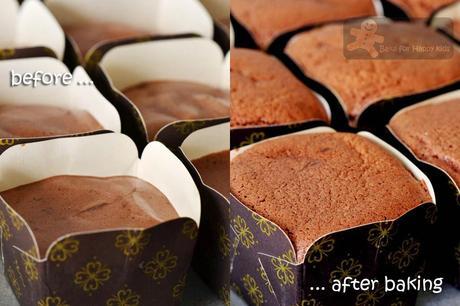 See! There is NO cracks on these cake tops!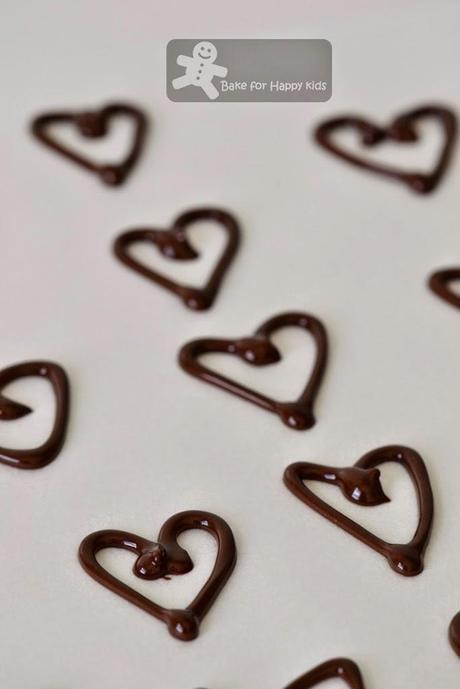 While the cakes are cooling, I have piped out these chocolate hearts with melted chocolate.
Chocolate hearts? Yes that they are great for Valentine's day :)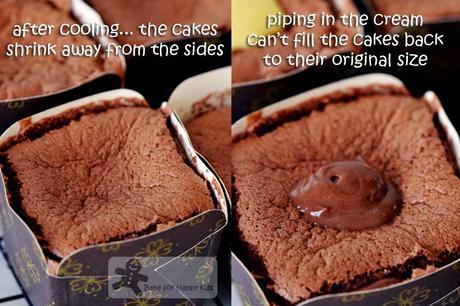 Like most chiffon cupcakes, these cupcakes shrink away from the cupcake cups after cooling.
I reckon the cakes made with this recipe tend to shrink a little more.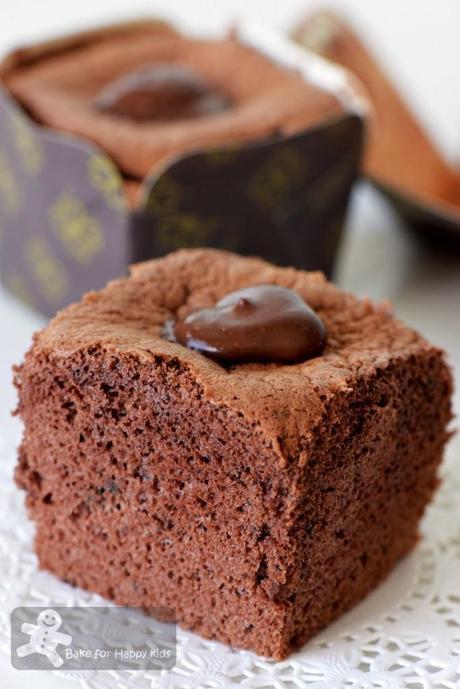 Its texture is as cottony and soft like the chiffon cupcakes that I have baked before.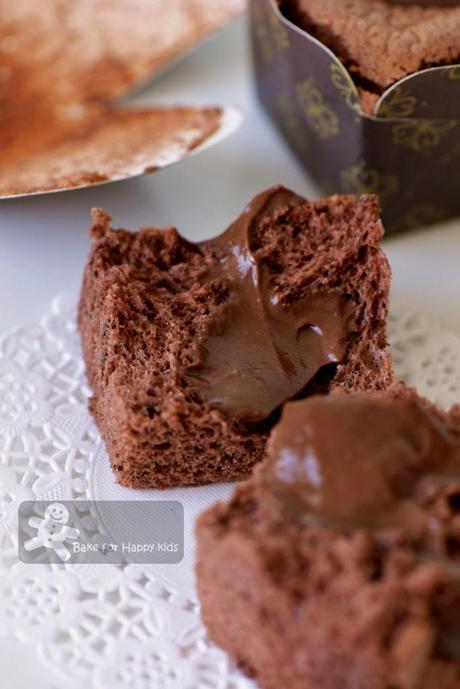 ... and extremely light and heavenly with this beautiful chocolate custard cream!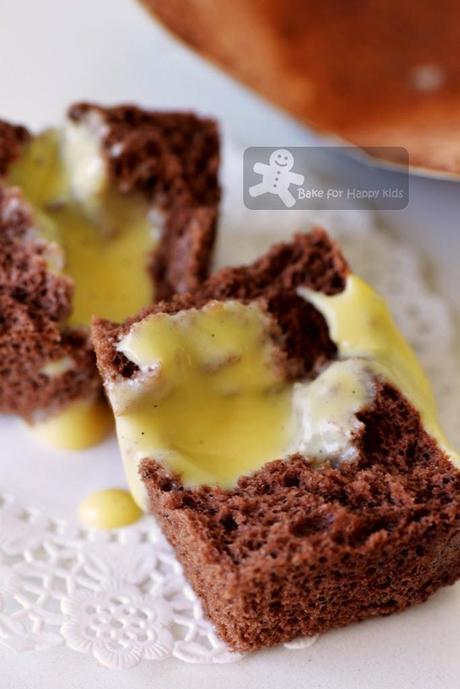 Although the white chocolate cream is slightly runny, these cupcakes is as heavenly as the dark chocolate one.
So heavenly that my son only want to eat the white chocolate ones! My little Mr Fussy!!!
These very chocolate kind of Hokkaido chiffon cupcakes are equally ultra-soft and fluffy as the Hokkaido chiffon cupcakes that I have baked. The subtle increase amount of eggs in these cupcakes is great as it doesn't give the cupcakes any extra egg-y taste or smell. Instead, it does give them a slightly prettier crack-less look.Despite of the crack-less looks, I reckon that the cakes made with this recipe tend to shrink more from their sides and can look not so perfect too with their detaching edges. I wonder if these cupcakes will shrink lesser if I cool the cake in the oven with its door ajar. Hope to try this in the near future and see if this step will work...
Ultimately, after baking and enjoying these, I have to warn you something... Beware if you are a 
chocoholic 
and a Hokkiado chiffon cupcakes lover! Your first bite of these chocolate Hokkaido chiffon with either dark or white chocolate custard cream will make you craving for more... LOL!
Ok... Less thinking and talking now and bake something!
Here are the recipes that are mostly mostly adapted from My Little Favourite DIY and a Julia Child's recipe at Cookstr
Makes 13 cupcakes
A
60g oil, preferably Alfa One rice bran oil which is light in flavouring
80ml milk
B
5 egg yolk (from medium eggs, 60g each)
1/4 tsp vanilla paste or 1/2 tsp vanilla extract
C
85g cake flour, preferably 7-8% protein and unbleached)
15g cocoa powder, preferably Dutch processed cocoa powder, preferably Valrhona
D
5 egg white
90g sugar (from medium eggs, 60g each)
E
To make dark or white chocolate custard cream enough to fill 13 cupcakes:
300ml milk
3 egg yolk (from large egg, 70g each)
60g caster sugar
3/4 tsp cornflour
pinch of salt
3/4 tsp vanilla paste or 1 1/2 tsp vanilla extract
75g dark or white chocolate, preferably the best quality ones like Callebaut dark chocolate callets with 70% cocoa if using the dark chocolate, melted
1-2 cups of whipped cream - you can use the nozzle kind of ready-to-use whipped cream and it can be fat reduced.
Based on the ingredients that I have listed at E, I have used 1/3 of the recipe to make one batch of dark chocolate custard cream to fill 5 cupcakes and used 1/3 of the recipe to make another batch of white chocolate custard cream to fill 4 cupcakes. And, so we ate the rest with no fillings.
To finish:
extra dark or white chocolate to melt and pipe into shapes on baking paper for decorations
Preheat oven to 140°C (or 125°C fan forced). If you are using paper baking cups like the ones that I'm using, arrange them on baking tray. Otherwise, you can line baking cups in a muffin tin.
Combine ingredients A in heat proof mixing bowl. Place the mixing bowl on a double boiler and cook until mixture is lukewarm. Otherwise, mixture can microwave in high power for 30-40 secs.
Using a hand whisk, whisk in egg yolks (ingredient B) one at a time. Sift in all ingredients C into egg yolk mixture and fold until mixture is well combined.
Using an electric mixer with whisk attachment, beat egg white (from ingredient D) in low speed for 2-3 mins until foamy. Increase beating speed to medium high. While beating, sugar gradually in about 3-4 batches and continue beat till stiff peaks form.
Fold egg white mixture into egg yolk mixture in 2-3 batches and do it very gently. When the mixture is well combined, fill batter into baking cups to about 3/4 full.
Bake them at 140°C (or 125°C fan forced) for 20 mins at the middle rack. You can cover the cupcake very loosely with a foil if your oven is too strong with its top heat - If you think that your oven temperature is well calibrated, you can choose to omit this step. Remove the foil and increase the temperature to 150°C (or 140°C fan forced) and continue to bake for another 20 mins, After removing the cupcakes from the oven, set aside to cool the cupcakes in the tin or a tray for 10 mins. Remove and let cool completely on wire racks. - At this stage, I wonder if the cupcakes will shrink lesser if I leave the cakes to cool in the oven with its door ajar. Will update this post if this method works.
To make the light chocolate custard cream using ingredients E:
Simmer milk in a saucepan with medium low heat. While heating the milk, whisk egg yolk, sugar, cornflour and salt in a mixing bowl using a hand whisk until thick and pale.
Keep whisking and slowly pour in the scalded milk into the yolk mixture. Pour the custard mixture back into a saucepan and cook over low heat, with constant whisking until thickened - Do not over-cook mixture. Over cooking the mixture can scramble the eggs! If unsure, please use a candy thermometer to check and it has to be less than 165°F or 74°C.
Remove from heat and whisk in the melted chocolate and vanilla paste or extract until well combined. Transfer custard into a bowl and cover the surfaces well with cling wrap - This will avoid a layer of skin forming. Chill custard for at least 2 hrs.
Stir in the whipped cream until the cream achieve the feathery light consistency that you like. Continue to chill the cream until the cakes are cooled enough for filling.
Pipe custard cream into cupcakes using a long narrow piping tip (like Wilton 230). Top the cupcakes with chocolates that was piped into shapes. Serve at room temperature or chilled. Both are as good.
Happy Baking
Hope that you will love baking these for your valentine :) Happy Valentine's Day!
This post is linked to the event, Little Thumbs up organised by Doreen from my little favorite DIY and me, Bake for Happy Kids, hosted by Grace from Life can be simple at this post.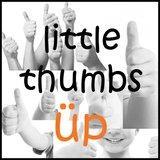 Our Little Thumbs Up event starts on the first Tuesday until the last day of the month. Please join us! To join, simply cook or bake any recipe with the theme of the month which is Chocolate for Feb 2015 and link with us at this post anytime until 28th Feb 2015.
What after Feb 2015? Faeez from Bitter Sweet Spicy will be the next hostess of Feb 2015 and her theme is BANANA! Her Little Thumbs Up event starts on the first Tuesday of Mar 2015 (3rd Mar 2015) until the last day of the month.
Don't forget your thumbs up or display this badge! And make sure that: (1) Your post must be a current post preferably within this month. (2) Please mention Little Thumbs Up in your post and link back to Bake for Happy Kids, my little favorite DIY or/and Grace from Life can be simple. For more details, please see this.
-----
Don't forget to take part 
to win 
US$160 Paypal cash!
For the first time, 16 fabulous cooking bloggers have come together to bring you the chance to start the Year of the Ram in the best way - by winning an ang pow*!
To take part, simply complete the Rafflecopter below. Open to all international readers.
a Rafflecopter giveaway
This Giveaway is brought to you by:
Diana from The Domestic Goddess Wannabe
Zoe from Bake for Happy Kids
Alvin from Chef and Sommelier
Ann from Anncoo Journal
Cheryl from Baking Tai Tai
Doreen from My Little Favourite DIY
Fion from XuanHom's Mom Kitchen Diary
Jasline from Foodie Baker
LY from LY's Kitchen Ventures
May from Mayck-law
Ms B from Everybody Eats Well in Flanders
Regina from Mummymoo
Sharon from Delishar
Susanne and Phay Shing from Lovingcreations4u
Veronica from Peng's Kitchen
Victoria from Victoria Bakes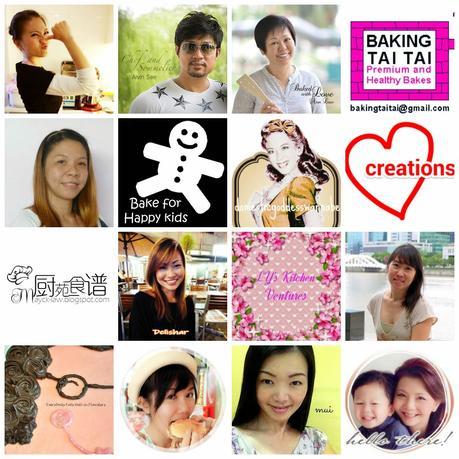 *Terms and conditions apply. One prize of US$160 will be sent to the winner via Paypal. An email will be sent to the winner to notify him/her of the win. If the organiser (Diana) does not receive a reply within 48 hours, another winner will be selected. Please note if the winner does not have a valid and working Paypal account, another winner will be selected.