Here's the "hoichoi" done in 2018!
Hoichoi, the World's largest digital platform exclusively curated for Bengali 's and that is all because of their audience-base who have been consistently hungry for new content - which hoichoi loved serving on a hot plate!
According to audience reviews - the following are a list of favourite stars and Originals:
1) The stars who said, "Hello!":
Rajdeep Gupta (Japani Toy)
Saswata Chatterjee (Shei Je Holud Pakhi)
Mona Lisa (Dupur Thakurpo Season 2)
Parno Mittra (Chupkotha)
Rajatava Dutta (Dhanbad Blues)
Anirban Bhattacharya (Byomkesh)
2) The shows which made you go, "Holy Faak!"
Eken Babu (Seasons 1 and 2)
Byomkesh (Season 3)
Six (Season 1)
Hello (Season 2)
Shei Je Holud Pakhi (Season 1)
Japani Toy (Season 1)
Charitraheen (Season 1)
3) The films which made you say, "Do Not Disturb!"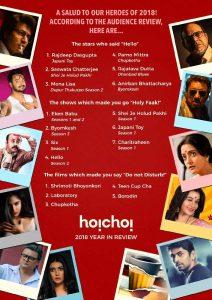 hoichoi announced 30 new Original shows and 12 new Original films in September, out of which 5 shows (Charitraheen, E Kon Eken, Do Not Disturb, Dhanbad Blues and Hello S2) and 2 films (Teen Cup Chaa and Borodin) are streaming now; an exciting line-up awaits fans of hoichoi in 2019.