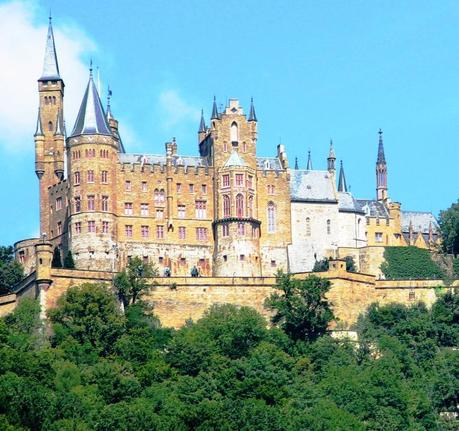 Hohenzollern Castle was the second castle I ever visited in Germany – talk about getting spoiled!  It set a high precedent for all future castles that I would visit.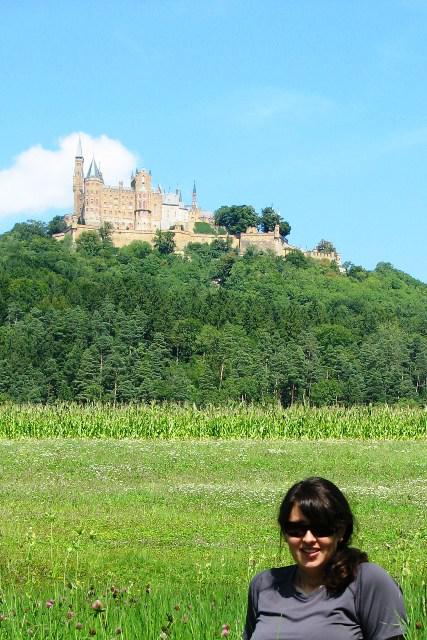 View of Hohenzollern Castle. We did a 15km hike to it, but for a much easier option you can drive to the nearby parking lot.
Hohenzollern Castle is only 50 km south of Stuttgart and if you ask any local about which castles you should visit in the area, invariably Hohenzollern will be suggested.   It commands respect even from a distance nestled on top of Mount Hohenzollern.  I can imagine that its presence would seem imposing to enemies in medieval times and be comforting to allies.  Perhaps that's part of the reason Hohenzollern Castle served as a refuge for the Catholic citizens in the region during numerous wars, including the Thirty Years' War.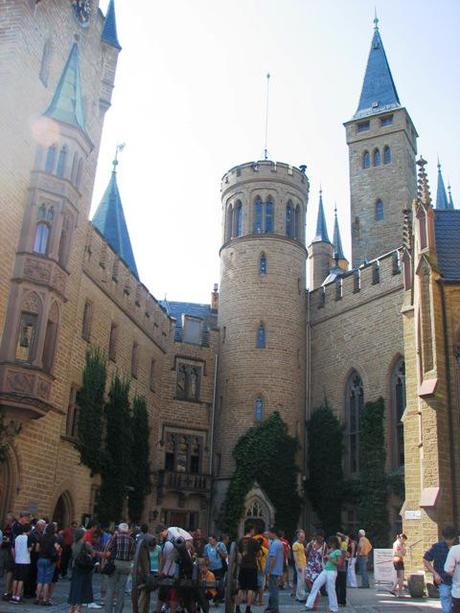 The courtyard of Hohenzollern Castle. You definitely won't be alone, but I still really enjoyed visiting this castle.
The current Hohenzollern Castle is actually the third version of the castle.  Hohenzollern was originally built in the 11th century, but was destroyed during a 10 month siege.   The second version of the castle was built between 1454 – 1461 but by the end of the 18th century it had lost its strategic importance and fell into ruin.  Finally, the third version of the caslte, which is Hohenzollern Castle as we see it today was built between 1846 0 1867 in a Neo-Gothic style.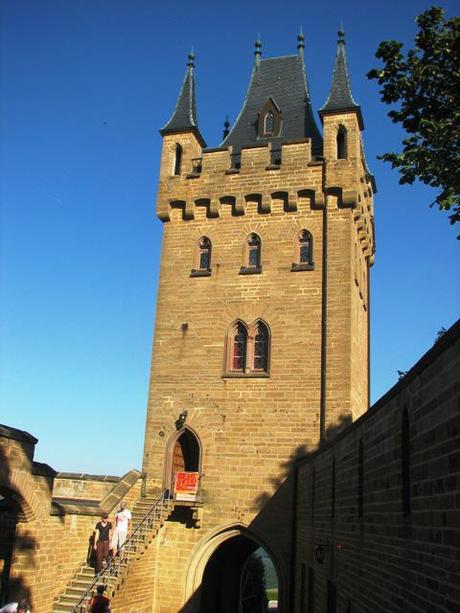 One of the castle towers.
One might think that would be enough for one castle to endure, but in 1978 Hohenzollern was badly damaged due to an earth quake in which 20 people had to be dug out from the crumbling castle walls.  Somehow I'm thinking that castles built over 150 years ago weren't built to be earthquake resistance.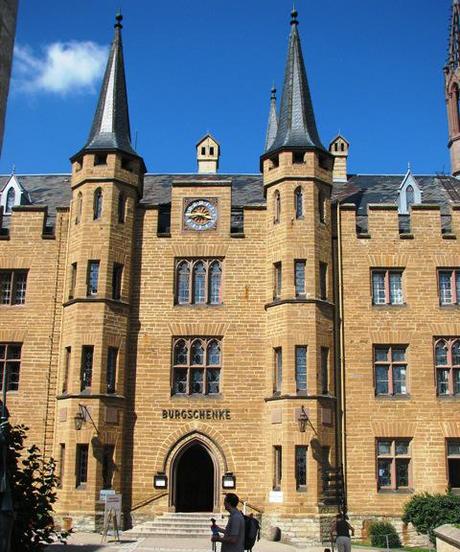 In recent years Hohenzollern Castle has seen happier times receiving over 300,000 visitors each year, giving it the distinction of it being  one of Germany's top visited castles – pretty impressive when you consider there are over 25,000 castles in Germany.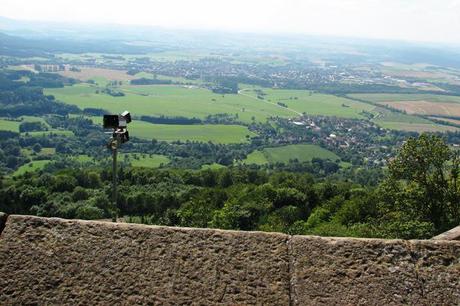 View of the Swabian Albs from Hohenzollern Castle
Hohenzollern also serves as a summer camp for needy children.  I wish I could have gone to summer camp in a castle.
English tours are available of Hohenzollern Castle on weekends and public holidays at 11:30, 2:00 and 4:30, which I really enjoyed and would recommend.
For more info on visiting Hohenzollern Castle see:  Burg Hohenzollern