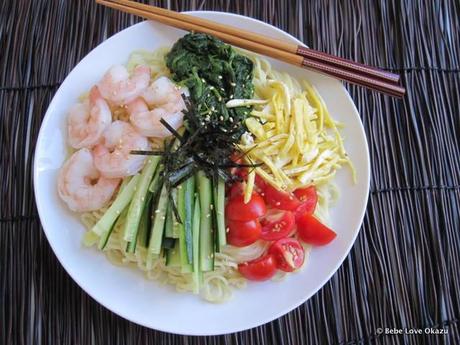 There's really no great English translation for "hiyashi chyuka" that would embody the true deliciousness of one of my favorite summer-time Japanese dishes. The dish is essentially cold aldente ramen noodles served on a plate and garnished with fresh vegetables and proteins.
It might be difficult not to conjure up an image in one's head of instant ramen noodles served cold on a plate. The noodles are not similar to that of the instant kind, but rather these noodles are chewier and more translucent, more closely resembling that of the ramen noodle you would find at a quality Japanese ramen shop.
Growing up, my Mom often made hiyashi chyuka on hot summer days and it was so refreshing to eat a plate of cold noodles, as odd as that might sound.
The secret to a great plate of cold Japanese ramen noodles however, is to CHILL all the ingredients for at least an hour or two prior to serving. This will guarantee a refreshingly cool and simple meal. In our case, this was our dinner the other night.
As for the toppings, traditionally you will find kinshi tamago (or thinly sliced egg omelette) and thinly sliced cucumbers along with thinly sliced ham (yes, the lunch meat kind). This topping trifecta is typically what my Mom served, and she often added freshly sliced homegrown tomatoes if these were available.
My version of hiyashi chyuka includes shrimp, spinach, cucumbers, cherry tomatoes, and kinshi tamago. I omitted the lunch meat, primarily because I happened to have frozen shrimp in our fridge but also for the fact that I try to limit the amount of lunch meat my family consumes despite the fact that I buy nitrite/nitrate free meats.
You might recall in the previous post  how I have been relying on lazy cooking. Well, hiyashi chyuka is one such lazy dish. It can be purchased at the Japanese supermarket, complete with the sesame vinaigrette dressing included. Hurray for me!
The only problem is that the little packets of dressing are never enough. Once you try the dressing below, however, you might be inclined not to use the packets of dressing that comes with the hiyashi chyuka noodles.
The dressing is really easy to make if you have a few basic Japanese pantry items in stock:
Ground kurogoma (black) sesame seeds
Whole roasted kurogoma (black) sesame
Rice vinegar
Shoyu (soy sauce)
Sesame oil
Granulated white sugar
You'll find this cold noodle salad quite refreshing on a hot summer day. Technically, give the continued heat wave(s) we're experiencing it still feels like summer! It's not too late to enjoy hiyashi chyuka!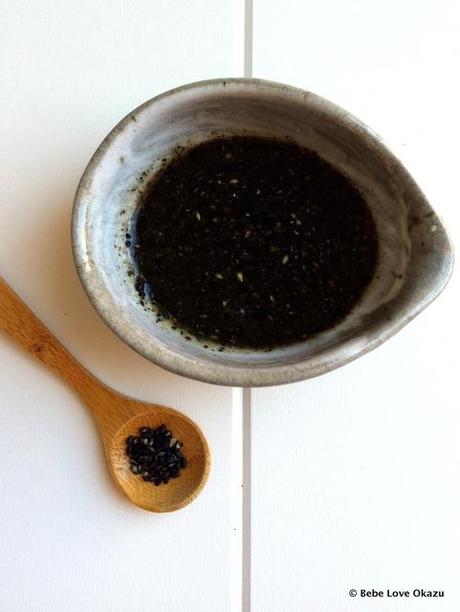 Print
Hiyashi Chyuka (Cold Ramen Noodle Salad) with Sesame Vinaigrette Author: 
Judy | Bebe Love Okazu
Recipe type: 
Main
Cuisine: 
Japanese
Prep time:  30 mins Total time:  30 mins Serves: 
3
  Ingredients
FOR VINAIGRETTE DRESSING
3 tablespoons shoyu (soy sauce)
3 tablespoons rice vinegar
1½ tablespoons sesame oil
3 teaspoons white granulated sugar
FOR COLD NOODLE SALAD
1 package of hiyashi chyuka noodles (3 servings per pack)
1 bunch of fresh spinach, boiled and chopped
1 Japanese cucumber, julienne slices
1 cup cherry tomatoes, quartered
15 jumbo shrimp, peeled, deveined, tails removed (frozen)
2 large eggs
1 teaspoon soy sauce for kinshi tamago (egg omelette)
Olive oil for making egg omelette
Japanese karashi (hot mustard), serve with noodles and sesame vinaigrette
Kizami nori (roasted sliced seaweed), optional garnish
Roasted whole sesame seeds, optional garnish
Instructions
Boil noodles according to package and rinse with cold water. Set aside into 3 portions. Chill in refrigerator.
Cook shrimp for 5 to 7 minutes until pink and cooked through. Chill in refrigerator.
Cook spinach, drain and then squeeze any residual water from the leaves. Chop into 1-inch bite sized portions. (On a platter, set aside spinach, julienned cucumbers, and sliced tomatoes. Place in refrigerator to chill.)
For egg omelette: beat 2 egg with 1 teaspoon soy sauce. Heat oil over medium heat in large frying pan, making sure the entire pan is greased. Pour egg mixture into pan spreading it out over the entire pan in a thin layer. Allow the omelet to cook slowly so that it doesn't brown. Flip over once the egg has thickened and is stable. Cook additional 2 – 3 minutes until firm. Remove omelet to cutting board. Allow it to cool completely and then cut the egg into very thin strips. Chill egg strips in the refrigerator.
Make dressing: combine soy sauce, vinegar, sesame oil, sugar, ground sesame seeds and whole roasted sesame seeds. Gently mix together. Chill in refrigerator.
To assemble hiyashi chyuka, arrange noodles on a plate. Place kinshi tamago (egg), shrimp, spinach, tomatoes and cucumbers over noodles.
Generously drizzle sesame vinaigrette over salad. Enjoy immediately.
3.2.1230