Hello February! I can't believe we're already in the second month of the year. It still hasn't sunk into my head yet that it's already 2018 and I'll be in my quarter life in a few days. Yikes! Anyway, I'm starting this month with a review of the cutest skincare product I ever own, besides the Peripera Fashion People Carrier Set. But when it comes to cute packagings, sometimes the product quality is compromised so is it the same with this one? Keep reading my Tony Moly Pocket Bunny Moist Mist review.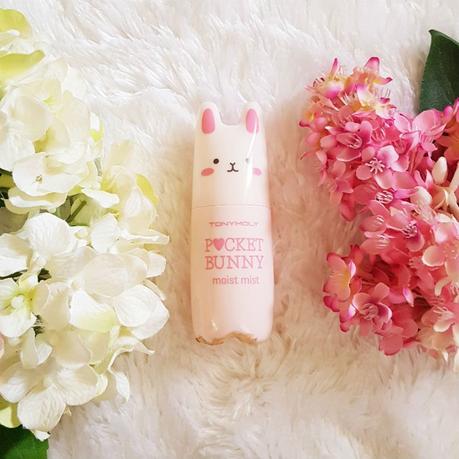 WHAT IS IT?
Tony Moly Pocket Bunny Moist Mist is a soothing, hydrating face mist infused with fruit extracts to help boost elasticity while deeply moisturizing dry and tired skin. As a multi-functional face mist, it claims to instantly moistures, sets makeup and supports skin elasticity. With a blend of fruit extracts and aloe vera, it purifies the skin and relieves the stressed skin from harm environment. You can check its ingredients in this CosDNA Analysis.
PERFORMANCE
APPLICATION: Mist onto the face from 8~10 inches away with eyes closed. The mist can also be used over makeup and throughout the day.
SCENT: It smells sweet like a strawberry.
PACKAGING: As you could see from the photo above it resembles a rabbit, it's pink and very cute. But don't mind the weird thing on the bottom of the spray bottle, my mom put a double-sided tape on it and used it as a decoration in our bathroom. As much as I love the packaging design though, I wasn't a fan of the spray nozzle. It's kinda hard to press and the mist it sprays out is not that fine which is not good if you're planning to use this on top of your makeup. Personally, I prefer a fine mist, more refreshing and doesn't ruin my makeup.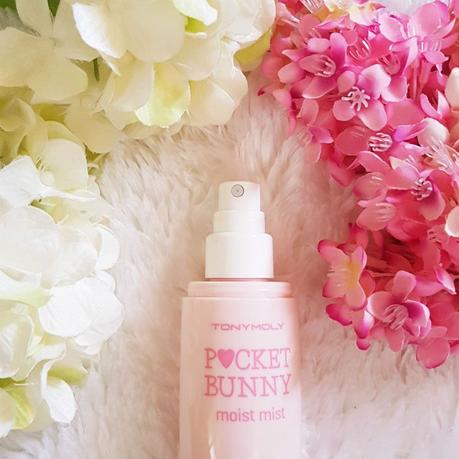 RESULT: The Pocket Bunny Moist Mist is another example of a product you will only buy because of the packaging. It wasn't moisturizing enough or sets my makeup. I don't feel refresh too when I spray this in the afternoon. It smells good though, the packaging can be used as a vanity table trinket, and most importantly despite the disappointment, it didn't break out my sensitive skin.
VERDICT
PROS: Cute packaging and smells good. I use this like a cologne instead. But instead for my body, it's for my face. And it didn't break out my sensitive skin.
CONS: Not moisturizing enough and does not really set my makeup. Lastly, it contains Propylparaben, Butylparaben, and Isobutylparaben which according to this product's CosDNA Analysis, all scored 7 and it's not good for long-term use.
WHERE TO BUY?
You can purchase the Tony Moly Pocket Bunny Moist Mist in Style Korean for $8.75. You can also purchase this in Ulta and Birchbox for the same price of $15. But if you live in the UK, you can purchase this too in Cult Beauty for $17.61.
What do you think of this Tony Moly Pocket Bunny Moist Mist review? What is your favorite facial mist? Share your thoughts and recommendations below!