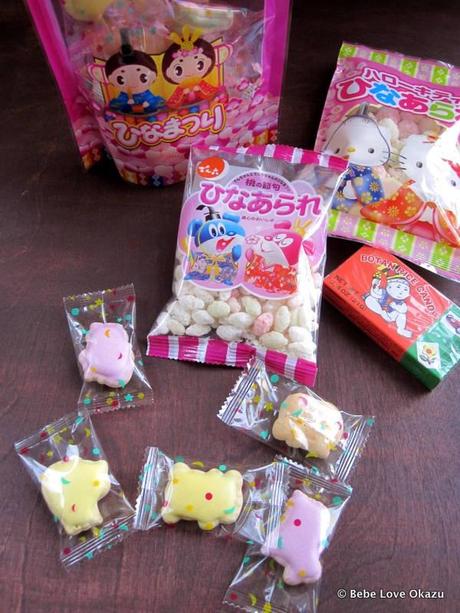 Each year, during Hinamatsuri, or Girls' Day, the Japanese markets near our home sell sweets specifically for celebrating this holiday. The most popular is "Hina Arare" or sweet puffed rice. The kids really seem to like this one.
This year, we had a nice variety of treats thanks to my brother and my sister-in-law so I thought I'd share a photo of all the sweets we've been enjoying since yesterday.
My favorite is the Botan Rice Candy. It's a classic, very "old school" Japanese candy. It's a chewy sweet candy made of rice and it's wrapped in edible rice paper that melts in your mouth. Bebe tried her first Botan Candy and loved how she could eat "paper" that melts in your mouth.
I also love these cute little individually packaged cookies that have pastel-colored icing atop each cookie. These are so good! The icing has different fruity flavors but I think my favorite is the yellow one (lemon).
Bebe and I also did a simple Hinamatsuri craft.
Each year, I try to incorporate a craft into our Girls' Day celebration. This year we made a collage to recreate a Hina doll display. We used supplies we already had in the house: origami paper, aluminum foil (from the kitchen), glue stick, and my circle punches that I used for Aya's wedding shower (blog post available here) to make the lanterns. This was inspired by a similar craft that Bebe made at her Japanese school.
Easy. Fun. Cute. That about sums up our craft.
Two great traditions to incorporate into our annual Hinamatsuri / Girls' Day celebration: sweets & crafts (in addition to all the food I shared in my previous post).