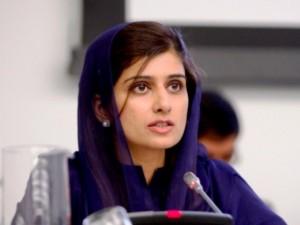 Pakistan's Foreign Minister Hina Rabbani Khar has topped the list of most glamorous women politicians in the world.
A survey conducted by India Today says that Hina Rabbani Khar, the Pakistan Peoples Party (PPP) leader who remains the focus of media thanks to her attractive and fashionable dresses and expensive handbags, has vanquished the all other women politicians in the world in glamour and gorgeousness.
Hina Rabbani Khar is followed by Tamil-origin Canadian politician Rathika Sitsabaiesan. Former Ukrainian Prime Minister Yulia Tymoshenko, who is famous for her beauty and braids, is at third in the list of world's most glamorous women politicians.
Former candidate of US vice president Sarah Palin is present at fourth position while the chief of India's Congress party Sonia Gandhi was ranked 5th. .
Indian-origin Canadian politician Ruby Dhalla, who also acted in few Bollywood movies, is at 6th in the list.
Priyanka Gandhi Vadera, Sonia Gandhi's daughter who is known to carry herself out gracefully on all occasions and wearing fashionable Saris, is placed on 7th rank.
Another Pakistani politician Kashmala Tariq, a Pakistan Muslim League-Like Minded member who is famous for her dressing and outspoken statements, is at number eight on the list.
Former US first lady and ex-foreign minister Hillary Clinton, who always remain focus of media down to her killing smile and magnetic persona, is placed on 9th rank.
A prominent Bengali politician and feminist Brinda Karat, who manages to look great in her typical red bindi, cotton saree, is ranked on 10th.
The newspaper has placed Jordan's Queen Rania Al Abdullah and current US' first lady Michelle Obama at 11th and 12th rank respectively.