Himalaya Herbals is there in my life from my teenagehood or maybe from before that. I love their products simply because I find their products effective and suitable for my skin. I have Oily, Sensitive and Acne-Prone Skin. In fact, I have Eczema skin so due to change in the season my skin swings in between dry and oily and I love how their products work in a gentle manner and giving effective results. A month back, I got an opportunity to try the



Tan Removal Orange Kit
which included
Face Wash, Scrub, and Peel-Off Mask
and here I am ready with my views on this. 😇

The Box I got was a PR Package and along with the tan removal range, it was also having a cool scarf from Max Fashion and RayBan Glasses. I searched for this Box online everywhere but couldn't find not even the Tan Removal Kit having face wash, scrub and peel-off as a combo. But the range is available online separately, i.e, you can grab the face wash, scrub and peel-off as separate products, not as a combo.
Tan Removal Orange Face Wash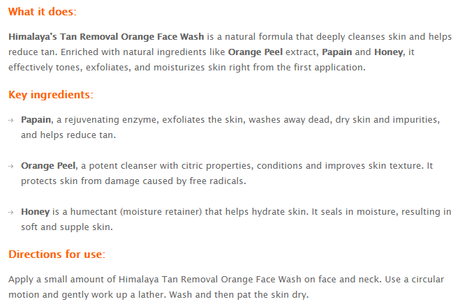 👉 👉 Packaging: Comes in a squeezable tube with a flip-flop cap. The nozzle is accurate enough to control the flow of the product. The upper and lower portion of the tube is a see-through section which is a plus point and we can see how much of product is left.
Color and Consistency: Deep Orange in color and consistency is somewhat like a gel. Neither too thick or jelly, nor too runny. It takes few seconds to form the lather but still, it doesn't form much lather and gives a gentle gel cleansing feeling. 👉 Fragrance: Amazingly, Refreshing Orange Fragrance it has. Not at all overpowering. In fact, I enjoy that fragrance and it actually energizes the mood.

With a regular usage, it has definitely
👉 My Experience: The gel type cleanser gently cleansed my skin taking out all the dirt, oil and sweat improved my skin texture resulting in noticeable bright and smooth skin. Honestly, I don't have any tan problem but because it has brightening properties, it really works on tan. My brother has tan issues and after using this, he really noticed the visible reduction in tan. I am using it regularly, 2-3 times a day and it is perfect for the sensitive and acne-prone skin as well. In short, suitable for all skin types. without making my skin dry or stretchy. It controlled the flaky area as well and didn't turn out to be greasy on my t-zone. Because of the season change, my skin faces a lot of issues and this face wash is performing really well. After washing, I honestly noticed a clean and bright skin, like it deeply cleansed the pores along with that fresh feeling, like my skin is breathing. I felt my skin so light and refreshed.

💁Overall, this is a gentle cleanser suitable for all skin types. Pulling out all the dirt and oil without making skin dry, resulting in a clear, bright and smooth skin.
Tan Removal Orange Scrub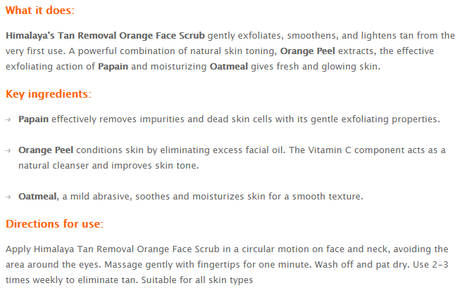 👉 Packaging and Fragrance: Same as Face Wash. The only thing different here is it has opaque packaging and we can't see how much of product is left.

👉 I was able to see my skin smooth and bright in the mirror just after the first use. Again, can't comment on tan issues but it really
Color and consistency: This scrub is white creamy in texture with perfectly blended orange scrubbing granules which are not harsh on the skin.
👉 My Experience. The second step after cleansing is exfoliation and this scrub really does it's job well. Even being a creamy scrub it works on dullness resulting bright, soft and smooth skin. And yes, it doesn't irritate acne too. doesn't make my skin oily or greasy. The granules are neither mild nor harsh and exfoliate the skin in a healthy way. Suitable for using once or twice a week. It doesn't form any kind of lather. After washing off, I felt really smooth skin like this scrub has taken out the upper layer of dead cells.

💁Overall, this gives healthy exfoliation and is suitable for all skin types. Removes dull and dead skin but not for tough blackheads. Gives smooth, bright and soft skin in first use without irritating acne.
Tan Removal Orange Peel-off Mask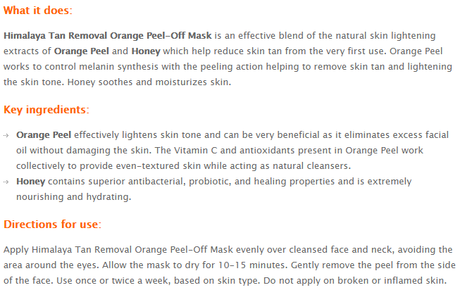 👉 Packaging: Same as Scrub.
👉 Color and Consistency: This has runny gel consistency. As soon as you tilt the tube, the gel starts flowing. The color is just like orange face wash, deep bright orange.
👉 Fragrance: This has a mix of honey and orange, not so pure orange fragrance but not bothering.
It takes a Coming to the results, I am
👉 My Experience: The gel spreads out easily without any hard work 😄. Feels a bit tingling sensation on the skin and in the eyes for the first few seconds but gets settled down soon. How much time it takes to get dry it totally depends on the atmosphere and the density of layer we apply. When I used a thick layer and sat in AC Room, it dries up in regular 10-15 minutes but when I was moving here and there doing physical activity, it took some time because of sweat formation. maximum of 30 minutes to get fully dry and ready to be peeled-off. After drying, it turns into a smooth layer which can be easily peeled off. I start it from my chin, peeling it off towards the forehead. It creates no mess and 99% of the mask comes out easily and I simply wash my face with water to remove the 1% of the residue. Make sure the mask is 100% dried up. really impressed. It pulls out all the oil and dullness away from your skin. I use it sometimes without any scrub and even then it shows effective results. My skin feels so refreshed, clean and brighter, esp. my cheek area. The radiance it gives was really noticeable. It didn't cause any harm to my sensitive, acne-prone skin. This mask is gentle on skin and much better than the regular cream face packs. It didn't even cause dry or stretchy skin. I think it can be used 2-3 times a week. After this, I simply use facial mist which works as toner and moisturizer and I don't feel any need of using a cream moisturizer after it.

💁Overall, this is a gentle and no-mess pell-off mask, taking out all the dirt and oil from the skin, leaving fresh, breathable, clear, bright and radiant skin behind. Suitable for all skin types.
🔊 The whole Range is really effective on tan from the first use because I have noticed a visible improvement in my skin texture and it really brightens up the skin. As I mentioned, My Brother used the same 3 step kit because he has tan issues and yes, there was a major visible difference. He even said "My Facial and Neck Skin looking different. Have to use on Neck Now!" 😄 So yes, it does work and you can go for it without any doubt. 💖
So these were my views on Tan Removal Range. Hope you've liked it. Do subscribe for more and have a Good Day! 😇