Hillary "What difference does it make" Clinton is scheduled to speak tonight night at a Democratic National Committee Fundraiser event at Brentwood's Tavern restaurant in Los Angeles.
The fundraiser event — the third major Demonrat fundraising in L.A. in a month — is sponsored by Hollywood heavyweights and diehard Demonrats director Steven Spielberg, Dreamworks Animation CEO Jeffrey Katzenberg, and Disney Studio chairman Alan Horn. Tickets for the event for monied Hollyweirdos, which include a reception, photo and dinner, cost $32,400 each — the maximum allowed individual contribution to a national party committee per calendar yer.
Below is the image that would have greeted the Hildebeast — that of an evil flying monkey from The Wizard of Oz.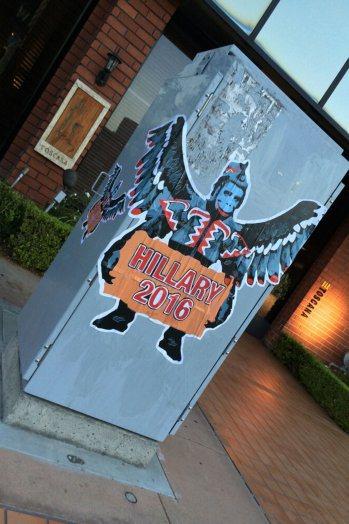 According to Tina Daunt of The Hollywood Reporter, Oct. 17, 2014, the "flying monkey" sign is the creation of guerrilla street artist SABO.
Last Friday morning, SABO hung signs depicting Wizard of Oz flying monkeys holding "Hillary 2016″ signs from traffic lights and pasted them on utility boxes near the Tavern Restaurant. In an email to Hollywood Reporter, SABO explains, "All these leftists, I'm tired of their s—."
But SABO recounted that almost immediately, one poster near a Whole Foods grocery store was "violently" torn down.
Louisiana native SABO, the conservatives' answer to liberal artists like Shepard Fairey, had moved to Los Angeles in 1987 to attend the prestigious Art Center College of Design in Pasadena.
SABO recently made headlines with his Gwyneth Paltrow "Obama Drone" poster. (See DCG's post, "Angry neighbors slam Gwyneth Paltrow after she throws political party for Barack Obama".)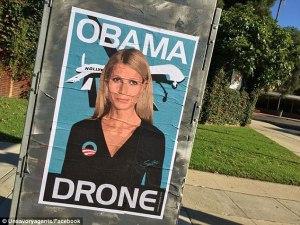 Some of SABO's other works include:
A caricature of former House Speaker Nancy Pelosi twerking, which helped launch the conservative website Breitbart California, triggered demands for an apology from a cross section of angry Demonrats.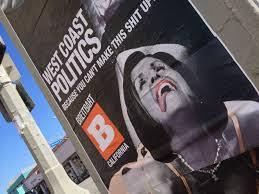 Last year, when Texas pro-abort lawmaker Wendy Davis came to L.A. to raise money, SABO lampooned her as "Abortion Barbie."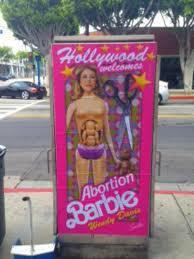 In addition to the flying monkey posters, SABO has been busy working on a fake Tavern website, which ridicules Hillary and the Democratic Party.
He also has an entire section of his website Unsavory Agents dedicated to Hillary. "It sickens me to see just about every California Republican I run across pull out the white flag in surrender to the coming coronation of Hillary Clinton," SABO wrote on his website. "They've all but given up without a hint of a fight. Let this image be a reminder to them that our lady in waiting is not invincible. Obama came out of nowhere and knocked her off her perch without so much as trying."
In a recent interview with The Hollywood Reporter, SABO said Hollywood and politics have become a focal point of his guerrilla art, particularly with his "Drone" campaign, which also features Samuel L. Jackson, Alec Baldwin and Jon Stewart.
"I think the drone campaign encapsulates how I feel about Hollywood," he says. "You know, it's kind of like a double or triple entendre in that, I mean, if you listen to one of these celebrities go on, they're like, droning on and on and on about how they love Obama or the left or the Democrats, or they drone on about how much Republicans suck, and in a way, much the way an unmanned aircraft flies through the air, these people fly through the airwaves."
Alas, a mere day after SABO had put up the Hillary flying monkey signs, all of the posters and banners were either removed or painted over.
Because in America today, and especially in Demonrat-worshipping Hollywood, you just can't have those satiric but entirely accurate flying monkey signs offend Queen Hillary, free speech be damned.
See also:
3 signs Hillary Clinton will run for president in 2016
Bombshell: Long-time Clinton associate says he killed people for Bill & Hillary
Hillary Clinton treated Secret Service like servants
Papers of closest friend show Hillary Clinton to be ruthless & vengeful
The filthy mouth of Hillary Clinton
Hillary Clinton was fired for lying when she was 27 years old
This is what Hillary Clinton means by being 'dead broke'
Who's without a soul? Hillary or Putin?
Bill and Hillary Pimp For Obama
~Eowyn