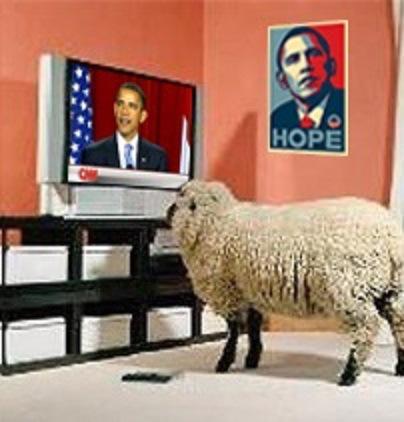 We truly are a nation of sheeple.
Despite all the recent news about Hillary's corrupt Clinton Foundation — of "donations" from foreign donors in return for State Department favors, and the "non-profit" (i.e., tax exempt) Foundation not claiming the foreign donations on IRS tax returns going back 15 years — a new NYT/CBS poll says Americans, specifically Democrats, view her even more favorably than before.
From the New York Times, May 5, 2015:
Hillary Rodham Clinton appears to have initially weathered a barrage of news about her use of a private email account when she was secretary of state and the practices of her family's foundation, an indication that she is starting her second presidential bid with an unusual durability among Democratic voters.

Americans now view Mrs. Clinton more favorably and more see her as a strong leader than they did earlier in the year, despite weeks of scrutiny about her ethics, a New York Times/CBS News poll has found. And nearly nine in 10 Democrats say the nation is ready to elect a woman president. […]

Mrs. Clinton remains a polarizing figure — nearly the same percentage of Americans view her positively as negatively — but her favorability rating has improved by nine percentage points since the disclosure in late March that she did not use a government email account as secretary of state.

And the number of Americans who think Mrs. Clinton has strong qualities of leadership has risen by eight percentage points, to 65 percent from 57 percent, in that period. Still, Mrs. Clinton begins this campaign with fewer voters saying she possesses such qualities than did in July 2007, near the outset of her first presidential bid.

Mrs. Clinton has one primary opponent, Senator Bernie Sanders of Vermont, and more Democrats are likely to enter the race, but her party seems particularly unbothered by questions relating to the emails and to the foundation that she, her husband and their daughter oversee.

While roughly 48 percent of Americans say Mrs. Clinton is honest and trustworthy, about four of five Democrats think she has those traits — and about the same numbers of Democrats say she shares the values most Americans try to live by.

Fifty-two percent of Democrats said they knew nothing or very little about the Clinton Foundation, and only 10 percent said foreign donations to the foundation affected Mrs. Clinton's decisions while she was the nation's top diplomat. Just 9 percent of Democratic voters said they would not consider voting for Mrs. Clinton.

"I think the whole thing is political and it's going to wash away eventually," Herbert Levengard, 83, a Democratic retiree from Maryland, said in a follow-up interview. "There are always going to be people who mess around and look for things to yell about, but I don't care."
See also:
Hillary and Bill Clinton got millions in bribes from foreign 'entities' in exchange for State Dept favors

Destruction of Evidence: Hillary Clinton deleted half of emails from personal account used to conduct business as secretary of state

Arkansas State trooper: Bill and Hillary Clinton are swingers

Bombshell: Long-time Clinton associate says he killed people for Bill & Hillary

Homosexuals join Hillary Clinton 2016 in 'I'd bottom for Hillary!' campaign
Crap. Why am I doing the "See also" list? No one cares about the truth. Certainly not Democrats. To quote my erstwhile faux (because she's generous only with other people's money) socialist friend Stephanie:
I've made up my mind! Don't confuse me with facts!
~Eowyn