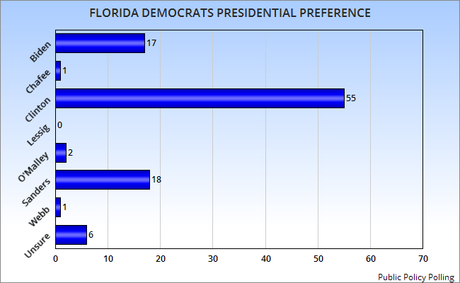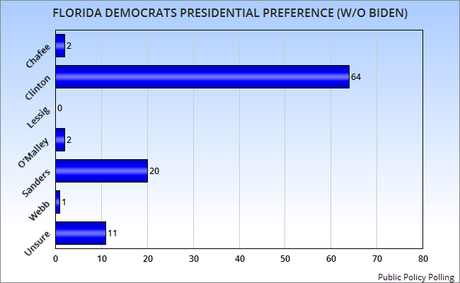 Yesterday, I brought you the results of new state polls in New Hampshire, Iowa, and South Carolina. They showed Sanders leading in New Hampshire and Iowa, while Clinton maintained a huge lead in South Carolina. Now we have poll results from Florida. The charts above reflect the new Florida poll by Public Policy Polling. It was done between September 11th and 13th. They queried 368 Democrats and 377 Republicans, with the margin of error for both groups being 5.1 points.
As the top chart shows, Hillary Clinton has a 37 point lead over Bernie Sanders in Florida. That was with Joe Biden being considered a candidate (which he is not, and probably won't be). If you take Biden out of the mix (second chart above), the results are even better for Clinton -- giving her a 44 point lead over Sanders.
The chart below shows the preference of Florida Republicans. Like in other states, the leaders are Donald Trump (27%) and Ben Carson (17%). The most notable thing about the GOP survey was how poorly Jeb Bush (13%) and Marco Rubio (10%) did -- both being from Florida. In fact pluralities of Republicans (47% for Bush and 48% for Rubio) thought both should drop out. That has to hurt.