52 Places to Go: Week 20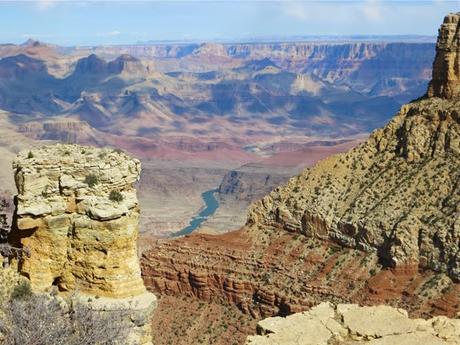 Grand Canyon, Arizona. The Colorado River winds along the bottom.
(This article originally posted on 3/3/14.)

A few weeks ago, my brother Tom and a friend took a trip to the  Grand Canyon in Arizona, visiting the South Rim.  At an elevation of 7,000 feet, the top of the canyon can be cold and snowy in winter. Although there were a few patches of snow near the top, the weather was clear and mild–perfect for sightseeing and hiking.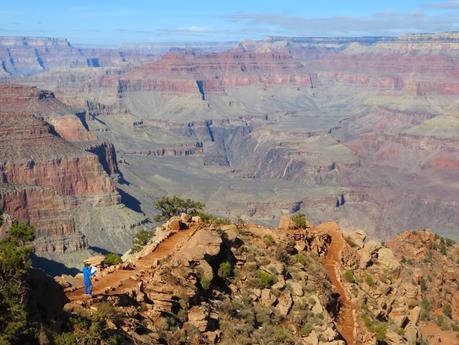 Kaibab Trail to the bottom of the canyon
They began their hike at the South Kaibab trail. Tom's friend continued to the bottom and then hiked back up the Bright Angel trail (a round trip of more than twenty miles, descending a mile into the canyon from the rim), while Tom, after going partway down, returned to the rim, stopping to take pictures along the way.  He has graciously allowed me to share some of them here.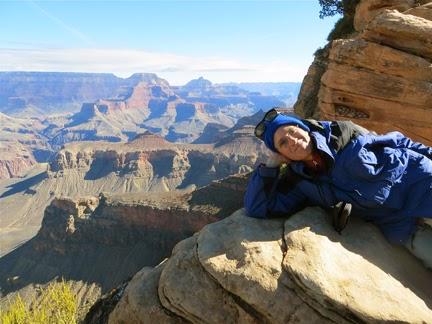 Tom takes a rest with a view.
For people who prefer not to make the hike on foot, there is the option of riding a mule.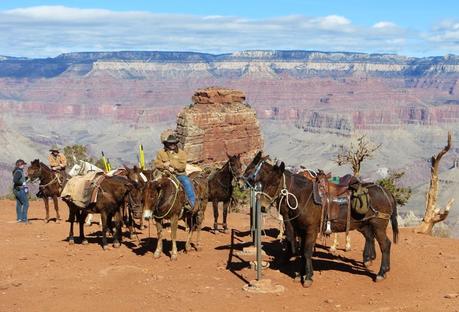 Mules ready for riders.
At the eastern end of the South Rim, Tom and his friend visited the watchtower at Desert View--so named because of views from there of the Painted Desert to the east.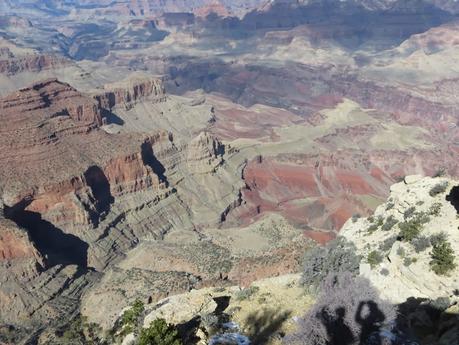 Desert view from the Watchtower
The watchtower, which sits on a promontory at edge of the canyon, was designed in 1932 by Mary Elizabeth Colter, who traveled throughout the southwest to find inspiration and authenticity for her buildings. The tower was patterned after those she found at Hovenweep and the Round Tower of Mesa Verde.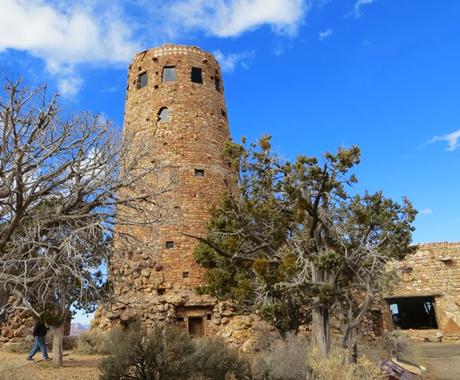 Watchtower designed by Mary Colter.
The white decorative stones near the top of the tower, which fade out as the eye goes around the tower, follow a pattern used at Chaco Canyon.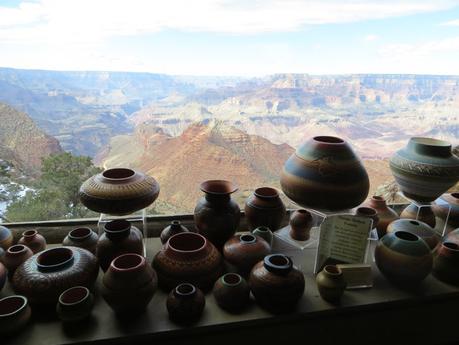 Navajo Etched Pottery in Kiva Room of Watchtower
The kiva room of the watchtower, which is now used as retail space, was originally designed as a rest area. It was here that visitors to the canyon in the 1930's could sit in comfort and have outstanding views of the canyon. And if you climb the stairs to the top of the tower you get an even better view.
For a VIDEO and more of the fascinating history of Mary Colter's Watchtower go to http://www.nps.gov/grca/photosmultimedia/colter_wt_photos.htm .
For a list of HIKES and useful information about hiking in Grand Canyon National Park go to the National Park Service web page http://www.nps.gov/grca/planyourvisit/day-hiking.htm .
While visiting the Grand Canyon, Tom and his friend stayed at Maswik Lodge. 
Tom and his friends visited the Grand Canyon and hiked the South Kabab Trail again in November 2018. 
All text and photos copyright Caroline Arnold
www.theintrepidtourist.blogspot.com