Week 8: 52 Places to Go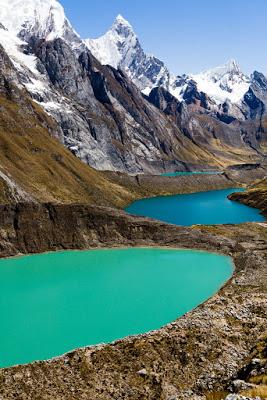 Glacial Lakes on the Huayhuash Circuit, Peru
In 2017 our friend Owen Floody
was in the midst of a series of three treks in Peru--Machu Picchu in May 2015 (Part 1 of Owen's Peruvian Adventures), Huayhuash in July 2015 (Part 2)--and Cordillera Blanca in mid-2017.
Owen recently retired from a career of teaching and research at Bucknell University in Pennsylvania. He has always been an avid photographer and in his retirement has taken numerous trips that allow him to pursue his passion. He is a frequent contributor to The Intrepid Tourist. Here is the report of his Huayhuash trek and a few of his excellent photographs.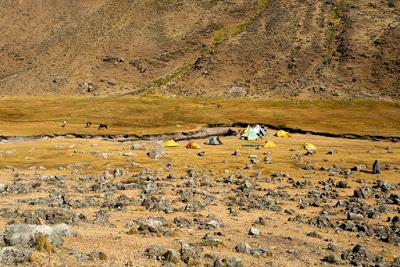 One of our camps.
The Huayhuash Range (Cordillera Huayhuash, pronounced "why wash") is a compact cluster of mountains in the Peruvian Andes, approximately 225 miles from Lima.It only extends over about 20 miles but contains more than 20 peaks, six of which exceed 6000 meters (19,685 ft) in height.One of these is Siula Grande, the scene of the adventure described by Joe Simpson in the book and movie "Touching the Void."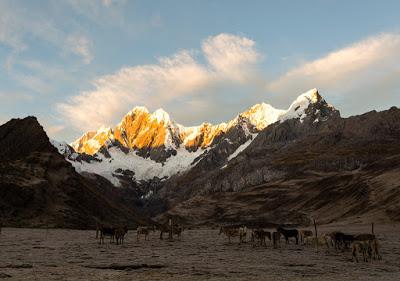 Our pack animals awaiting their day's assignments.
My trek encircled much of the range, covering roughly 85 miles in 12 days.As the area is very remote and sparsely populated (e.g., we never did pass through a village), we camped throughout, though the excellent support provided by our tour operator,
Peruvian Andes Adventures
(PAA), freed us of many of the normal rigors of camping: We were able to hike with just day packs, avoid the hassle of setting up or breaking down camps, and enjoy great meals all due to the efforts of the PAA staff and animals.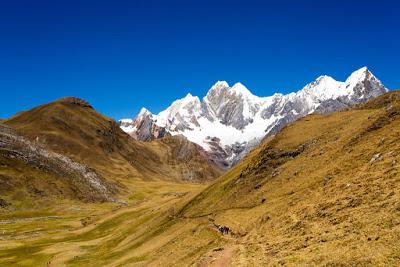 On the Huayhuash Track
Though the distance we covered may suggest a rigorous trek, the real challenge was in the altitude.Most of our time was spent above 13,000 feet and most days saw us crossing at least one pass exceeding 15,000 feet, the highest of these at 16,400 feet.One can prepare for some aspects of such a trek with an appropriately challenging exercise program, ideally including a healthy dose of actual hiking wherever you can find significant ascents and descents.But how can most of us prepare for altitudes such as encountered here?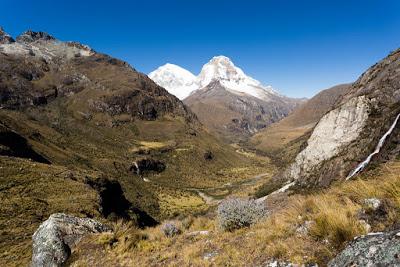 Day hike from Huaraz
What I did was to arrive in Huaraz (the trek's starting point and PAA's base) four days early and then take full advantage of the many half-day and day hikes offered by PAA.These covered beautiful ground and were graded in difficulty, making it possible to put together a package of pre-trek acclimatization hikes that were manageable and enjoyable, and that very much helped me to prepare for what was to come.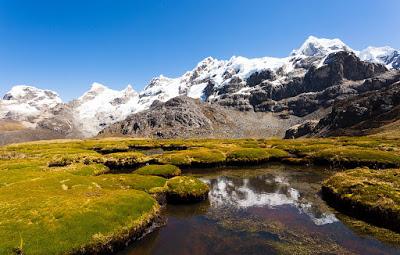 Soaring snow-covered peaks of the Andes and wetlands
The scenery encountered on this trek was spectacular, the most impressive of any of the seven major treks that I've done.Many of the types of scenes that we enjoyed are the ones that you would predict, i.e., soaring snow-covered peaks, high mountain passes, pristine valleys and meadows, wetlands.But the Huayhuash is especially well known for its beautiful glacial lakes.Some of these treated us to the sights and sounds of repeated avalanches.And many, if not all, presented an array of contrasting and beautiful colors.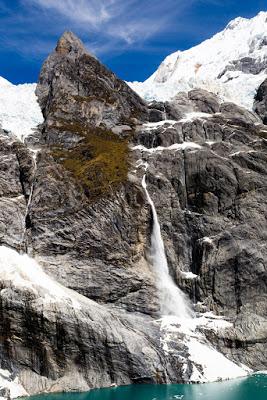 Avalanche
Altogether, then, this trek around the Huayhuash circuit provided an outstanding visual feast.But this did come at the cost of considerable effort.Why go to the trouble of trekking, especially when so many outstanding scenes can be seen from roads?One answer is that the Huayhuash and like destinations are so remote as to be accessible in few ways other than by foot.  
All text and photographs copyright by Caroline Arnold at the Intrepid Tourist