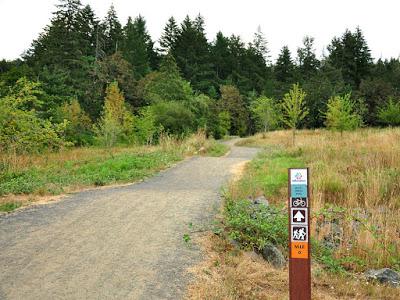 North TrailheadThurston Hills Natural AreaSpringfield, Oregon
My friend and fellow children's book author Caroline Hatton shares her visit to another one of the wonderful parks near her new home in Eugene, Oregon. She took the photos
in this post in August 2020 when she enjoyed this free outdoor activity.
What makes Eugene highly attractive to hikers like me is the miles of nature walks within the city limits, especially when including the adjacent town of Springfield. The
Thurston Hills Natural Area
in Springfield offers up to 4.4 miles (~7 km) of trails. The land, once a pioneer homestead, was passed down through generations of the Gray family, before becoming dedicated to recreation and habitat restoration in 2012, and opening to the public in 2017.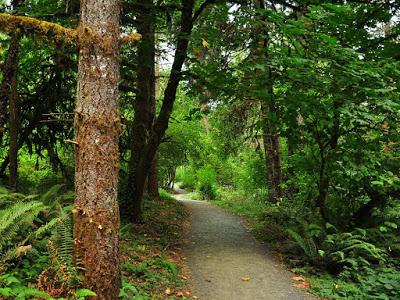 The trail through mixed forest
Walking through the mixed forest of evergreen and deciduous trees, fuzzy all over with mosses, and with ferns squirting everywhere, I thought,
What a gold mine of ideas for a miniature fairy garden
, then,
Why make a miniature? This is a life-size fairy garden!
A design choice that I deeply appreciate in this park is that although mountain bikers crawling uphill share trails with hikers, mountain bikers speeding downhill must stay on their own separate trails, protecting both bikers and hikers from unpleasant encounters.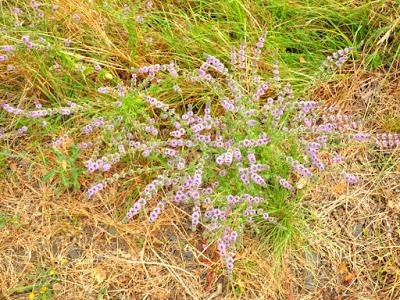 Non-native, invasive Pennyroyal (Mentha pulegium)
In late August, scattered wildflowers still bloomed white, yellow, or purple. A pretty but unwelcome flowering plant, Pennyroyal
,
is non-native and invasive. As such, it harms the environment by crowding out native plants, wildlife by threatening its food and habitat, and livestock by degrading pasture. Some say Pennyroyal
arrived in America with English settlers as a medicinal plant. But like many medicines, it is toxic in excessive doses. Efforts are underway, at the city and state level in Oregon, to combat the spread of invasive plants and give native plants a fighting chance to survive.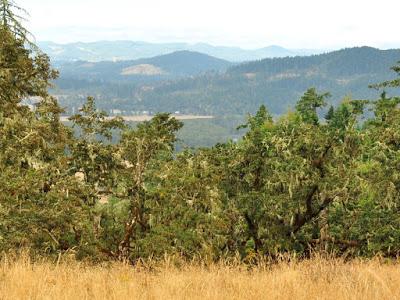 Typical view from a Springfield or Eugene trail:hills and valleys beyond forest and grasses
This park continues to undergo different facets of natural habitat restoration, but no crews were working on the Saturday morning my husband and I visited. We had the world to ourselves from 7 a.m. until mid-day, when, on the way back to our car, we put on masks as a Covid precaution while speeding past a small group of hikers.
It was worth getting up early to discover the Thurston Hills Natural Area, which is only one of several Eugene area parks where one can go on a nine-mile hike through varied habitats without leaving the city.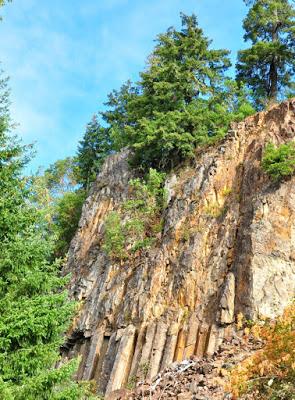 Rock cliff, columns, and piles
At writing time, a few days after the September 7, 2020 Labor Day, parks in Eugene and Springfield are closed while firefighters are barely beginning to contain the nearby "Holiday Farm" forest fire, which is smothering both cities in smoke hazardous to health. A fire this large anywhere near Eugene, and other large fires currently burning in Oregon are unfortunately a first in history.
FOR MORE INFO
Read about
walking in the Alton Baker Park in Eugene, Oregon
.