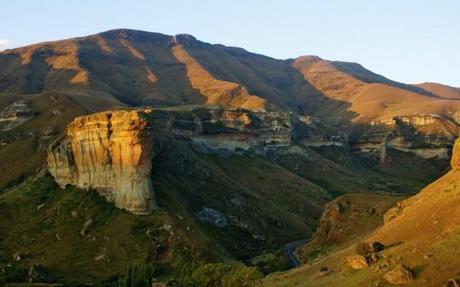 Baboons greeted us to Golden Gate National Park, shouting out noisy greetings as they raced across the road.  It was a perfect welcome to South Africa for a monkey lover like me.  Our group of German journalists and myself decided that we would quickly check into the Golden Gate Hotel and then go for a hike.  These were my kind of people.  I couldn't wait to start exploring the park  -  and see my first wild Burchell's Zebra.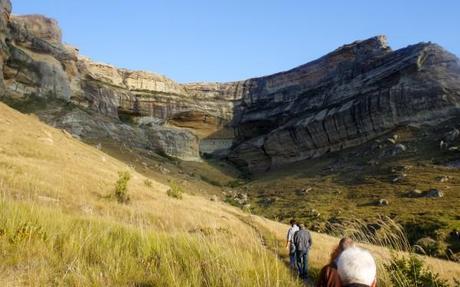 Golden Gate National Park - Holkrans Hike
We choose the Holkrans hike since it started within steps of our hotel and was only 45 minutes long – perfect considering that the sun was already starting to set and that we weren't up for a long hike.  We kept our eyes out for the rare Bald Ibis which nests in the sandstone cliffs, but they remained well hidden.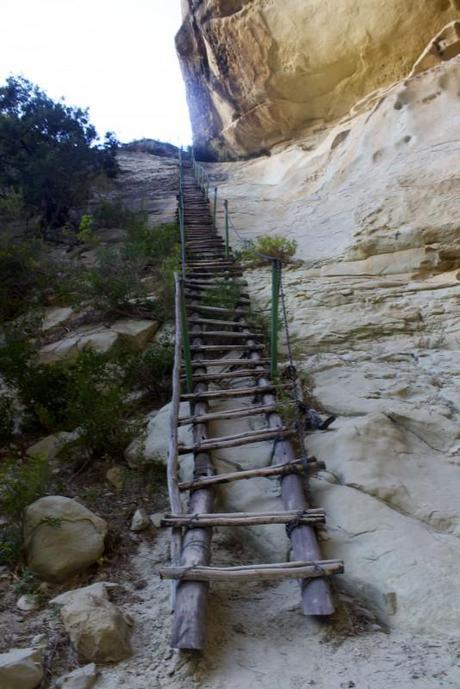 Holkrans was an easy hike, relatively flat hike with views overlooking Golden Gate National Park. Anyone with a minimal level of fitness could do it, assuming that you could climb this ladder  which was easily done by everyone in our group of eight.  People who are not able to climb the ladder could simply turn around and still enjoy the views over the valley.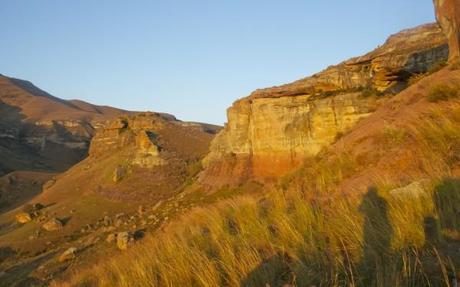 Golden Gate National Park really earns its name during the "golden hour"
We came around the corner just as the sun was hitting the sand stone cliffs, bathing them in a golden light and convincing me that the "golden" in Golden Gate National was adeptly earned.  It almost made up for not seeing a Burchell's Zebra – almost!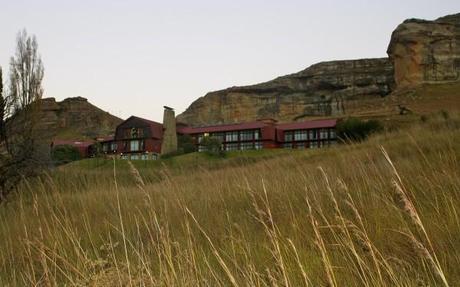 I love the location and the views from the Golden Gate Hotel.
Know Before You Go to Golden Gate National Park:
Accommodation in Golden Gate National Park
We enjoyed a complimentary stayed at the Golden Gate Hotel which is an ideal location for exploring the park since hiking trails start from right outside the hotel. My hotel room stared right at the golden hills, making for a relaxing setting.  The rooms were very reasonably priced – a room for 2 people starts at 885 South African Rand, approximately 83 Euros, especially considering the views, modern amenities and location.  I would definitely stay here again.

Activities in Golden Gate National Park
Hiking – there are a wide choice of hikes from 45 minute hikes to full day hikes
Themed guided walks -  ranging from herbal trails to cultural routes
Game watching (from your own vehicle) be on the look out for:  Burchell's Zebra, rare bearded vulture, equally rare Bald Ibis, Black Wildebeest, Eland and Oribi and of course my personal favorites, baboons!
Horse riding
Absailing
Canoeing
When to Visit Golden Gate National Park
Best time to visit is in Fall (April – May)
Winter temperatures in June to August can drop below 0 C and snow is not uncommon in winter, so bring appropriate clothing if you go during winter
It can be quite rainy from September to April
Logistics of Getting to Golden Gate National Park
Golden Gate National Park is located ~320km from both Johannesburg and Durban.  Self-guided visitors will find renting a car to be the most convenient option.  While you're in the area the Drakensberg World Heritage Site where I visited a Zulu Village is also worth a visit.  it's located ~240km south of Golden Gate National Park.

View Larger Map