HIGHLANDS WORSHIP GLOBALLY RELEASES JESUS YOU ALONE TODAY
FROM THE FUEL MUSIC
RELEVANT Podcast, Worship Musician, Beyond Sunday Worship
More Feature Highlands Worship

With a passion to encourage congregational worship, create reources for churches and draw listeners closer to God, Highlands Worship releases its third, full-length album Jesus You Alone, today (March 1) with global distribution for the first time through The Fuel Music. The 15-song album with over 70-minutes of music features Highlands Worship's diverse group of talented songwriters and vocalists from the Birmingham, AL-based Church of the Highlands, one of America's largest churches.
Recorded at the church, produced by Highlands Worship's Chris Griffin, and mixed by Sam Gibson(Hillsong, Jesus Culture, Chris Tomlin), Jesus You Alone is available now at iTunes, Apple Music, Amazon.com, Spotify and more digital retail and streaming outlets everywhere through smarturl.it/HW_JYA. The album features six new, full band recordings of songs first featured on Highlands Worship's acoustic EPS, Vol 1: Wonderful Things and Vol 2: Jesus You Alone, along with nine more songs of worship "about Him only, not about us."
"When we wrote these songs, we hoped they would be encouraging and refreshing to people that listen to them. The best way we know to accomplish that is to put all the focus on Jesus and who He is," shares Worship Pastor John Larson, who leads Highlands Worship's 900+ active worship team members and 70 full or part-time musicians on staff.
"In this me-centered world, these songs are very vertical, glorifying Jesus in a fresh way, yet with ancient themes gathered from Scripture," adds worship leader Nicole McLean. "The Word of God is living and active."
Highlighted tracks on the album include "Song In My Heart," "Who Is Like The Lord" and the title track that was co-written by Highlands Worship's Larson, McLean and Jesse Abram Reeves. "Jesus You Alone" also became the first video released from the album. Produced by Dan Atchison, whose credits include the 2018 ACM Video of the Year (Thomas Rhett's "Marry Me") and multiple CMT and Dove Awards-winning releases, the video was premiered by Worship Musician last month.
Featured recently on the Beyond Sunday Worship podcast, and with upcoming RELEVANT Podcast,  Worship Musician and more coverage, a Jesus You Alone album trailer can be seen now at https://vimeo.com/314148516/1a65cf4f5e.
The full Jesus You Alone track listing follows: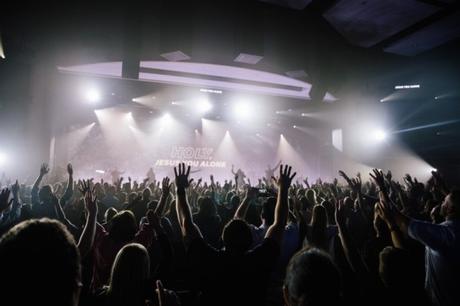 01. Shepherd
02. Joy
03. Expression
04. Wonderful Things
05. Song In My Heart
06. How I Need You
07. I Will Sing Jesus
08. Who Is Like the Lord
09. Your Love Is Enough
10. One Moment
11. You Are My God
12. Jesus You Alone
13.The Name of Jesus
14. All or Nothing
15. Greater
For more information on Highlands Worship, its new music and many other creative resources, go to www.HighlandsWorship.com, Instagram, Facebook, Twitter and YouTube.
About Highlands Worship:  Based in Birmingham, AL and leading at various conferences and events throughout the year, Highlands Worship is the worship ministry of Church of the Highlands. In 2012, the ministry released its first full-length, live album, Place of Freedom, followed by the acclaimed debut studio album, Here I Surrender (2016), which introduced worship anthems embraced by churches internationally.
Founded in 2001, Church of the Highlands, under the leadership of Pastor Chris Hodges, has expanded to 19 multisite campuses that collectively have over 50,000 people attending weekly. With the accredited Highlands College as well as student, kids, marriage and family and more ministry outreaches, the church purposes "to reach people with the life-giving message of Jesus that they might become fully devoted followers of Christ."
About The Fuel Music:  Established in 2008, The Fuel Music & Management, LLC, is a leading artist management and artist solutions company that independently distributes music internationally. Based in Nashville, TN, the Fuel team brings nearly 70 years of combined music industry experience in record label operations, major label distribution and marketing, and artist management for artists ranging from upstart bands to GRAMMY Award-winning, multi-Platinum artists. More information on the company can be found at www.thefuelmusic.com.
~ ~ ~ ~ ~ ~ ~ ~ ~ ~ ~ ~ ~ ~ ~ ~ ~ ~

It would be great if you would stay connected with me!! You can follow me on Twitter @DebiL1611, like me on Facebook at 2014 and Beyond, circle me on Google+, follow me on Tumblr, Instagram and Bloglovin', subscribe on YouTube, or connect with me on LinkedIn and Pinterest.

Please make sure to visit my homepage and subscribe to my blog for more great posts on running, fitness and lifestyle topics as well as food, product, music and book reviews, and more!