Podcast: Play in new window | Download
Summer is here and so I am once again playing singles. Which is weird for me because I don't play a whole lot of singles. That's why I need a reminder of just what the high-percentage shots are for singles. In this episode, I'll tell you what the six most basic things are that you should be doing out on the tennis court when you're playing singles. Hopefully this will be the reminder I need to make sure I actually have a chance at winning my next singles match! You can listen to this episode by clicking on the media player above or by listening in with your favorite podcast app. You can also subscribe in iTunes by clicking on this link: tennisfixation.com/itunes.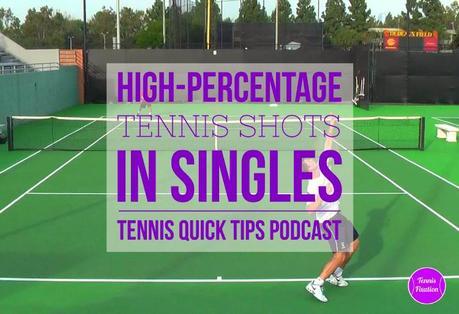 SHOW NOTES
I'm Playing Singles This Summer!
I'm excited about this episode because we're talking about singles. I don't talk about this a lot at Tennis Quick Tips because I don't really play a lot of singles. It turns out that here in the neighborhood where I live and the clubs that I play out of, singles is just not a thing that ladies do. Sure, you can do it for fun. You can join a flex league. But timewise, I haven't been able to also commit, on top of my doubles teams, to doing a flex league all by myself. And I just find that, as far as fun things to do, I would rather go to drills than play one on one with someone in a singles match.
But, this summer I am once again on a team, a USTA team, that fields two lines of singles and three lines of doubles. And I've gone to my captain and said that I will play singles every week if you want me to. Of course, it's up to the captain to do what they want to do. And of course, they may see my singles performance and think oh no, we're not going to be putting her out there. But as far as this summer is concerned, my captain has told me that as long as I want to play singles, she'll be putting me out there because almost all of the ladies on this team don't want to play singles. So at least for this summer, I'm going to get to play several singles matches.
Why I Lost My Recent Singles Match
I had my first match this past week and I lost that match. Boo-hoo! One of the reasons I lost is because I haven't played singles in over a year. That's not really an excuse. It's more to say that when I got out on the court, I had done some very minimal reviewing of notes I had on singles and what kinds of shots I should be hitting, what kinds of strategies I should be trying to put in motion. But once I got on court I realized I had forgotten what it feels like to be all by yourself, solely responsible for what is happening on court. It took me several games just to get back into that feeling of playing singles vs. playing doubles and knowing that someone else is out there to take over part of the shots at times.
So, for this coming week, I am making sure that I have it in my head what the high-percentage are for singles that I need to be going for. And I'm going to give those to you here so that you also, if you're in a situation like me where you don't play a lot of singles but suddenly you are or you want to, I'm going to tell you what the high-percentage shots are that you should be going for.
And let me say, if you're not playing singles, I strongly encourage you to get out there and give it a try. It is more work. It does require you to be both mentally and physically fitter, but it is a great way to get better at doubles. This is because it does require you to step up and do so much more. So if you are the type of person who is looking to improve your doubles play, get in on playing singles. Because that is a very quick way to improve all of your tennis play. All the way around. All the shots you make. I strongly encourage singles.
Let's get into what the high-percentage shots are for singles.
1. Focus on Consistency Over Power and Speed
This is really important in singles because the fastest way to lose a singles match is through errors. Let's face it, at our level, at the recreational level, we are not going to power somebody off the court the way you might see in professional tennis. What is much more likely is that we are going to beat someone by making less errors than they make. So, what you really want to do in singles is focus on consistency, getting that ball back over the net, back in the court and letting your opponent make the errors. Try to hit one more shot than they hit. Let them make the errors so that you can win the point.
2. Rally Cross-Court
I did a whole episode on this - Top 5 Reasons to Hit Cross-Court - but the bottom line in singles, it's especially important to rally the ball cross-court. It let's you hit hard but still keep the ball in and not make the errors. You're hitting over the lowest part of the net, along the longest line of the court, so you have the most court space possible to hit into. So when you're just hitting baseline to baseline, you want to be going cross-court.
3. Hit Approach Shots Deep and Down-the-Line
Everybody says this but nobody really says why. Why do you need to take those short approach shots down the line? The reason is because, now you're coming into the net and you need to reduce the amount of time that your opponent has to hit the ball back at you as much as possible. If you hit the down-the-line shot, it's going to get to your opponent faster. If you hit it cross-court, that's a longer area of court. Now you want to cut down on the amount of time your opponent has to return the ball to you when you're coming into the net and you do that by going down the line. That will give them less time to hit the ball back at you and you'll be up at the net and hopefully better able to volley the next shot that comes at you.
4. When in Doubt, Lob
The bottom line in singles is we don't have anyone else out there in singles to help us out. Many times, if you're being drawn off the court, you need to give yourself some time to get back into a better position. The way you do that is by lobbing the ball up. Maybe it's not a super high lob. Maybe it's not a super deep lob. But since you're playing singles, usually you can depend on your opponent not being at the net, not taking those balls as overheads. So now the real beauty of hitting a lob is to give yourself time. That's why so many successful singles players are moonballers or pushers. They really just hit these high, floating shots that keep their opponents back and give themselves time to get in a good position on court.
5. Never Hit A 2nd Serve
What that means is, not literally never hit a second serve, but try to cut down on the number of first serve faults that you make. This may mean taking some of the pace off that first serve. It's really more than anything a psychological thing. If you are consistently getting your first serve in, then your opponent really has to be ready to make their return every time. If you are faulting a lot on your first serve, now the pressure is on you. You have got to get that second serve in so you're not giving away free points and you're the one the little bit of extra stress while your opponent can relax just a bit, knowing that this is going to be your second serve that you've got to get in so it's probably going to be an easier serve for them to return.
Another reason why it's important in singles to get that first serve in is, again, you're the only person out there. You have got to conserve your energy. If you are really trying to power that first serve in and you're faulting a lot, you're going to be hitting a lot of serve. So by taking a little off that first serve, getting more of those first serves in, you are making sure that you are not wasting energy and increasing the number of serves that you're hitting throughout the length of the entire match.
6. Get Every Return Back in Play
Do not give your opponent free points by failing to get those returns back in play. It becomes very important for you, again, to just be consistent. So maybe you're not hitting incredible returns that no one can get to. But you are keeping the point going, keeping yourself in the point, and not just handing points over to your opponent.
So those are my six high-percentage tennis shots for singles. And that's what I'll be trying to do in my next singles match which I fully intend to win. Of course, if you're my partner, I am intending to win every match I play no matter what. So don't worry about that.
RESOURCES AND LINKS FROM THIS EPISODE
Check out this episode of Tennis Quick Tips for information on rallying balls cross-court:
SHARE, SUBSCRIBE AND REVIEW
If you want to make sure you never miss an episode, it's easy to subscribe! Just click on one of the buttons below: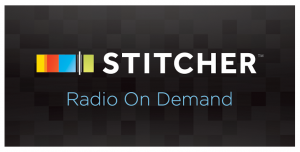 You can also get the direct RSS feed for your own favorite RSS Podcast Player by clicking here: Tennis Quick Tips Podcast RSS Feed.
And if you'd like to become a friend of the show, please leave an honest review on iTunes by clicking here: Tennis Quick Tips Podcast iTunes Page. It will help the show become more easily discovered by like-minded, awesome people just like you. I appreciate it!
Looking for a specific episode? All of the Tennis Quick Tips podcast episodes are listed on the Tennis Quick Tips Podcast page. Just click here to find what you're looking for: Tennis Quick Tips Podcast.
BUILD YOUR TENNIS FITNESS AND ENDURANCE
If you're really interested in building your endurance and fitness for tennis, I know you'll like my very first tennis mini-course, Simple Endurance Training for Tennis. For more information or to join the course, just click on the image below or visit: http://tennisfixation.com/endurance.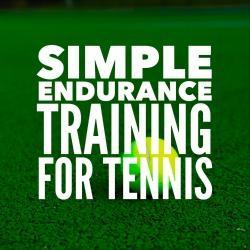 GET A BETTER SERVE FAST!
And if you're interested in getting a better serve - fast! - get my free ebook, 10 Quick Fixes to Improve Your Serve: No Lessons Required.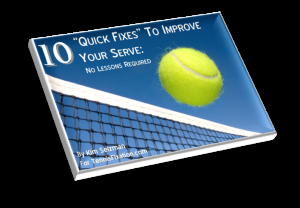 By applying the 10 simple tips to your serve that I give in this ebook, your serve can become a tool that you can use to gain control of points. It can become more powerful, more accurate, and something you're actually proud of. Just enter your email below and you'll get instant access to this free ebook as well as weekly updates with all of my best tennis tips!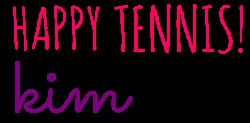 © Kim Selzman 2016 All Rights Reserved